A puff Sun Hazelnut creamdo not you think a breakfast or snack fantastic? Because when you see how easy that is not going to stop doing so over and over again.
The center of it all is a cream of hazelnuts of Old Factory. It is a brand that I use always because I love your jams, and I am very specialist for the jams because I am used to the homemade and not all like me. The thing is that the brand I know very well but only their jams as I say, and last week fell into my hands a bottle of cream of hazelnuts that have just released to the market.
There are three varieties to fill this hazelnut cream puff (at least that I've tried and I promise that I have tracked them all): classical music, one with milk (half chocolate and half of milk) and the other is with hazelnut cream of cookie and that is to die. Lost my son "white and black", and my favorite is the chocolate so we don't fight. All family peace!
It's funny because normally Neapolitan chocolate cake they don't like me. However I love to rub the cream of hazelnuts in the croissant, pleasure that reserved for weekends when I touch the sky with my fingers early in the morning. This recipe today comes in the form of Sun, a beautiful Sun Sun of puff pastry and cream of hazelnuts. I can't imagine anything better to prepare in just 20 minutes
So with this recipe for puff pastry with hazelnut cream we add another one for our breakfasts and snacks of these dates (good and somebody actually). This is a super easy and very resultón recipe that I love to prepare for home and gift and always makes a splash so I hope that you repitáis it again and again. The sale of tomatoes? Serve with a bowl of cream of hazelnuts old factory to wet a little bit more. Simply sensational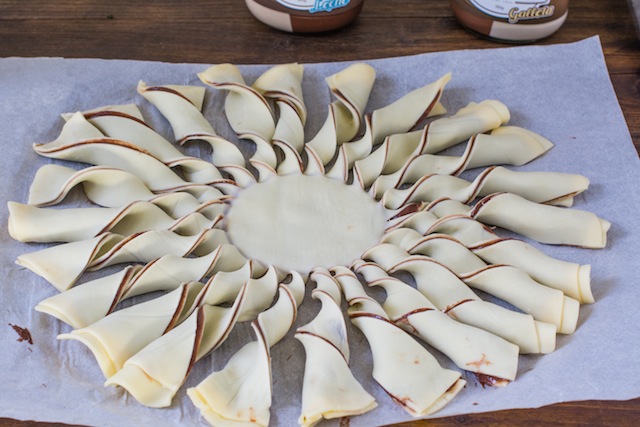 Ingredients
Total €3.59 by 25 parts, i.e. €0.14 per serving. There are plenty of words
Directions
1 let the sheets of puff pastry and creme de cacao to make it easier to work. Preheat the oven to 180 degrees function air hot. If it is heat up and down will need a little time to get a golden color that is what we seek.
2. place one of the bases of puff pastry on our work surface and spreadable chocolate cream leaving a small edge without cream.
3. place the other base of pastry over.
4. place in the Center a small bowl or glass. That will be the center of our Sun and will be the part that we will not cut.
5 start marking 4 parts in the circle with a knife. Then cut each party in two, and each of these parts in 3, so that in the end we will have a total of 24 parts.
6. When are all well cut, begin to rotate them to form as logs. It is important to rotate them all in the same direction, so that then the Sun is beautiful.
7 beat an egg and using a kitchen brush, gently paint the entire surface with care not to drag rows of chocolate.
8 pass into a plate of oven and bake for about 15-20 minutes until the pastry is golden brown.
9 remove from oven and allow to cool completely. Serve with a little more cream of hazelnuts and chocolate to accompany. It is "to die for"
Tips and Tricks
If you want you can add some chopped almonds once you have smeared with chocolate cream
Place in a round cardboard tray and wrapped in cellophane. You will have a beautiful, made gift at home and that is also great
Difficulty: easy
Depreparacon time: 30 minutes
Portions: leave 24 sticks of puff pastry and creme de cacao and you always be the center of the Sun which is more than most