"Do not promise when you're happy, don't respond when you're angry, and not decide when you are sad"
Last Thursday I had the chance to live one of the most rewarding experiences of my relationship with the kitchen (I hope many more to come): I went to the first course in Calima, restaurant with two Michelin stars, of my admired Chef Dani Garcia. A real luxury.
The first time I tried the kitchen Dani Garcia It was in the year 1999 in the restaurant Tragabuches round. We decided to spend an entire day in Round (excursion I recommend no doubt), and to our ears had already reached the virtues of the restaurant. Beyond that we went and enjoyed a memorable lunch... accompanied by a good Marqués de Vargas of the then, where for the first time I tried the cream of lentils with crispy ham, I think remember that green rice with prawns and cream served as a savory dish. I was engraving... year 1999.
All this prelude of what this errant talent has gotten later. In Tragabuches He obtained his first star Michelin, prelude to the reached perfection in Calima He has achieved two Michelin stars... for now. Later came The Moraga (already disengaged) first, and Chamomile then in Malaga. Since the beginning of year open also with Spanish Brasserie concept, Chamomile in New York, where people make tail at Park Ave. to test, among other delights, their amazing shrimp, to omelettes to the New York Times echoes (in New York... with a pair of noses). Last week open Deli Bar by Dani García at the airport of Malaga... unstoppable with this new concept of restaurant.
Is also a in love its land, its cuisine and its raw, always present doing homeland there where will and always has time and good face to answer doubts and questions that amateurs and professionals want to make you, the humility personified in success with an abusive youth. As proof of this, among others, is also part of Gastroartea more than interesting gastronomic group of Andalusia comprising more than twenty professionals making their food and care products.
But let's talk course that last took place Thursday, July 11. The enclave: Calima, simply perfect. In total 42 participants, many who had come from different parts of Andalusia, Barcelona and even from Holland expressly to attend classes of Dani.
The contents were Cold Soups, which are not the same to see them in a cookbook, as the most original and delicious that you can imagine: Ajoblanco Malagueño with peach and ice-blended wine red (sublime), Creamy Gazpacho mussels and tarragon (delicious and that that my tarragon...), Gazpacho cherries with snow of fresh cheese and anchovies (a work of classical art of Chef) and Porra Antequerana with tomato, scallop and pickled vegetable Tartar (three-course Star michelin in one).
Over nearly three hours, Dani was explaining the different techniques used to perform each of the dishes, without leaving a single detail, giving to each his respective substitute to use at home, where the nitrogens, empty, pacojets and others (even though many who would love to have them), do not usually exist.
In this way, reconverted recipes to the utensils that are often so that we can prepare them in our kitchens. We enjoyed with its explanations and anecdotes as nice. Then came the photos, the opportunity to greet and chat with a delicious cava drink on the terrace of "your home".
But this was only the prelude of what came next. A menu tasting paired and served at table and tablecloth. A service of 10 where he served in addition to the dishes that were prepared during the course, the "Rock bottom"one of his favorite dishes that you stay with your mouth open; "My first yogurt"a dish that the followers of Dani had already tried in Calima and Chamomile and that you get not bored ever, a "Miso pork rind and mint", that you understand why this man is one of the best chefs in the world, and a "Oxtail wrapped in ravioli with special potato and truffle"simply delicious. Dessert "Full moon", full of contrasts and beautiful dessert in itself same. In short: a luxury for the senses, a pleasure only in a perfect environment. To repeat, we will... In fact, on 7 and 8 August performs another course of Tapas.
This is Dani Garciaincredible person and pure magic for the palate. If it didn't exist, we would have to invent it. Do you know? In this world of gastronomy and cuisine there is everything a little... Who looks over his shoulder that come back from everything (always thinking in their own interest, to avoid having to get off his donkey), who always adds, creates, encourages, and encourages... even unwittingly and Dani is the seconds. Thank you Dani!
To top it off, we began by round will tell you that a bottle of good red wine and fresh wine that wanted to taste, came into my hands Tagus, excellent wineries in the same city. I then thought of pairing it... the result: this pizza essential soufflé for your summer dinner, something French-style because the interior is filling... you will see it, but ingredients you sublime.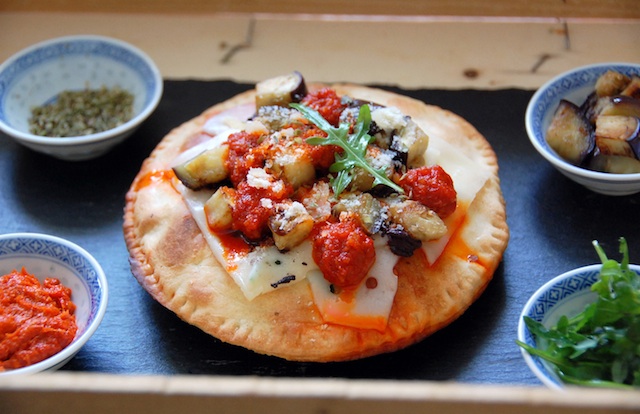 Difficulty level: intermediate
Preparation time: 45 min.
Seating: 4 persons
Ingredients
For the pizza dough
250 gr flour €0.25

25 grams of extra virgin olive oil €0.15
70 g water €0.03
30 grams of egg white €0.12
For the filling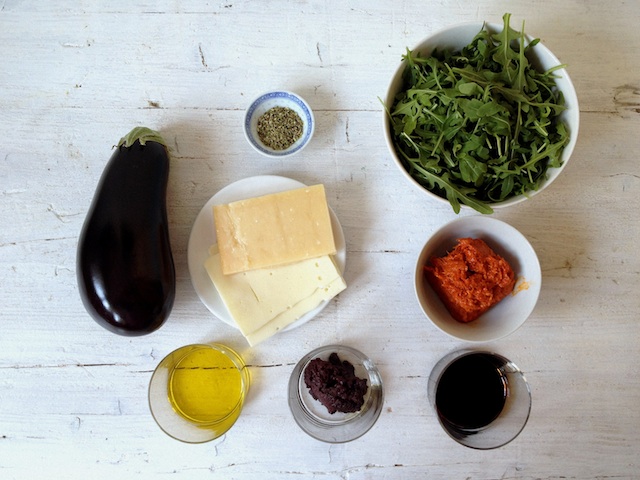 1 Eggplant €0.35
25 grams of extra virgin olive oil €0.15
65 grams of rucola €0.60
5 cl of balsamic vinegar €0.15
1 ball of mozzarella or smoked mozzarella dry €0.90
60 g of olive tapenade black €0,20
a pinch of oregano €0.02
60 g of Parmesan €0.70
50 GR of sobrasada €0.45
a little salt €0.03
For pizza oil
25 grams of extra virgin olive oil €0.15

4 cloves of garlic €0.15
a bit of Rosemary €0.05
a bit of thyme €0.05
1 pepper Cayenne or chili pepper €0.03
Total €4.38, i.e. €1,09 for each pizza. Cheaper impossible!
Equipment
-Roller
-Cutting boards
-Oven
-Buckets and ceramic hob
-Grater
-Skillet
-Dishes, spoons, and knives
Pairing
As you ahead, I chose Tagus (Wineries Excellence), Red D. O. came Sierras de Málaga (round) single-varietal of grape cabernet franc (100%). Fresh, aromatic, elegant, rich and easy to drink. Accompanied by excellent pasta, salads, cold meats, cheese and meat by what was coming as ring finger to this pizza... very advisable soufflé. Take it to a temperature of 15-16 degrees, no more. Its price, the best €9,50.
Directions
1. first we will prepare oil for pizza. For this purpose we peel the garlic cloves and crush them. I do support the blade of a large knife and pressing a little bit.
2. in a saucepan, put the oil with Rosemary and thyme, peeled and crushed garlic, and cayenne pepper.
3 leave to heat over low heat while you get to boil. Cover and leave to emulsify for at least two hours. Strain and store at room temperature.
4. to prepare the pizza dough, preheat the oven to 280 ° and insert a plate of oven.
5 pour the flour in a bowl. Add olive oil, water and egg whites. Knead until obtaining a homogeneous paste. I did it in the Thermomix in the function of kneading for 3 minutes.
6. with the help of a roll, on a ground surface of flour, spread the dough to get a thin layer. Fold it onto itself and return to extend the roll until dough is thin.
7. cut discs of about 16 cm in diameter with the help of a kitchen or a dish ring. Place one disc on another well by pressing the edges: just press the edges. If we pressed further, then the pizza it will not go up and not get the effect soufflée we seek.
8 Bake at 280 degrees for a few minutes until the pizza has been inflated.
9. remove the oven and with a knife cut the top pizza.
10 go with Eggplant: cut it into thick slices and steamed them for 15 minutes. This past time drain the slices on absorbent paper.
11. Once cooked, cut into squares of Eggplant slices and sauté them in a pan with a little oil over high heat so that is browned on the outside. Book
12 season Arugula with oil, balsamic vinegar and a little salt. Fill with Arugula seasoned pizza with care not to break it but making sure we fill all the gaps.
13 plug the hole that we have filled with slices of mozzarella cheese pizza.
14 spread the tapenade (olive paste black) above the mozzarella cheese.
15 place on top of the cheese pieces of Aubergine and sobrasada pieces.
16 return to bake for a few minutes.
17 sprinkle with grated Parmesan cheese and season with a few drops of emulsified oil. And finally it is ready to serve. Your guests alucinarán.
Tips and Tricks
-The day before we can prepare eggplants because they hold in the refrigerator perfectly.
-Also can prepare the pizza dough and make the disks in advance, for example in the morning, and leave them covered with a damp cloth and bake them later. So we do easier processing.
-With the mass which we can make a simple pizza while you inflate and can put that same ingredients.
Would you like to review all my Italian recipes? I have more than one dozen... Watch HERE

You can follow the daily life of the blog also on social networks:
You can also subscribe to receive updates in your mail, do it HERE.Thank you for your support!