This recipe for Pears Stuffed with foie gras is a very complete, especially as the new year's Eve dinner, which we have just around the corner. It's an Italian recipe of the Treviso. A friend was traveling by Italy already many years ago and when he came back he said: "I have brought you a recipe that you will love". He was dining at a restaurant small but fantastic and they served these Pears Stuffed with... or similar. He had remember to detail of my and ask the chef to explain you how had done them. When he again called me to tell me about it and immediately I started to work.
Since then (and it rained already a lot) I have made this recipe lots of times, because it is surprising, because it is original but above all because you are great, it is fabulous and very easy to make... and best of all, it can prepare in advance, and give a last blow of oven, what for a night of luxury with guests, comes great.
Ideally, the pears are ripe, that meat is not hard because the flavor will be more sweet and they take less time to be in the oven. I use Malaga Pedro Ximénez wine and they are super rich, so I encourage you to make them and I will say if they liked so much as my. Have a super year end and that 2015 is a good year for all. Until the coming year!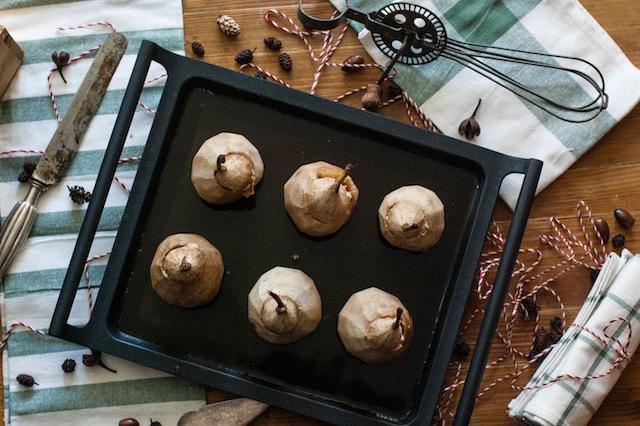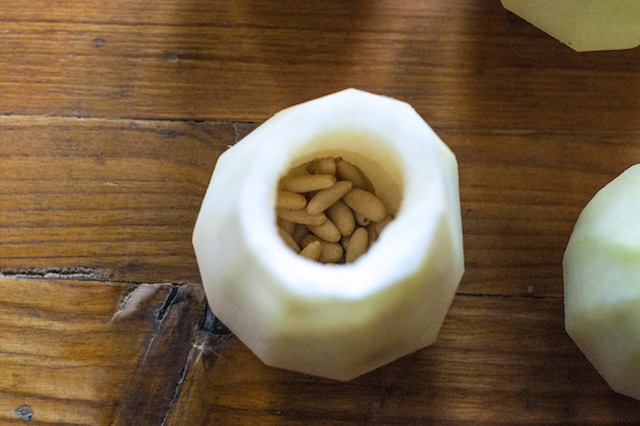 Ingredients
6 pears Conference €1,50
100 g pine nuts €2.50
250 g of foie gras mi-cuit €5,00
100 ml of sweet wine Pedro Ximenes de Málaga €0.80
Total €9.80 posed between six pears you get with these ingredients, €1.63 per serving. Chic and delicious for a night of dreams.
Directions
1 preheat the oven with air heated to 180 °. If the oven does not have the hot-air function, Preheat to 185 ° heat up and down.
2. Peel the pears and cut the top, saving it for later.
3. With the help of a knife tip and spoon, drain the pears inside leaving them hollow.
4. place a tablespoon of pine nut within each pear and fill with wine Pedro Ximénez. Place on a baking sheet along with the hats and bake for 10 minutes, until the pears are tender.
5. Meanwhile, cut the chilled foie-gras into small cubes.
6. Once the pears are soft, filled with foie, place the hat over and sprinkle with the juice of pears that will be left in the tray from the oven. Serve immediately.
Tips and Tricks
Use your favorite sweet wine instead of Pedro Ximénez
If the pears do not stand still, cut the bottom to straight them
Bake the pears in advance giving them a couple of minutes in the oven at the time of serving them. Then fill and serve.
Difficulty: easy
Preparation time: 30 minutes
Servings: 6