This is my recipe of Hasselback potatoes with butter garlic published in November 2012, and that is the most visited blog. Long I wanted to prepare the video so finally here it. I have updated also some photographs, and so you can see me what Loleta photography has evolved. I'm very proud of it because it has all been based on effort
I don't know if you passes equal to you, but I never get tired of the potatoesnever. I'm always inventing new recipes, investigating different ways to cook them, testing textures... because I never tired them, nor of the various the maximum this as basic food can reach. Today you probaréis them tasty, different and very easily.
The origin of Hasselback potatoes with garlic butter is Swedish and they say that it is that the recipe was created in the middle of the last century, in the first restaurant in the country located in Djurgården school, one of the islands of Stockholm...
And is that in a country where many potatoes are consumed you students decided to create different recipes to give your site to this lining as used everywhere. So they arrived at Hasselback potatoes
What characterizes these potatoes always Hasselback is the way to cut the potatoes before baking them. There are peeled versions, but experience has taught me that skin protects them, becomes crispy and gives them a lovely color, so I already no hair them never
Another important thing is the use of butter. You know that I love the extra virgin olive oil, but here the butter is a plus for flavor and creaminess. That fat attached to the temperature when bake is always very high, it makes that the potatoes are crisp but very fine
These Hasselback potatoes with garlic butter are perfect as a side dish, appetizer, or as a main dish, delicious, cheap and like children and the elderly. For scrumptious. They are crunchy, toasted and can be made as more like: your favorite herb for flavouring, with cheese, bacon, ham... the imagination to power!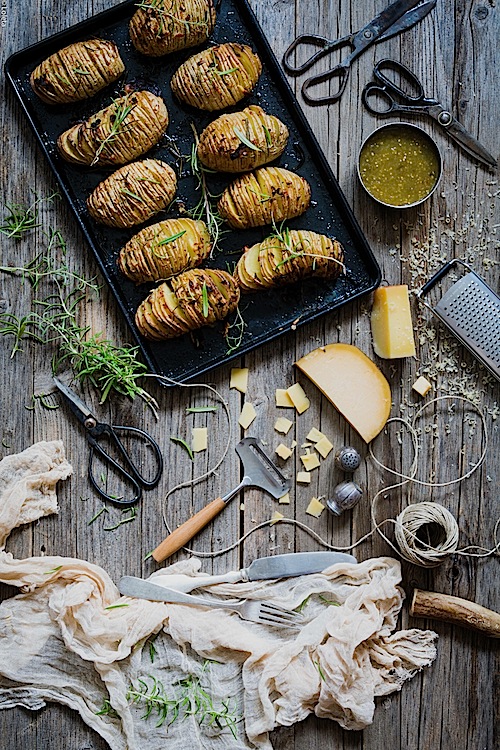 Ingredients
8 large potatoes
1 head of garlic
150 g butter
1 tablespoon coarse salt and other fine salt
a little freshly ground black pepper
some branches of Rosemary
Directions
1 turn on the normal oven at 220 degrees.
2. wash potatoes well to remove the Earth that may have but do not peel them if you do not want to, but I did it.
3 take a potato. Fully seat it on a cutting board. If necessary, make a cut so it sits and rests well on the table.
4 starting from one end of the potato, begin to cut slices but without cutting it entirely, so that the Fund will not be sectioned. Laminated in layers 3 or 4 mm or as thin as that is possible. Repeat with all the potatoes.
5. in a bowl, crush the garlic to a paste and mixed with the very soft butter and olive oil. A uniform paste.
6. with the help of a knife or a brush, go smearing all the potatoes with a little garlic butter for the part of the cuts, which will permeate well.
7 put the potatoes on a baking tray, cut up
8 pepper coarse salt and freshly ground black pepper fresh.
7. bake for about 40 minutes until potatoes are golden brown, churruscaditas and crispy. Enjoy!... They will not come to the table
Tips and Tricks
You can fill them with bacon and cheese and although it is a less light version are delicious
Acromatizar them with curry powder for an extra of rock and roll
Level of difficulty: easy
Preparation time: 50 min.
Servings: 8