Today with this time like this cream of carrots and ginger. We continue with new light recipes to compensate for those holiday binge and this cream accompanies many of my post binge eating dinner.
All the vitamins in carrots and a soft touch of ginger. That ginger proving please this cream of carrots and Ginger dislike.
I have an assortment of relatives and friends who will go through life saying that don't like ginger, but that once they eat dishes such as this which I prepare them at home and not learn. It gives a fresh touch but it isn't a flavor so there are no excuses.
You can have it ready and even freeze it in this case it is best to freeze it in a container suitable for freezer and thaw in the refrigerator. When it is thawed spend you one minute arm mixer again to remove any lumps that have been left freezing and heat and take.
To finish this cream of carrot and ginger, rather than cream, light yogurt for creaminess and to give a crisp touch, some caramelized cashew nuts that you will want to eat even without the carrots and Ginger cream.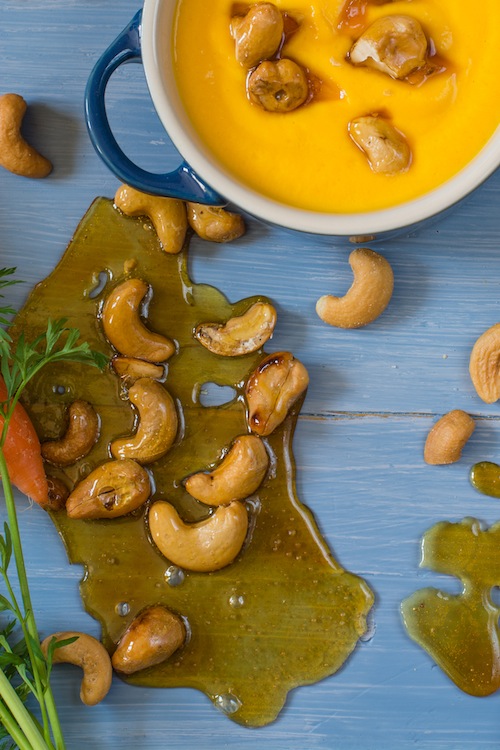 Ingredients
1 kg and a half carrot € 0.73
45 ml of extra virgin olive oil €0.14
1 onion €0.30
1 teaspoon and a half of fresh ginger minced €0.10
1/2 litre of broth of chicken (or vegetable) €0.45
200 ml Greek yogurt (can use it low-fat) €0.23
salt and pepper €0.05
1 tablespoon cashew nuts €0,20
2 tablespoons sugar €0.02
Total €1.79 that among 6 rations that come with these amounts are €0.30 ration. A healthy, light, with an unbeatable price cream
Directions
1 wash and pekar carrots. Cut
2. chop the onion and in large saucepan place to cook with oil.
3. when the onion is soft add ginger and saute slightly. Then add the carrots and saute for five minutes until carrot begins to be tender.
4. then add the chicken broth and simmer for about 20 minutes until the carrots are completely tender.
5. Meanwhile in skillet put a couple of tablespoons of sugar to caramelize. When you begin to take color, add cashews and caramelize them.
5. with help of a blender or food processor, blend cream by adding the yogurt. Salt and pepper to taste.
6 serve with a string of yogurt, with a few mint leaves and some caramelized cashews.
Tips and Tricks
Add 1/2 teaspoon of curry powder for extra flavour
Cook together with a couple of potatoes
Preparation time: 1 hour
Difficulty: easy
Servings: 10