Since I discovered this white bean guacamole ended discussions at home. Small eat everything, a traditional Mediterranean diet, based on dishes from life.
I recognize that you eating legumes reluctantly and much to my regret, twice a week. That if are very healthy, that if are necessary so that you grow up strong, that if you have lot of iron. Later in the pregnancy it took them because the folic acid and calcium are very beneficial for the fetus.
Now I love to eat them and in summer I buy them already cooked. The best for me, the of Luengo. With exceptional quality and bigger size that other brands, are ready to use in a lot of different recipes.
When Javi began to grow, I began to seek new ways to eat them so fun with new flavors and new forms. I have a lot of recipes of scooping and other, but this recipe came up the other day at a meal improvised in the pool.
That morning of Sunday, were that I would take something of meal, but little was in the pantry. I had a pot of cooked white beans Luengo and a bundle of wheat tortillas. MOM and what prepare for snacking? As you'll see, I thought.
I did get out of the kitchen, because my son, as almost all children, tend to think that legumes... puajj … So I decided that I would try it but once.
Five minutes I took to ask you your opinion: a beautiful bowl of dip and some fried corn tortillas. Terrific MOM. Try achieved, I thought.
Then, the opinions of others did not confirm that it was a great idea and all signed up the recipe, so today I bring to you. A cooked white beans guacamole that you succeed in thousand times and resulting in a fun and way of eating vegetables in a different way. Would you like?
Thus if legumes and improvised plans going, feel free to participate in the campaign FB Luengo who take picnic?. Mentioning to a friend, you can opt for a beautiful basket of pic-nic for your snacks and meals where you you like and where you can also see a lot of ideas to plan a picnic original. Best wishes!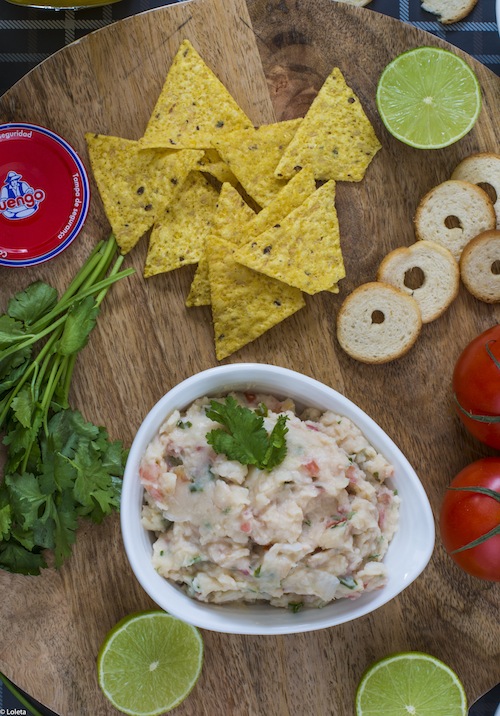 Ingredients
Directions
1. wash the white beans in cold water and drain well water. Put them in a bowl, and mash with the help of a food processor until a fine puree.
2. chop the tomato and the onion into small squares. Finely chop the cilantro.
3. in a bowl, mix the mashed beans with chopped vegetables. Add the juice of limes and move well. Season with salt and pepper and add the chopped cilantro. Move well and make haste to prove that it ends!
Tips and Tricks
Adds a touch of tabasco to your dip to give it a touch spicy
If you prefer can accompany the dip of some potato chips
Preparation time: 5 minutes
Difficulty: easy
Servings: 6