"No matter that hits you from life." The important thing is to recover from them and get up"
When I go to Madrid I love take your gourmet shops. It is true that each time we have access to more and more products at local and international level, but it is also true that it is not always easy to find everything you'd like.
There are two shops in particular that I lose: are the Vazquez Greengrocer, at calle Ayala 11, along with Serrano and Gold Gourmetin Ortega y Gasset 85, becoming almost a corner with Francisco Silvela.
Thinking of researching new jams, I came to the memory, that fruit so much fun that he bought in London: the rhubarb.
To those who have seen them ever, I will tell you that view they are almost identical to the celery, but red strawberry. Its smell is fruity and the taste citric between grapefruit and lemon, but without being sour. It is one stem very color you would have at home in a vase if it wasn't for how complicated it is to find it.
I try to buy in season when I when I go to Madrid (so am I), and when I get the clean home and freeze it in small pieces, (like I do with the handles of the Axarquía when it comes his time), and thus can enjoy its rich jam throughout the year. Well, its rich jam... of gazpacho with strawberries... and as succulent as today's cake. Are you coming with me to the kitchen to prepare it? Let's go!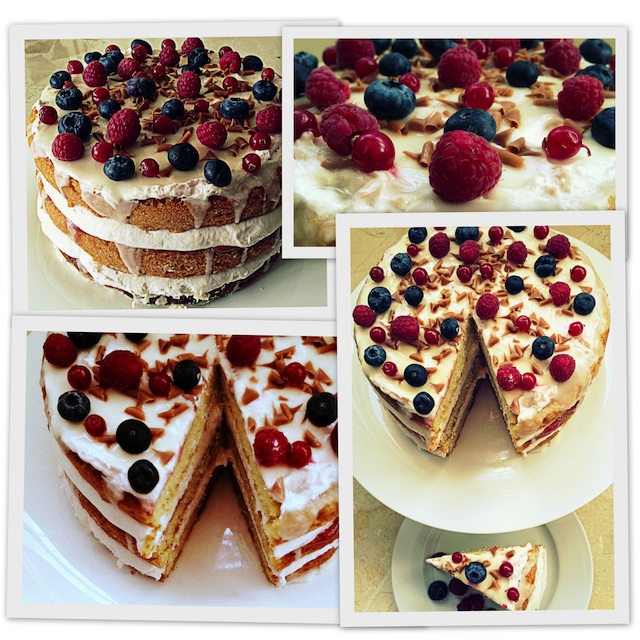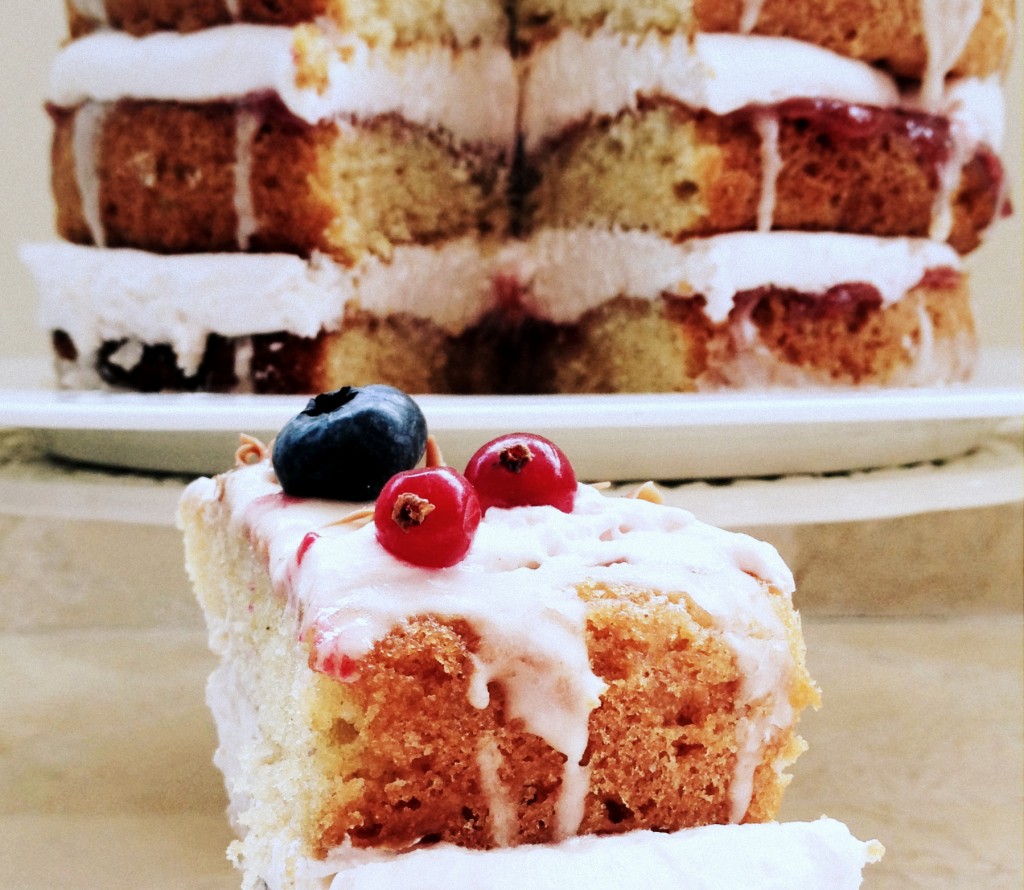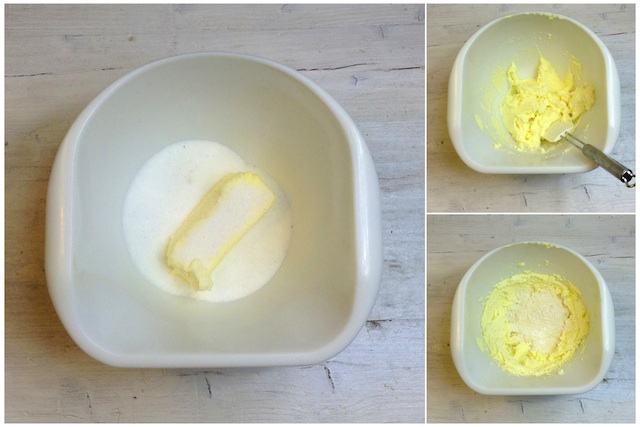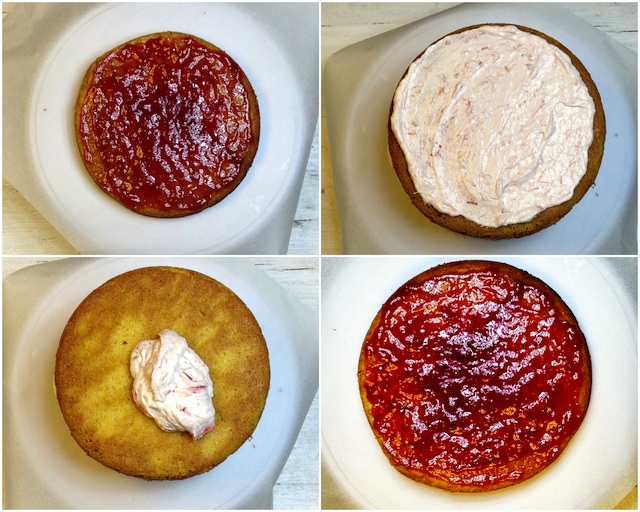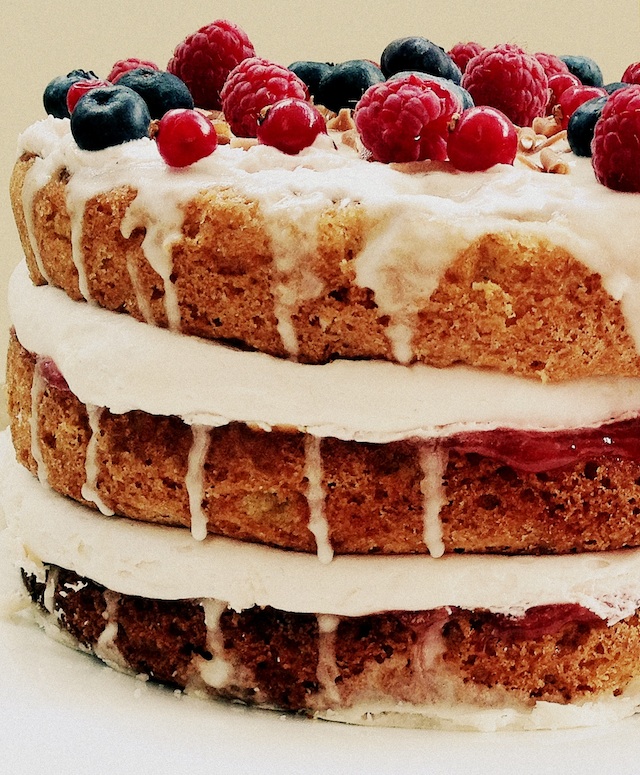 Ingredients:
For the sponge:
250 gr butter €1,00
250 gr sugar with cardamom (so add a teaspoon of cardamom ground sugar) €0,33
250 gr flour €0,13
1 teaspoon of powdered yeast €0.15
1/2 teaspoon of sodium bicarbonate €0.08
a pinch of salt €0.02
4 large eggs €0.46
For filling cream
400 g of liquid cream (to my like to use brand vegetable cream) Ambient) €1.40
80 g icing sugar Tate €0.28
200 grams of rhubarb jam €0.55
To decorate:
150 g icing sugar Tate €0.52
1 tablespoon maple syrup €0.18
50 GR caramel chocolate curls €0.50
Total €5.61 for this afternoon that well serves 10 persons, i.e. 0, €56 per serving. A bargain are going.
Directions
1 preheat the oven to 180 ° C
2. using an electric mixer, beat the butter with cardamom sugar until the mixture is creamy and fluffy.
3. Add 3-4 tablespoons of flour and mix cn care flour do not jump. Adding the flour we got that mix well place all ingredients and do not cut. Add the eggs.
4 continue to mix a couple of minutes and gradually add the remaining flour.
5. divide mixture into three equal (will be about 300 g of dough for each cake since we are going to bake three layers).
6 bake in 23 cm greased with grease spray molds. Put a paper grease the paper with the spray and bake at the base of the molds.
7. bake for about 22 minutes or until they are made (when clicking the Cupcakes with a toothpick this comes out clean).
8 remove from oven. Unmold and let them enfiriar mouth down on a wire rack until completely cool.
9. beat the cream. When you are ready to add the 4 tablespoons of jam and continue beating until well blended.
10. place a base of sponge cake on a plate.
11 top with jam rhubarb with a spatula.
12 put the cream in manga pastry without nozzle. Cut off the end of the manga leaving an opening of about 2 cm.
13 fill with cream sponge cake base starting out: draw a circumference of cream on the outside of the cake. Then we will make another circle inside and thus to have all the cake covered in cream.
14 place another plate of cake and repeat the operation.
15. Finally, cover with a thin layer of cream pie.
16 mix the icing sugar with a bit of maple syrup and a tablespoon of water. Mix well and with the help of a spoon drop onto the cake.
17 sprinkle curls of caramel and covered with petals of edible flowers or fruits of the forest
Tips and tricks:
You can prepare it in phases and freeze each of the layers that make it up.
If you don't have ruibarbos, you can replace it with another jam. You know no equal, but it is worth
Level of difficulty: medium
Preparation time: 90 minutes
Servings: 12
It is a dessert I would go for a sweet wine. On this occasion a liqueur of Italian sweet lemon that pairs very well with the acid touch of rhubarb. In this case I recommend Limoncello Granton the Costiera €6,13 the bottle. You have to take it, that Yes, very cool.