This olive bread has become a regular at our dinners at home. It is a very easy bread which does not need much kneading or great technique but always out of 10. Sourdough is not necessary, nor required of rare ingredients. A little yeast (I love fresh yeast - also already have it everywhere so there is no excuse for failure to do so hours)
A mi me gusta prepare the dough the day before. I leave it to carry an hour and give form: English muffins, well mini loaves, well a large bread type mold. Then I put it in the refrigerator covered with a cloth and leave it there all night.
Whenever you can this is the best way to make bread: let stand in the refrigerator for many hours ago that bread has more flavor and crumb to develop more and better. And it is that not everything in life should be run. We have to find a hole to cook without haste, to stop and enjoy a little more than life. Yes, now is every day we eat but why I make bread. Because it forces me to stop, give me a break. Wait for the bread to light slowly. To give your time. Those moments are the most to my and loaded me the batteries almost without realizing it, so try you also occasionally when enjoy #TuPausaMediterránea.
I've put olives because I love them. I have discovered the of Frigate and I liked very much because they have different packaging and different scents so I have where choose. In the recipe for today I've mixed the black ones that are favored by my son with a green scented with Rosemary that are most because of step a scent they give herbs to these muffins. I hope that you do them and tell me what you think.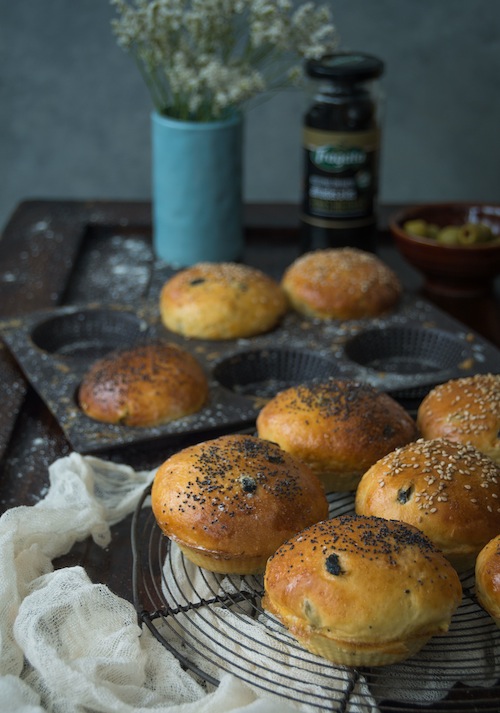 Ingredients
240 g of flour strength
12 g fresh yeast bakery
5 g of salt
35 g of olives, well-drained and chopped (I have mixed green and black but you can put that choice)
100 ml warm water
24 g of egg (an egg yolk and a little clara)
12 g of sugar
24 g butter at room temperature
For decoration (optional)
an egg
poppy seeds
sesame seeds
Directions
1. in a cup warm water and dissolve yeast. Book.
2. in a large bowl, place all the ingredients and mix well. Add the water with the yeast and knead until all ingredients are well integrated (can be with Thermomix in function of stem or blender if you have the kneading accessory).
3 form a ball with the dough and leave it in the bowl. Cover with a cloth and let stand for an hour in a place where there are no currents. You know that my I like to cover the bowl with a cap of shower that I use for my rest of masses and leave it to rest in the oven with the oven off because the temperature is ideal.
4. last this time, train the balls or rolls. It should weigh the dough and divide into 6 equal portions. To my left me lots of about 80 g but you must weigh it to check it well.
5. to every piece we give a round shape to form small balls. Now start the fermentation phase and we have two options. We can cover with a cloth and let stand for 2 hours and then bake. I prefer the option to cover with a cloth and let stand overnight in the refrigerator. in this way the bread take tastes delicious. If we choose this option, the next day we took it from the refrigerator and let it stand at room temperature for one hour.
6 after the standing time, we preheat the oven to 200 ° C hot air (if our oven does not have this function, then heat up and down to 210 °).
7 we paint with beaten egg. We can simply paint them or sprinkle with poppy or sesame seeds (which are the ones that I used), and bake 12 to 14 minutes.
8. when the rolls are ready, let them cool completely on a wire rack.
Tips and Tricks
Add a bit of chopped sundried tomatoes to that will be in addition to flavor, a nice color to the breads
Bake a large bread to have a delicious white bread
Preparation time: 20 minutes more sleep (1 hour + 1 hours or overnight)
Difficulty: easy
Servings: 6 muffins