This homemade bread of chestnuts with Sage's has become one of my favorites. It is a dense, strong crumb that I love cut into slices for breakfast bread. It endures everything so if you put an egg, bacon and tomato as my son, the slice does not come down because it is very dense. Perfect homemade bread Let's go for the gluttons of bread.
I love chestnuts and long that he intended me the idea of making a homemade bread with flour from chestnuts. So when this summer I was on holiday in Galicia and in a small town found a bakery that sold flour from chestnuts, not I hesitate to buy a kilo and bring it to me in the suitcase of back home.
Since then he has given several turns of shelf in shelf until it finally reached the chestnuts and I use it as I had thought. Homemade bread has tripped over chestnut besides your flour and is seasoned with Sage giving you a very special touch. I decided to also contribute a portion of whole wheat flour to have more flavor and although it is not made with sourdough, ferment gives a touch of very rich flavor. It is an easy to make homemade bread and hassle-free so even if not bread you've ever done, cheer up and become "panarra". You'll love this scene, you'll see.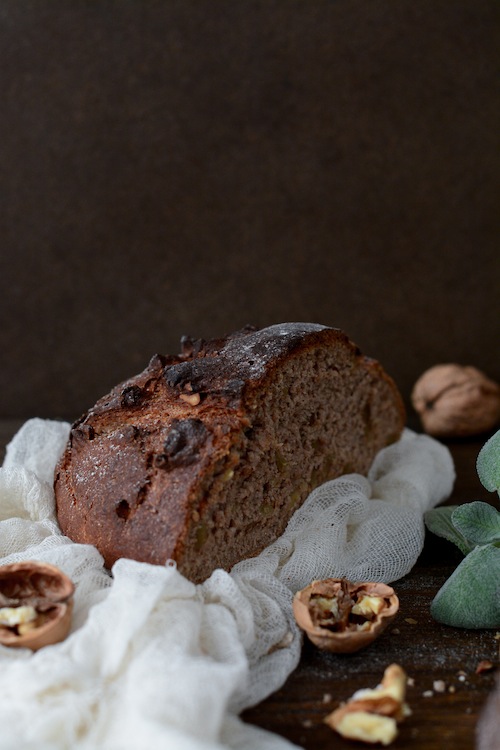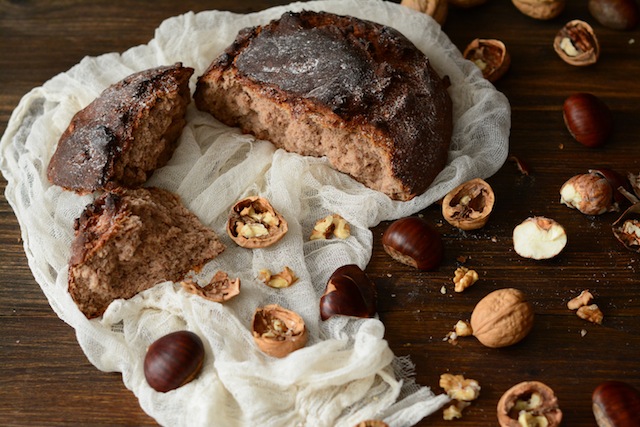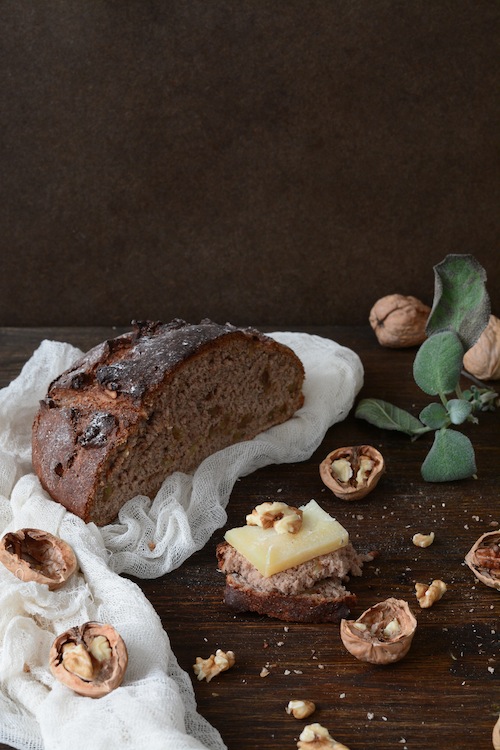 Ingredients
To leaven
150g of strong flour €0,13
between 130 and 150 ml water €0.04
¼ teaspoon of baking powder dry active (2 g) €0.05
For the bread
leaven
150 g organic whole wheat flour €0.25
100 g of flour organic strength €0.19
100 g of flour from chestnuts ecological €0.70
between 130 and 150 ml water €0.04
¼ teaspoon of baking powder dry active €0.05
1 tablespoon of organic honey, organic brown sugar or maple syrup €0.07
1 teaspoon salt 0,03 €
½ Cup walnuts €0.55
½ cup

clean chestnuts, chopped very €0.45

finely chopped Sage leaves €0,20
Total €2.72 posed among at least 12 slices that you get, €0.22 per each delicious slice of bread that will not leave you indifferent.
Directions
1. prepare the ferment overnight. To do this, dissolve the yeast in the water and mix all the ingredients in a large bowl. The mixture should be slightly liquid and impossible to knead. If it doesn't we'll add a little more water. I used the full 150 ml. To mix to my I love to use a scraper that my friend Andrés de El Amasadero gave me long ago, that travels with me when is that I'm going to need and care as gold cloth.
2. cover well with paper plastic (I already know that I use a hotel shower cap for my breads) and let stand for at least 10 hours (maybe overnight) in a place with a room temperature environment at 25 ° C.
3. once passed this time, combine the flour and salt in a bowl and mix well.
4. dissolve the yeast in the water (start with 130 ml here also), and add honey or sugar. We pour this mixture over the ferment we have prepared. Mix well.
5. Add this mixture to the bowl of flour and mix well. Add chopped walnuts, chestnuts and Sage. Mix well, making sure that all the ingredients are well integrated. We can do it with a scraper or your hands directamente.con hands. Give a couple of kneaded and leave the dough for 1 hour in a covered Bowl (I always eat my hat).
6. after of this time, knead for about 4 minutes. I prefer the Bertinet kneading.
The kneading continues as follows: dough is placed on the table, and we put a hand on each side of the dough, holding it as if a sandwich with thumb ifngers being at the top, Raise, the dough and heat it over the table without letting your hands go off the dough. Then, the part we have caught by hand is folded over and start again
At the beginning it is difficult but then you get used and me is as more like dough. No need to add oil or flour so that the recipe is as it is, without change.
7 after a few minutes of kneading, rest the dough into a ball for 1 hour on a tray covered with a cloth.
8 Preheat oven to 250 degrees. Put baking with half a glass of water at the bottom. This will cause that our bread has a crispy crust.
9. When is the oven hot. make a few cuts on the top with a knife or with a very sharp knife and bake for 5 minutes. After this time, remove the water tray (hardly will be) and lower the temperature to 200 °. Cook for 30. Depending on the oven the bread may be sooner or later. That is why it is important to look at it. The crust should be toasted and if we hit the pan will seem that it is hollow
10. When is the bread ready, remove from the oven and leave on a wire rack. Sprinkle a little flour on top to give a rustic touch.
Tips and Tricks
Flavored with a little rosemary if you find fresh sage
Add some nuts if not the era of chestnuts
Difficulty: easy
Preparation time: 14 hours between levados (rest) and development
Servings: 10