I love making bread at home. It is a habit that I have long ago started and is true that until now I had not shared no bread recipe with you. Of course we have the Basil muffins , the Focaccia, garlic and oregano and brioche breadin the blog, but this is the first recipe a bread itself of many that will come. This is, I believe, one of the ideal recipe to start your making bread. Easy and tasty.
You can also play to mix the different flours that you may like, bearing in mind that integral or rye flours need a bit more water than white flours. You can also mix the seeds that you like most.
All the flours that I use to make bread are ecological. I buy them in El Amasadero that has an online shop and where you can purchase everything related with the bread world. Ecological flours are more expensive than the ones you can find in the super but cheaper than those which you can buy in eco stores. From my point of view it is totally worthwhile to use organic flour because it will improve amazingly the taste, the aroma and the structure of your breads.
Well here we go. Our bread of seeds with integral flours.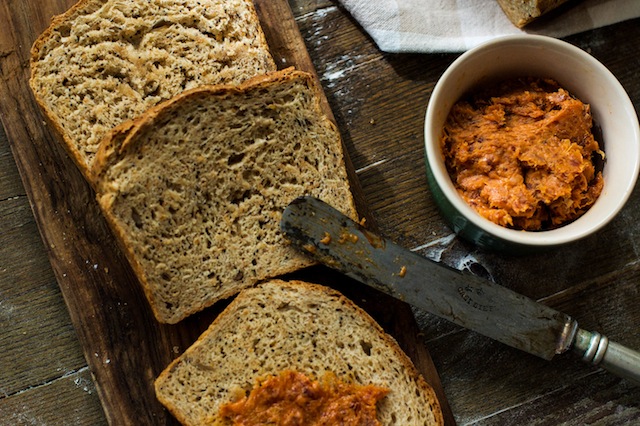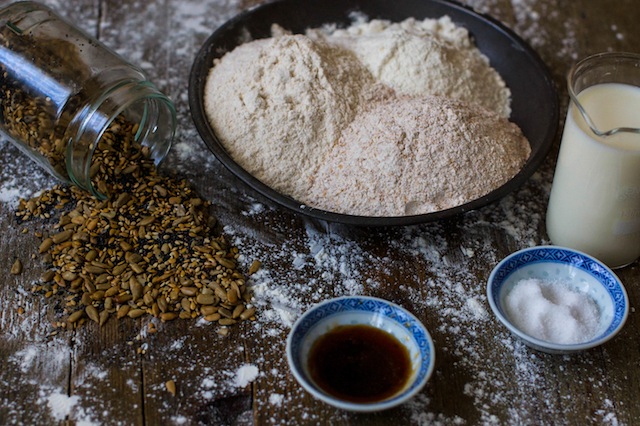 Ingredients
For the pre-ferment
100 g of water €0.05
7 g dry yeast €0.23
5 g of sugar € 0.01
130 g bread flour €0.17
For the bread
the entire amount of ferment
100 g bread flour €0,13
100 g of whole wheat flour €0.17
100 g of spelt flour €0.38
2 tablespoons full of mixed seeds: €0.42 I used linen, toasted sesame, poppy seeds and shelled sunflower seeds
8 g salt €0.02
150 g of whole milk or semi-skimmed at room temperature €0.07
50 g butter at room temperature €0,24
1/2 tablespoon of honey €0,13
Total €2.02 for a spectacular bread that you will serve for breakfast, snack, lunch, and dinner. There will not be a crumb left.
Directions
Day 1
1 Prepare the ferment which will help our bread have more flavor and a better taste. I prepared it at night and left it in the window overnight. When summer or hot, it is best to put it in the fridge and then the next day let it get to room temperature.
2. to do this, we mix the ingredients of the pre-ferment in a bowl. Best if it is large. To mix it using hands for my wiper blades were all rigid and not served to mix in a bowl, but the day before to make this bread, Andrés de El Amasaderogave me a flexible scraper It is amazing and with it I did all the steps of this bread. Cover the bowl and let stand until it increases its volume. The best thing to cover the bowl is a shower cap , or with plastic wrap.
Day 2
3. Add the rest of ingredients to the bowl of the ferment. Mix with help of the flexible scraper by hand (it is more difficult because the dough will stick to your hands, but it can also be done)
4 Move the dough to countertop and without adding no flour, knead for 10-12 minutes until the batter is uniform and easy to handle. The easiest is to make folds: putting mass before our, stretch slightly from front and fold it over the rest of the dough, and do the same with the lower part of which is that we have more attached to us: we stretch and fold over the dough. We turn it 90 degrees and we start. When the dough does not stick, make a ball. Leave it in the bowl and cover with a cloth. Let stand for 5 minutes.
5 Grease the pan with a little extra virgin olive oil, smearing it well in all corners. The perfect for this types of breads is to use a covered mold so that the bread is of total professional, but I chose to use one I had just received. You can use a bigger mold but your bread will not be as high as this one lower.
6. Preheat the oven to 200 degrees with the heat up and down.
7. Remove the dough from the mold and flattening the dough with the Palm of the hand base and form a rectangle of length of mould, more or less. Flatting the dough will remove all the gas that resting and fermentation have created in our bread dough, will avoid bubbles and will make your bread crumb uniform. Fold one half of the dough inward and seal with fingers. Then do the same with the other half.
8 Join the two ends and pull slightly.
9 Put the bread into your mold leaving the smoother part of the bread on the top. Cover with a cloth and let stand in oven until the dough occupies two-thirds of our mold. If we let it stand for longer or until it doubles its volume, there will be too much fermentation and our dough will not work in the oven. I let it stand about 30 minutes, but your final time will depend on the outside temperature and how long you have kneaded
10 Put the mould in the oven and bake for 20-25 minutes until golden brown. Wait until the mold has cooled down and unmold. Let cool completely on a wire rack.
Tips and Tricks
Use your favorite seeds blended or mixing as you like
Replaces seeds with pumpkin seeds
Use nuts and raisins instead of seeds
Keep your bread in a tin or a zip bag closed. It will last for a couple of days as soft as just baked.
You can also freeze it: cut into slices and freeze it. This day, you can use slices as you need them (although at home there are no leftovers to freeze!)
Difficulty: easy
Preparation time: 2 hours and fridge overnight
Seating: a loaf od 750 g