"A stumble may prevent a fall"
Those who have been fortunate to have visited Asia, we relate the orchid (Orchidaceae) as a hallmark of the exotic places that contain the countries of the far East.
It is my perfect flower, and is also so grateful, that grows in many places of the world. But in the tropics, their presence is abundant with colors and spectacular forms. Taking into account that Thailand and China they are two of the largest producers and exporters of orchids in the world, it is easy to imagine such a huge variety of flowers of this family are found in these countries
Grows in a impressive way in the mountains of China and the India, and in places like Viet Nam, Thailand, Indonesia or Burma, grows wild everywhere: in the trunks of the trees in the city, in the humid jungle camps... I have sometimes crossed me even with trees full of Orchid flowers and colors are incredibly beautiful and intense. We are sure that you can find them almost always in the range of Pinks, Fuchsias, purples and oranges, but there are such an infinite number of different shades that make one hallucinate literally with their appearance.
In Thailand the locals call it the "parasite". why?. Very easy, there are so many and they are spread so easily, that there are places that seem to plague, really though, that Yes, for the Western us is no problem. Its beauty is far from an eternity of which we know as parasites.
The orchid is also a symbol of sweetness and pure feeling, so that Asians used commonly as a welcome to the traveller: in Thailand It is easy for to place you an orchid with a snap on clothes to the arrival in the country; in Vietnam usually it you give way to fork for hair or even overflowing bouquets of flowers; in Indonesia put it in bowls of water at the entrance of hotel rooms, and in Burma It is common to remove from its stem to form words or drawings on the bed in the hotel room. Of course, we also find it stunning vases or pots everywhere.
I remember the first time I saw them in the trunks of trees. We are talking about large trees which in turn have different flowers or fruits. The flowers grow on the green shoots of trees and "engage" literally to its trunk. It is impressive because a knot suddenly grows a huge bouquet of orchids wild precious.
The truth is that after seeing what quantity and colours are in Thailand, I would say that it is the national flower of the country of the eternal smile. And it is precisely from Thailand where the dish I present today.
The Pad-Thai or Pad-tai, joined the Thai diet in the thirties of the last century. It is a dish with a Chinese influence: is it made with rice, instead of the usual Egg Noodles noodles, and is produced in a typical Chinese wok. However the rest of ingredients and spices and sauces used to garnish it make this dish the best known of all who make up Tai cuisine.
Today I present you shrimp, but these can be replaced by pork, chicken or beef and can find you in any of these versions. It is a dish typical the street food of Thailand, though of course, also you can take it at any of the restaurants that have different parts of the country.
Its acid flavor as well as tasty surprises and engages at the same time. I hope you like it do you dare to surprise your guests?

Level of difficulty: easy

For 4 people

Preparation time: 30 minutes
Ingredients
For the sauce:
2 tablespoons sugar €0.05
1 tablespoon and a half of tamarind €0.16
2 tablespoons sauce of fish €0.03
1/4 teaspoon chile powder €0,05
For the noodles:
1 tablespoon vegetable oil €0,10
8 prawns or shrimps peeled and sliced €2,00
2 shallots €0.54
1 teaspoon garlic paste or 1 garlic chopped €0,20
200 gr flat rice noodles €2,00
1 egg €0.12
1 cup bean sprouts €0.80
2 tablespoons Chinese chives €0.25
3 tablespoons peanuts, toasted and chopped €0.30
1 glass of water €0.01
2 tablespoons sauce of fish €0.03
2 tablespoons of lime juice €0.08
a handful of bean sprouts € 0.15
a few chunks of tofu fried in oil (optional) €0,50
Total €7.37. I.e., €1.84 if we deal between 4 servings. And you can not imagine the delicious resulting
Support: as on other occasions, I put aside the list of products that you should find in Asian supermarkets (I linked below some addresses):
Apologies for the rest, but safe for the web you find something, already rampant everywhere... we invade. If you don't have access to one of them, makes you friends of the Asians who runs the "Chinese" in the neighborhood, and ask that they provide it you, insurance that will make. Keep in mind also, that will do the purchase once every two years approximately. The spices they are not bad and last an eternity because as you can see, the quantities used are very small.
Equipment
Skillet or wok. If you have the wok, better than best.
Bowls
A spatula blades of wood, knives and fork etc.
Chopping
Pairing
With the oriental food and seafood are going very well the white wines. Let me recommend a wine of my favorites: Enate Chardonnay of the designation of origin Somontano. Serve it very cool. Your price: €7.00.
Directions
1. in a saucepan, heat sauce until sugar is dissolved. Book
2. boil noodles for a couple of minutes so that a point hard.
3 devenar shrimp. So open the upper part of the back with a knife and be able to extract the black tummy that runs through it.
4. If we are going to use tofu it is time to cut it into cubes and FRY in wok until golden brown. As a general rule, the wok is always used fire medium high, or high. Remove from wok and set aside. If you are not friends of the tofu and not to use it, we are going to the next step.
5 chop the prawns, FRY in wok until they take color and book.
6 Sauté garlic and shallot.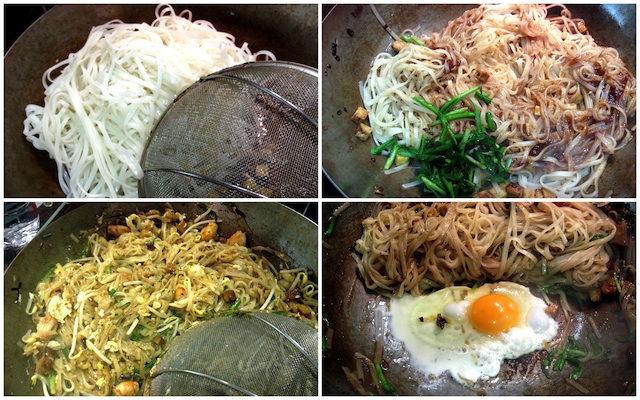 6. Add noodles, increase heat to strong and FRY well together with the chives. So they end up making the noodles.
7. Add salsa and bind all good.
8 remove the noodles to one side making a hole in the wok and add the egg to fry. Do not mix until fruit set
9. return shrimp to wok along with the sprouts, chives and peanuts, linking everything.
10 serve with more peanuts on top for presentation, a little sauce fish, lime and a little sugar.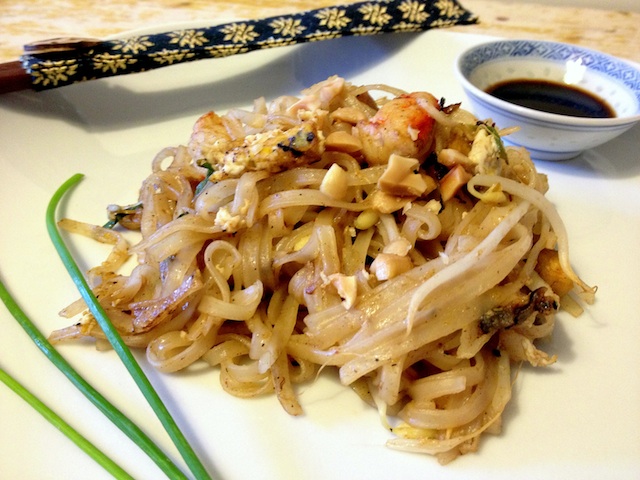 The result will be spectacular, you'll see. Another way to travel to Asia, through the kitchen. If you want to see more oriental recipes, link here: from India, Vietnam and Thailand
Tips and Tricks
-If you can't find any of the ingredients, change them using your imagination, you sure you randomly.
-If you don't have shrimp, replace with beef or chicken, you will be very well also
-It is a dish to finish it just before eating, therefore, kitchen and book all ingredients previously, and when you go to sit at the table, skip the noodles and the rest finally.
– You can follow the day-to-day of the blog also on social networks: Facebook, Twitter, Pinterest, Flickr and Instagram
-Also you can subscribe to receive news in your e-mail, Subscribe HERE.
Finally, I leave you the details of the next Courses which we will do on Taste of America and Cooking Málaga:
In Taste of Americanext Monday 28 and Tuesday 29 to learn to make three different from the famous presentations Red Velvet Cake American is simple and colorful way with the products of the store. Encourage you that there is already much room... come on!
And in Cooking Málaga Cooking workshops, Friday, February 1 we will teach you how to make the wonderful Tarta La Vie en Rouge (Tart multilayer degraded red) special for Valentine's day. Well, that all cocinaréis and partake doing your own cakes which you can take home. You will love! Do not hesitate if you want to surprise... sign up!
I hope. Thank you!