"The talent not used is wasted success"
Dry rice paella with cuttlefish, prawns and vegetables in Spanish
I am so happy! Aneto has uploaded this rice paella to your page, is worth updating it? Thanks Aneto!... There it goes again:
Every time I like more rice paella with chopped ingredients and this recipe that I bring today is an example of this. It is much more convenient to eat and children do not protest... two for one!. This paella I used three new things, on the one hand I changed rice type pump to the Senia. Both are of the appellation of origin Valencia rice, while the Senia variety acquires better the flavor of the broth or stock and really is what it is. The second contribution was to improve the fish stock that I used the packaging with a little technique, enhancing the bottom of flavor, and the last has been, using a paella of 50 cm. (large) for four servings (well, almost five), multiply up to three stock volume of rice, instead of by two used with the pump, being a paella layer fine and using very strong, butt (10 out of 10) fire, it has allowed me to cook the first part by evaporating more quickly, leaving much more background of flavor in the grain. Three things will explain it in detail because the result was very good.
I remembered the recommendations that my dear and admired Chef Chema de Isidro (yesterday I saw him on TV, on 1) explained during the sushi course of the paella recipes that they prepare in his restaurant La Bella Lola and the notes and rice with which Christophe Pais gave me in his restaurant Rice Rice Pump, both in Madrid. This last I adapted the paella.
We are going to order a little ideas, this helped me Chema, because I realized how much that I need to know about the world of rice:
(a) on the type of rice
In Spain there are three designations of origin of rice, regulated by councils, these are:
Appellation Valencia ricecovering the la Albufera Natural Park of Valencia and la Marjal de Pego Oliva. The varieties are: pump, Bay and Senia. The pump have it identified clearly in the containers, so it is clear that you having the tag of the rice of Valencia denomination and not being identified is Bay or Senia variety (allow your mix)
Appellation of origin rice of the Delta of the Ebro, varieties are Bay, Tebre, Senia, Fonsa, pump and Montsianell
Appellation Calasparra ricecultivated between Murcia and Albacete. The varieties are: pump and Balilla x Sollana
Clarified already denominations and varieties, I give my opinion about the most common types that are cooked in the dry rice paella, another thing is the sweet or soupy. Also I advance that I try to always find them in the d.o. Valencia rice
The first thing is the way to distinguish it: both (pump and Senia) are round grain and should be category extra, the two must have the label Valencia rice (not from another denomination of origin, or other type of rice: long, comprehensive, steaming, aromatic, jasmine, etc.) but the pump if so clearly identified in the container, advertised as a pump. The Senia or Bay is not called in any way in the container, that is identified. Both tag is as follows:
Pump: It is a type of round rice, enduring best overcooking and the broth, making sure it is looser and avoiding in a few minutes that pass. It is easier to char it. Its price tripled in some cases to the other varieties. The most advisable to start and the standard of quality, also suitable for large quantities in paella, and never fails. My admired José Luis García Berlanga is used always, always, always... and comes out yummy.
Senia: Round and similar to the pump, which due to its level of indoor humidity, provides a somewhat creamier rice which is not so loose, become more linked, while, on the other hand has a higher absorption of flavors. It is not easy to char it. It has to be a little more experienced, because it moves with ease, but it's perfect for thin layer of rice paella. Chema, Christophe and other many chefs use it.
(b) on the volume of stock or fumet
On the volume of stock that is required in dry rice, remember that it is related with:
Type of rice
The surface of paella (evaporation surface)
Thickness of the layer of rice
Ingredients Types
Water type
Altitude on the level of the sea, etc.
The first three: the type of rice, paella surface, and the thickness of the layer, are the determining factors:
A larger diameter paella and surface, with a thin layer of ricethe water evaporates much faster and often required more stockleaving more flavor stays in the grain.
Practical relationship: thin layer to a weight of rice set (1 cm.) - lot surface of paella - 3 times the volume of rice.
Example: 500 gr. of rice, paella of 50 cm. occupies a thickness of 1 cm. of rice, and to have more surface evaporates very fast and is a very thin layer (need more broth, approx. 3 times the volume of rice), improves it the Senia
A smaller diameter paella and surface, with a thicker layer of riceit evaporates more slowly. rice and need less broth.
Practical relationship: thick layer for the same weight of rice (3 cm.) - walking surface of paella - 3 times the volume of rice
Example: The same 500 gr. of rice, paella of 30 cm. occupies a thickness of almost 3 cm. of rice, and to have less surface evaporates more slowly and is more thick one coat (need less broth, approx. 2 times the volume of rice), the pump is more practical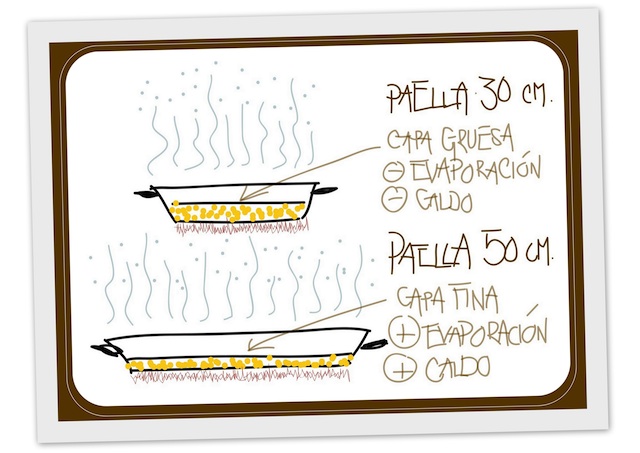 (c) on the cooking times
How much more liquid evaporate, more time with strong (to the max) fire, much less liquid evaporate, less time to fire maximum (if not burn) and something more to simmer. My approximate times are:
My cooking times, when I use rice Pumplayer fine, with something more than 2 times of broth the volume of rice:
Strong fire, but not to the full, 7/8 (out of 10) for 5 minutes
Fire under 3/4 (out of 10) for 10 minutes, test firing
Strong fire cover the paella (8 out of 10) for 2 minutes
Rest covered at least for 5 minutes
Total: 17 approximate minutes of cooking and 5 nursing home
My cooking times, when I use rice Senia, thin layer, with approximately 3 times of broth the volume of rice:
Fire the most (10 out of 10) for 7 minutes
Fire under 3/4 (out of 10) for 8 minutes, test firing
Strong fire cover the paella (10 out of 10) for 2 minutes
Rest covered at least for 5 minutes
Total: 17 approximate minutes of cooking and 5 nursing home
Stock trick I explain you for the recipe. Dare you with this paella?... go to the kitchen!

Difficulty level: intermediate
Preparation time: 45 min. (Broth aside 35 min.)
Seating: 4 persons
Ingredients
400 Gr. rice senia (approx. 3 cups) 0.80
6 frozen shrimps trocedaos €3.00
1 cuttlefish clean cut in dices €6.37
1 very finite cut green pepper in dices €0,39
1 spring onion, cut very fine in dices €0.31
2 carrots, cut very fine in dices €0.10
1 tomato branch without seeds and grated €0.08
2 cloves garlic, peeled, without threads and cut sliced €0.15
1 tablespoon of ali oli (garlic, oil, egg and salt) €0.90
Olive oil (as a vessel), a bit of turmeric and salt €1,90
Saffron and paprika €0.80
Stock on bottom fish hot: three times the volume of rice in this case, as 9 cups (I improved the natural stock of fish brand Aneto), with garlic, peppers, paprika, toasted saffron, crabs and the heads of the shrimps.
Total for the paella with the powered stock of Aneto: €23.76. Per person €5.94
For Fish stock or fund improved Aneto, for quick paella, which will surprise you, we will use the following ingredients (price €8.96):
A peeled tomato grated €0.08
2 living sea crabs (or crab) €4,00
King prawns heads that I use in paella
Half a cup of oil €0.80
A garlic minced non-€0.07
A nora seeded chopped €0.10
A little toasted saffron (some strands) €0.40
A little bit of paprika €0,20
And the fish stock Aneto (the volume you need, in this case a litre) €3.31
It starts to boil all 20 minutes approximately begun with fire half the bottom with oil, garlic, nora seedless and the grated tomato. Mix everything and give a few turns. Then crush the crabs and then heads of the shrimps for several minutes so that shed its flavor, and then added the rest of the broth and fire is up to medium-high completing it the toasted saffron and paprika. Finally passed through a sieve and retained only the liquid for the paella broth... very got and tasty!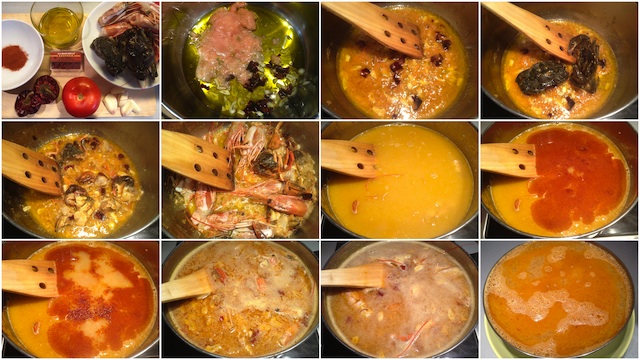 Equipment
Paella with internal diameter 50 cm (for a thin layer of rice, baking much better).
Barbecue (fire) of gas with gas cylinder
Saucepan or pot for the fish stock
Microwave or hob to heat the broth
Mortar or blender and strainer
Slotted spoon, grater for tomato, cutting, boards aluminium foil, various containers, etc.
Pairing
As they did with me at Bar La Bomba Rice, I recommend white wine Guimaro 2011 (100% Godello) D. O. Riberia Sacra (Low Galicia), very cool, goes wonderfully. Its golden color and freshness distinguish it. It is very appropriate for rice with seafood or fish. The price is $12.75.
Directions
1. slice the garlic into slices, as always, taking care to remove the strand or heart Centre (so avoid to repeat) and sprinkled a little salt by toa paella so the bottom does not burn.
2. Add olive oil to the bottom of the paella with the garlic. Once poured the garlic and oil, light the fire of the barbecue to medium-low.
3. once begin to be golden garlic, add the cuttlefish troceadita Center and salt. Remove not adhere or skip oil for 2-3 minutes
4. When is the cuttlefish made but tender, remove to the perimeter of the edge of the paella so not continue cooking (or directly away until later).
5. then add the center of paella minced carrot and sauteed it for about 5 minutes. Once cooked, remove to the perimeter. The same thing we do with pepper very chopped (for 3/4 minutes) and the finely chopped chives. As it is Browning, retires to the perimeter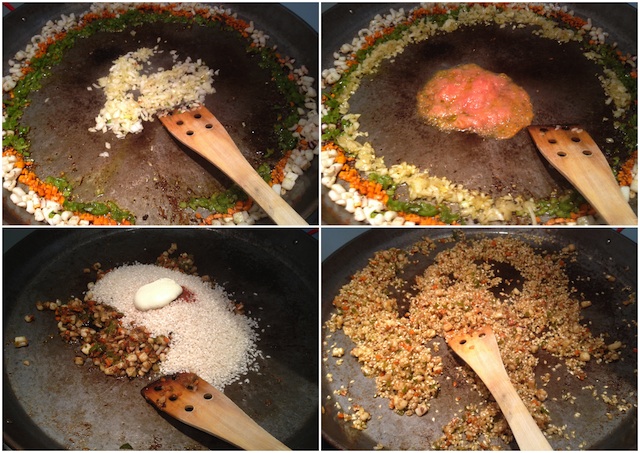 6 pour the contents of the grated tomato and fry with a little salt for a couple of minutes, then mix it with the other ingredients and cooked for 3/4 minutes.
7. it is measured the volume of the 400 Gr. of rice in a cup (for example). In my case, occupy 3 cups (depends on the size of Cup you use). Therefore, triple the volume of rice, reserve broth of fish, this paella, 9 cups, to finally go watering demand according to go seeing the firing of the rice while it is cooking. I get to be heated in the micro stock (2 min) at maximum power. It is very important that the broth is very hot when we add it to the paella, since otherwise it would break the rice cooking.
8 Add the rice with the tablespoon of ali oli and paprika with tomato, cuttle and the vegetables, and for 4/5 minutes stir constantly over medium heat. Browning it we get a little "Brown" rice, which will help us to give final ease.
9 Add the broth a bit of turmeric to give the characteristic colour. Removed from everything. With the hot stock, pour it and mixed together with the other ingredients. The broth (which incorporates the color of Saffron) triples just the volume of rice, 9 cups. The six first cups pour directly and then to demand, we will water with more stock up to three times to achieve the fluency of the rice (will keep you warm and reserved). We tried salt, and add a bit more if necessary, taking into account that the broth of rice must be tasty generously, since it loses some salt in the absorption of liquid that makes the grain.
10 and proceed with this "new cooking": as we already have some fluency with the paella, we will proceed to bring to boiling broth and the maximum of flavor left in grain. We tried salt, leave it at maximum heat for approx. 7/9 minutes, taking care of very powerful fire spread by all the paella evenly. The broth boil and appear many pompitas for all the surface. Irrigate last minutes where we see that you do need to observe that the rice is not without broth (keep in mind that the paella with concave and the Center always accumulates more amount of rice which the perimeter that the layer is of an only grain)
11 we will reduce the fire below, and will keep you about 8/10 min. We deal the pieces of raw shrimps that Cook. The end will coincide when it is very little broth into paella, and at this time will have evaporated virtually everything.
12 the firing of grain, we tested if it is tender on the outside and somewhat whole inside, is the time. If not, water a tad more to the driest areas dividing it equally, this makes for a little stock still in the paella dish by evaporation.
13 covered paella with aluminum foil (to turn it into a furnace) when the grain is ready (whole inside and tender on the outside), and fire rises to high a couple of minutes so that evaporation, to take effect. The couple of minutes shuts off the fire, and let the aluminum foil, which rice to rest for at least 5/7 minutes and finish cooking.
14 stir paella completely before serving, and the rice in the dish will get homogeneous texture, since never become equally grains from the Center to the perimeter.
15 and... ready!. We have achieved our first paella with triple the broth and the Senia rice. But remember that you must do it in a big paella so the rice layer is fine, but I will not go. Act followed, rice is ready to be served. Don't miss this recipe that you will see as well that you know the combination of cuttlefish, prawns and vegetables... to take!