Tomato sauce or fried in Spanish
Today we tomato. In particular Sofrito or Tomate frito, gives me just gives me the same. One of the Kings of our kitchen in basic and simple recipe. There are a thousand ways to prepare: in salad, appetizers, as an accompaniment, fried, sauteed, sauces, grilled, in summer as a basis for gazpachos, salmorejos and baton, etc., in winter on ragus, pasta, etc. For me it is an ingredient fundamental, and I don't think that the kitchen was the same without it. I will tell you a story that surely you will like do you know the strangest way I've found grow tomatoes?... in a lake!. Yes, Yes,... in a lake. I tell you.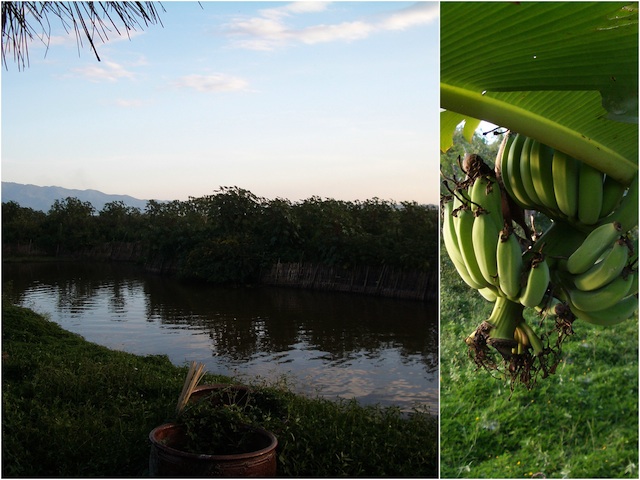 In the central region of Myanmar, the former BurmaThere is a fresh water lake surrounded by a ridge of mountains in the State of Sham. It is known as Inle Lake, and it is one of those special and magical destinations by its nature, virginity and their way of life. The Lake is very narrow, has a surface area of approximately 500 km2, with 100 km long and only wide 5. It is very shallow, barely reaches 4 m more than 200 villages living above and the Lake alrededeor. It's fascinating, if perceived the with a natural extract from Asia
The predominant ethnic group are the Intha (The children of the Lake), who they live with ancestral customs and among others, they have had to adapt their way of life to which the Lake provides them: have their own markets, floating architecture, fishing, culture, beliefs, religion and their crops. Of the above I will tell you, because it gives to many stories, but left me speechless your crops, as they are capable of creating floating gardens on the surface of the lake advantage that only ecosystem It gives them.
Formed orchards from the bottom, creating terraces of Lake proviniente Earth, where at the end, poke the beds and create grooves water out of which emerge the plants. Among other vegetables, the tomato consider it the King of planting, are proud of this fruit in the middle of the Lake. They produce a tomato green, nothing like ours, that used it in entries, salads and side dishes.
The fertilizer as fertilizer also used to extract it from there itself. It is a truly curious form of autosufuciencia, environmentalism of truth and pure energy efficiency. To build their houseboats (stilts), used the area trunks, kneeling and waterproofed with pitch and the SAPs that provides the environment to prevent rot. To move, fish or collect, the means of transport par excellence, are the canoes made of wood from the forests around. And even in the market, among tribes bartering as a method of obtaining and exchange of products between the of the Lake and the mountains is still used, but that will be another story.
Ideally, the sauce is that tomato is of orchard, or as we call it here, of the ground, which will undoubtedly improve this fried tomato sauce, but if you don't have it or need to do so with some rapidity, substituting tomato crushed you be helpful. It gives me the same fried tomato sauce because I use it interchangeably for one thing or the other, not do distinction. It is an original simple recipe from the great book of Ferran Adriá "Family meal" I gave my niece Almudena, and I usually always use at the bottom of the paella of meats and vegetables (not in fish or seafood) and I assure you that failure... is not one of my secrets, but you can also combine it as tomato sauce on pasta, potatoes or what will happen. If you want a more powerful and laborious, tomato that comes from a good ragu, I link here my recipe of The Neapolitan ragout.

Are we going to the kitchen?

Level of difficulty: easy
Preparation time: 45 min.
For 4 servings of tomato sauce or 2 servings of fried (for example, for paella)
Ingredients
Approx. 800 g of tomatoes from the land beautiful without skin or seeds, or in its absence, 750 grs of crushed tomatoes canned €0.70
1 medium onion €0.20 chopped in small cubes
1 glass of extra virgin olive oil €0.60
2 cloves garlic, peeled and chopped €0.10 (with the heart retired so no repeat)
4 bay leaves €0.15
A good pinch of thyme €0.15 (best understatement and rectify at the end)
A good pinch of Rosemary €0.15 (Idem previous)
A good pinch of salt €0.10 (previous Idem)
A teaspoon of sugar dessert (reserve it for the final if mixture is very acidic) €0.05
Total €2.20 divide between 2 servings for sofrito: €1.10 per serving, and 4 servings for tomato sauce: 0.55 per serving.
Utensils:
A wooden spoon
(Wider than high) large saucepan with lid
Knives and cutting boards
Pairing:
It depends on the dish that you join and wondeful sauce or tomato, it will be the choice, although I can imagine that you inclinaréis for some red wine. As I know your intentions of combination or use of the sauce, I leave it up to your choice according to the finished dish. I link my proposals of wines here.
Directions:
1. chop the onion into small pieces and chop the garlic, removing the thread so that it will not be repeated.
2. put a pan of oil extra virgin olive to medium high heat.
3 pour the garlic first
4. then Add onion to go is finely a little for about 5 minutes.
5 and pour the tomato, thyme, Rosemary salt. Cover it and move it from time to time taking care that it is cold equal on all sides.
6 we add Bay leaves. Keep it to fire medium by one 30 - 35 minutes, remove it from time to time ensuring that the firing is homogeneous. In the end, we correct our taste of salt, thyme or Rosemary. If finally, after cooking, you notice something acid, add a teaspoon of sugar dessert and mezcláis it. The final texture dede be consistent.
If you want, you can see the recipe in the video presentation that you have prepared. Thank you!