A wise man said: the richness of a human is measured by the quantity and quality of the friends he has. Thank you for being part of my fortune. Happy new year
Happy new year! That is perhaps going parties? I hope that phenomenally well, you I wish that the 2014 is a very generous year that exceeds all your expectations, and in which all can share many joys and smiles... heart. Once started in January, the first recipe could not be other than the of the The Three Kings' Cake (Roscón de Reyes). Many people say to do the twisted roll of Kings is a very difficult to do sweet and did not deserve the penalty do it at home, but as always I am not agree...
A few weeks ago I was in the pastry Vait of Calle Alcalá. I went to try the cronuts fashion in New York but I gave up before the Snacks Roscóngo more original idea. Rather than buy a whole twisted roll, you can take updates individualas if they were cupcakes, each type, with different Stuffed: cream, cream, truffle, chocolate... but also with others more original like strawberry or cream of yoghourt. This gives you the opportunity to try different types, and take them at any time. I loved the concept.
And this last suggested to me the idea of making these delicious morsels of Roscón next year. This year, we will start by the more traditional. The The Three Kings' Cake (Roscón de Reyes) is not a sweet that sole leave at the first (you have to be persistent), but like everything in life, when you practice and you get it, the satisfaction to make your own homemade roscón, it is infinite. It is true that making a good roscón is not something like frying an egg, but it must not be a Pierre Hermé (famous French pastry chef and one of my idols) to get it. It must take into account some tracks and have high doses of patience, but nothing more. Do you dare to do one with me?
We start with the first. For example, must keep in mind that although it is much easier to do with baking powder, in my opinion the roulade will result much fluffier if we do it with fresh yeast Baker.
That's why in my recipe will use pressed yeast in bakery (pressed fresh yeast) so our Roscón raise and hold for a few days the sponginess. And where I buy this type of yeast? As in Mercadona, Carrefour... There are a few refrigerated pods that come two pills the size of a toffee candy. Each tablet contains 25 grams and for my recipe you will need two pills (although not whole). In addition, as regards the other ingredients, must keep in mind that it is better to have them all at the same temperature environmentnever cold, and if they are good qualityyou have more chances to succeed.
Another track. Regarding the kneading, you can use an electric mixer for kneading, but I advise you to limit its use only to the first kneading and then do it a mano. Although it is more work, the result is worth it. The task can use a scraper to provided.
Some elaborates letting based only twice, and come out very rich, but in my roscón I've noticed coming out much more good and fluffy if let stand thrice different. The trick to not grow weary? Make a part of the work a day and the rest the next day. So get in addition an extra softness in the mass.
And finally and most important, we must develop it with sourdough. My God!, and what is that?. Well, nothing that should scare us. The sourdough is the basis of most breads. Causes a slow fermentation in the dough which makes the slight mass (rise) slowly and baked once is more fluffy longer.
Like everything in kitchen all you need a roulade is time, patience and much love. Simply smell that come off your kitchen to bake it is already worth the attempt. I've tried several recipes until I found my own, with things here and there, and now they do not change it. In addition greater luxury make a roulade at home is that I can finally eat it without having to remove the candied fruit that I do not like!.
Here we go with my recipe. I hope that you get it right, id step carefully, but above all with patience. Do not try to accelerate the process which will go against the quality of the result.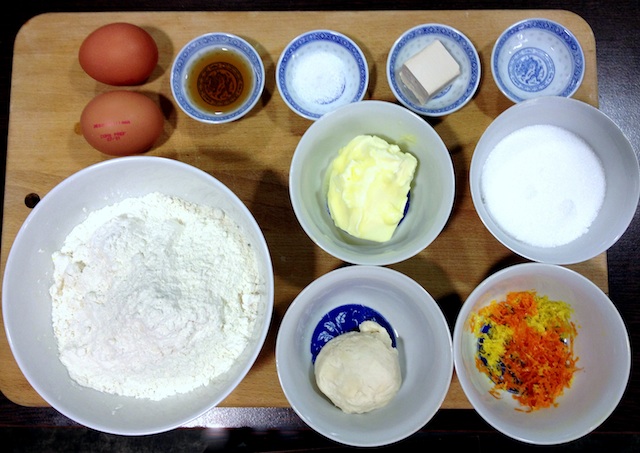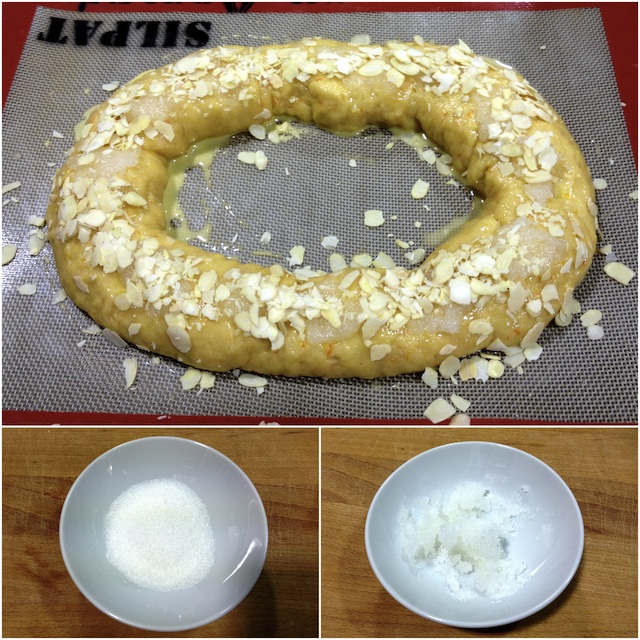 Ingredients
For the dough:
150 g of flour strength, €0.14
100 ml whole milk warm, €0.06
12.5 g of yeast pressed bakery €0.08
For the mass of the roulade:
1 sourdough recipe
550 g flour strength €0.50
100 ml of milk whole warm €0.06
25 g fresh yeast bakery €0.17
3 eggs €0.37
Zest of two oranges and 2 lemons €0.40
100 g butter ointment at €0.39
30 ml of essence or scent of Orange Blossom (doesn't the water of orange blossom from the pharmacy. The scent of orange blossom sold in supermarkets. The easiest to find is brand Vahine El Corte Ingles has it and is scent of orange blossom water. Is a 200 ml bottle) €0,33
20 ml rum aged €0,27
200 g sugar €0.19
1/2 tablespoon salt €0.05
To decorate:
2 yolks of €0.24 30 ml milk egg €0.02 100 g sugar 0.10 €2 tablespoons water €0.01 150 g laminated almonds, or pine nuts or walnuts... échale imagination! €1.80
Total €4.98, or what is the same, €0.31 per person, for which a sweet so spongy and traditional is nothing. Much cheaper than buying it in the street
Directions
Preparation sourdough:
1. in a bowl, remove cold milk until warm. It may not be hot because then the yeast would not fulfill its purpose: it would not ferment and the dough not rise.
2 undo the yeast, warm milk with the help of the hands pressed or a TSP. (I prefer to undo it in the milk with one hand).
3. in a separate bowl mix the sifted flour and salt. Add the milk with yeast and mix with hands until we have a compact mass. Make a ball and with a knife make a cross.
4. fill a bowl with warm water and immerse the ball of dough. After about 10 minutes the ball will float in the water. It is the time out of the water and to use it.
Now we prepare the mass roscón:
5 Sift flour and set aside in a large bowl, keeping aside 4 tablespoons dough at the end.
6 wash a lemon and an orange, dry and grating with care not to scratch the white part because it amargaría.
7 in a large electric mixer Bowl, mix eggs, sugar, vanilla, rum, scratches and salt with rod. Beat until everything is well blended and creamy texture.
8. in a bowl, remove cold milk until warm. It may not be heated because then the yeast would not fulfill its purpose: it would not ferment and the dough not rise. Undo the yeast in the warm milk-pressed.
9. in a large bowl of electric mixer place the sifted flour (leaving two tablespoons mix) and add the mixture of eggs and milk with yeast. Mix with the attachment of kneading (in the Kenwood and Kitchenaid "T"). If you don't have an electric mixer with the kneading accessory will have to do the entire process by hand, mixing with fingers until all ingredients are well incorporated.
10. then add the butter in ointment, the scent of orange blossom and the ball of dough mother we had reserved out of the water. Knead with the electric mixer for about 20 seconds and stop the blender. Cover with plastic wrap and let rest until double the volume (1 hour approx.). This is the first wash our mass.
We will now continue with the manual kneading.
11 we can knead in two ways:
-Grease with olive oil hands and the surface where we go to knead, and start with the kneading. At the beginning it is very difficult because the dough is very sticky. We can help a scraper that will facilitate this step.
-Also is it can be kneaded enharinando surface. In this case will gradually incorporating the flour that we have left off at the beginning.
Care must be taken not to add more flour account since if we do mass will be denser and less fluffy. It will be as good, but it is not recommended to exceed with the flour. The kneading will take us about 10 minutes to obtain a homogeneous, pliable mass. Make a ball. Place in a bowl and put flour under and on top of the ball of dough. The flour will prevent the mass is Degas (get off beat release all air), to remove it from the bowl.
12 arrived at this point we can choose by baking the dough the same day or save it for the next day:
Option A -If we are going to bake the roscón that daycover the bowl with a cotton cloth and let stand for 2 hours in a warm place (near a radiator at low temperature, or in the oven preheated to 50 degrees for a few minutes, and turn it off when entering the bowl). Let it stand for 2 hours (second wash) .or until doubled in volume
Past this time gently knead and wait 10 minutes to chill the dough. We will give you the desired shape: two traditional roscón, one (but will be enormous), or several small without holes in the Center. Put them on a baking tray placing under the roscón a tracing paper or a silpat and sprinkle flour under and on the roscón. Leave the roscón about 50 minutes more (third weighed). Meanwhile preheat the oven to 220ª.
Option B -If suit us more baking the roulade to the morrow and once have finished the 12 point, cover the bowl with a cotton cloth and put it in the fridge so that it rests there (first weighed) some hours or overnight (second wash). Remove the dough from the refrigerator at least two hours before baking. After at least two hours, we will give you form of roulade Knead gently and waited 10 minutes to chill the dough. We will give you the desired shape: one large, mid-two or six small. Placed in a baking tray with a vellum or silpat covered with flour, and we sprinkle flour on top of the roscón. They cover with a cloth and become to let stand an hour. This option makes the risen dough slower which makes that then the roulade out fluffier and soft longer (third weighed).
13. it is preheated oven at 220 degrees.
For garnish, painted with an egg yolk and a little milk. The milk will prevent that the roulade will toast more than necessary to the bake.
Mix the sugar with a few drops of water until a paste forms and make mounds over the roulade. Sprinkle with almonds rolled or chopped, pine nuts, candied fruit or whatever more or want.
When they will introduce the roscón in the oven, the temperature is reduced to 200 ° and she is baked for five minutes. Passed this time, we went down the temperature to 180 ° and bake for about 15-20 minutes more. If we see it is toasted more, we can cover it with foil aluminium.
Only it can bake a tray each time, so that if we have more than one, we hornearemos first one leaving at rest the other 20 minutes until the oven is ready.
14 cool the roscón thoroughly before taking them... If you are able to clear! If you want to you can fill cream or cream, but such which are delicious, and you can not imagine the smell that will have all the... House to glory!
Tips and Tricks
-Have all ingredients at room temperature, and butter but soft, should not be undone or liquid.
-Yeast needed for the twisted roll of Kings is from Baker. It can be dry or fresh and you can use either one or the other, although to my I prefer the fresh.
-If the dough is sticky and you can not work well, continue kneading. If it was still sticky, add a little flour, but no longer than strictly necessary. Remember that it is important to have the hands soaked in oil to be able to knead well, and a scraper will be very useful.
It is a typical sweet of breakfast and snack of Kings I am going to recommend taking it with a cup of hot chocolate. You can do it at home but I am a fan of the Chocolate to the Ram Cup. Sold in tetra bricks by a litre and is so good that in summer love my son take it as if they were custard. The price of a litre is €1.63 and is so rich that not worth the hassle to do it at home. You just have to heat it and my I like to add a little milk. Delicious!
Difficulty level: intermediate
Preparation time: 4 hours and approximately half or one day depending on when you want to bake
Seating: 16 people (leaving two roscón)