By very long that is the storm, the sun always shines again among the clouds
The trip that runs through the Baltic capitals should be mandatory for all schoolchildren to study history. Few routes through as much biographical sketch, so much culture and so many different geography. All of them, there is one that stands out by its grandeur and its history: I speak of San Petersburgo, the former Leningrad, formerly Petrograd and also known as the Venice of the North... one of them. This Russian capital located in the District of Northwest, in the Leningrad Region is, with more than five million inhabitants, one of the cities with more historical events of Russia.
Here can entertain you in walk and go their stores, and if you da time, paraos in the number 44, where is located the pastry Sever, an of them best of the city. Take a time in deciding you what take. Us we chose a selection of Russian delicacies, including a tasty piece of chocolate cake... do chocolate? what I told you?... delicious!... do you want a little Nutella today? Yes? Because we are going to the kitchen...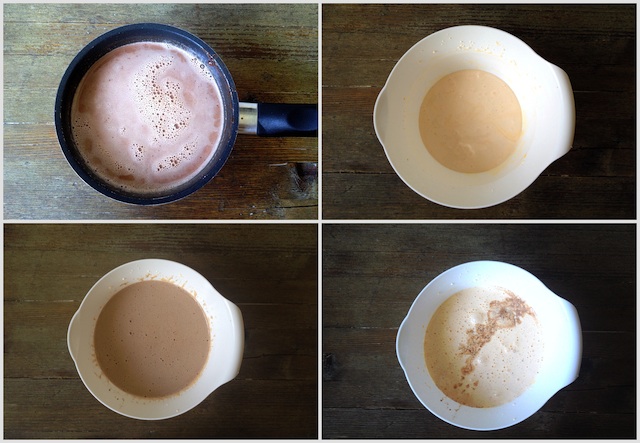 Ingredients
5 egg yolks €0.90
3 tablespoons of nutella €0.55
100 gr of powdered sugar €0.12
4 tablespoons of brown sugar €0.15
Half a litre of cream (must have at least one 35% FAT) €1.60
1 tablespoon vanilla extract €0.35
Total €3,67, i.e. €0.61 per each toasted cream nutella that will make you mouth water and will leave you wanting another... who gives more?
Orange and chocolate always are great... or not?. Then write down my proposal: Orange Muscat from Bodegas Malaga Virgen. Grapes 100% Alexandria of the region of the Axarquía with the aromatic hint of Orange, the cachorreñas shells. Well take it cold. Your price €7,50
Directions
1 preheat the oven to 100 ° C.
2. using an electric mixer with rods, assemble the egg yolks together with the sugar. We must beat until the mixture is fluffy and looks like a mousse, and yolks have taken a very soft yellow color.
3. in a saucepan bring to boil the cream with the nutella. You must move all the time with rods to fire medium, but it is very important not to let it boil, so you have to be very attentive until the mixture is uniform and hot but without boiling.
4 pour the cream and nutella on mounted yolks and with help of the rods gently mix until the cream is uniform.
5. fill a few ramekins or oven-safe containers filling them a finger below the rim.
6. Hornar 100 ° c for 60 minutes. So the cream curdle and will thicken to an absolutely delicious teztura.
7. once baked, cover our ramekins with the brown sugar.
8. with the help of a burner or torch, burn the sugar until it is a hard layer of caramel over each ramekin. If we have no torch, we Broil them in the oven at 250 ° C for a couple of minutes.
9 put in the fridge for a couple of hours to allow the cream to settle. After this time, you can already enter paradise!
Tips and Tricks
-Prepare the cream on a base of sponge cake if you want a more forceful dessert.
-Bake and freeze your creams until you go to eat them. So wait for it to cool to room temperature.
-You can burn the candy and freeze. In half an hour out of the freezer, they are ready to take chilly and delicious.
-You can freeze directly without burning the sugar. Thaw for half an hour at room temperature and then cover with brown sugar before serving. You can also freeze it with already burned sugar, but eye, always defrost at room temperature.
Level of difficulty: easy
Preparation time: 70 min. and 2 hours to cool in the fridge
Servings: six
Orange and chocolate always are great... or not?. Then write down my proposal: Orange Muscat from Bodegas Malaga Virgen. Grapes 100% Alexandria of the region of the Axarquía with the aromatic hint of Orange, the cachorreñas shells. Well take it cold. Your price €7,50
/ box]