This is the best homemade granola that I've tried, and which has become a fixed in my breakfast At home. The end of the year and the start of 2017 not has been in my case or the best or the dream.
A couple of days before Christmas Eve began to find me wrong, and after several days, I ended up uploaded in the sanatorium because a virus that I've called k-k, I affected the liver.
Since then, am watching me more than ever the power to help the parameters back to normal: healthy food that has also made my operation bikini has moved forward.
So I can't take fats or spices (how miss them!), avoid white flour and processed foods. But that does not means that not eat rich, only that's way different. And so I have come to the best Granola home that I have made already several times and that is has become in a pleasure that no would have discovered of not be by the virus!
And to sample a button. The meal of the day that I like most is the breakfast, because you can eat whatever you want you slimline since calories lose them as the day progresses.
Yes, this granola is powerful, and has calories, won't you fool, but is the best homemade granola and gives me lots of energy, all what I need to compensate for this diet, which is getting a great face. And is that while a my I like to take it with yogurt and fresh fruit, my son likes milk.
It has oats, walnuts, hazelnuts, pumpkin seeds and chia seeds, oil of coconut and maple syrup, and of course a touch of vanilla that makes it different, and I can assure that everyone who has tried, and they have been several, dropped surrendered to his feet. It is sweet, crunchy and delicious. And it also has two options with or without cocoa.
So take care of yourself and enjoy the best homemade granola that are going to try and make yours today surely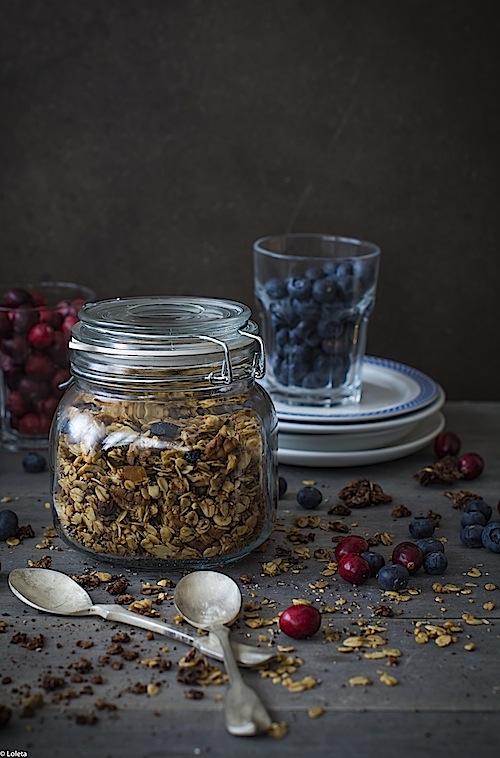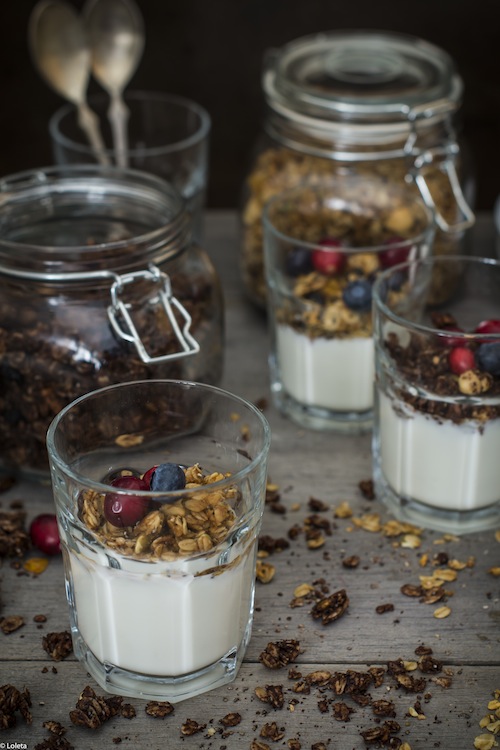 Ingredients
400 g of organic oat flakes
35 g of pumpkin seeds (pipes)
20 g of seeds of chia
30 g of walnuts pecans or normal
25 g chopped hazelnuts
3 tablespoons shredded coconut
a pinch of salt
120 ml of honey or maple syrup
120 ml of coconut oil or oil plant (you can use that want even of olive, but I prefer to use the coconut because I love the flavor that gives)
1 tablespoon pure vanilla extract
2 tablespoons pure cocoa (optional)
Directions
1. prepare all the ingredients. If the oil of coconut is thick heat slightly to be melt. Book.
2. in a large bowl mix the rolled oats with nuts, coconut, seeds and salt. Mix well.
3. Add coconut oil and syrup of Maple and mix until all the ingredients are well mixed and covered in oil and syrup.
4 divide the mixture into two bowls and add cocoa powder to one of them. Mix well.
5. On a baking space place a baking paper. Overturn the oat mixture and with the help of a spoon flatten as much as possible covering the entire surface. If we have prepared one part with cocoa, we will keep in one part of the plate the cocoa and the other at the other end, separate so that we can then keep it separately. Bake for about 20 minutes at 175o.
6. allow to cool completely and break into pieces.
Tips and Tricks
You can add dried fruit such as blueberries, dried apricots or raisins
Use honey instead of maple syrup
Difficulty: easy
Preparation time: 25 minutes
Servings: 10