This nuts with vanilla, fruit and oatmeal Smoothie has become the ideal breakfast at home. It is delicious to my it is the most important thing, but it is that it also provides a lot of energy now that the days are coming with heat and we need strength to face them.
When I was small I remember who put a milkshake near my parents house post. It only opened in summer, and granitas of fruit with milk were called. You Elegies fruit, mixed with crushed ice and milk, and presto! churning created for you at the moment. None of syrup or artificial ingredients, fruit, crushed ice and milk. How much some of sugar and that's it. I loved to go and ask different invented mixtures of flavors. I love the fruit and HailStorm imagine! It was like taking ice cream but drunk. A brilliant invention, which made that a little later discovered the magic of making smoothies at home creating unique, sometimes very rich mixtures and other not-so-rich.
At home long ago that Javi and I make them for breakfast. Much like us go by varying the ingredients according to the season but this nuts with vanilla, fruit and oatmeal Smoothie has become our favorite.
He was eager to become a full milkshake that was rich, and I must confess that this nuts with vanilla, fruit and oatmeal Smoothie is great. And is that the banana and walnuts married almost that alone
Of course you can make your own version but the basis of nuts with coconut milk gives a different touch that I love. Until he did a lot of tests: with cheese, without cheese, with milk of almonds, with regular milk, and so up to 7 tests until I found one in which there was unanimity and that loved them all.
I hope you enjoy it, but above all I hope you like the jury of the contest of California walnuts. And it is that next July 1, I'm going to Barcelona to participate with this recipe in the competition, nuts of California Experience, so wish me luck, is at stake a trip to California to see the nogales at the time of collection, so cross your fingers. Share the post on your networks to gain access to the various activities organized on July 1 will spend it big!
And now if we go with super recipe Smoothie nuts with vanilla, fruit and oatmeal and this summer, don't forget of Vitaminarte and mineralize yourself!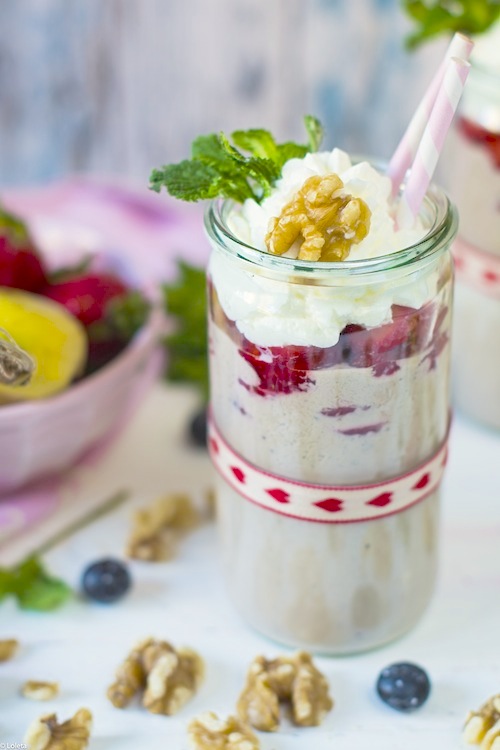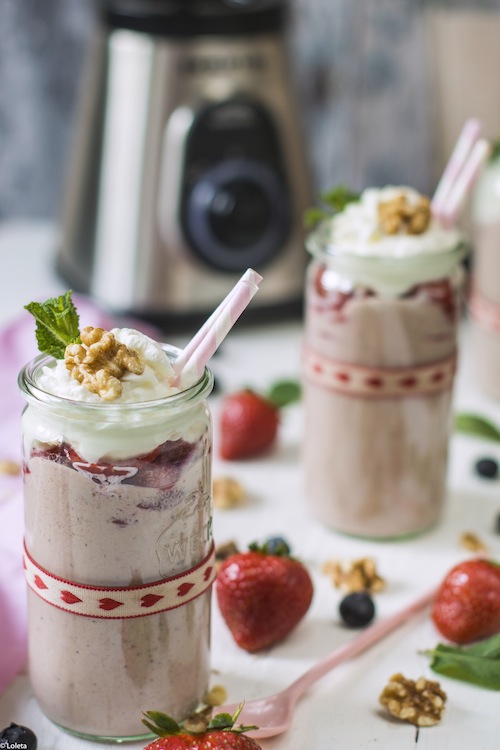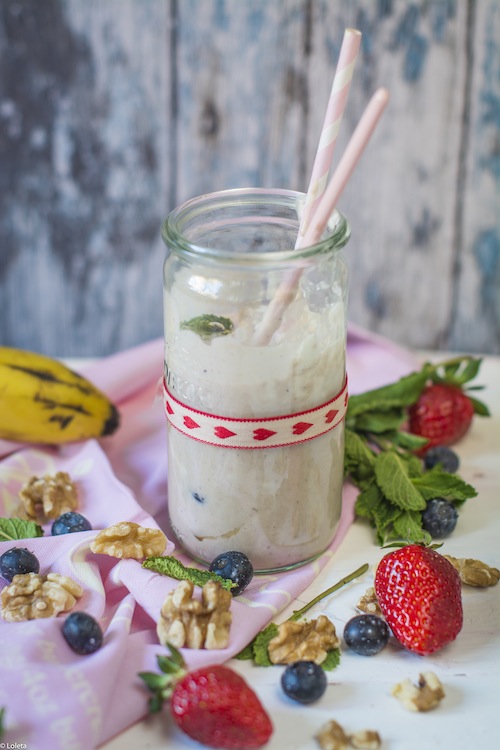 Ingredients
250 ml of coconut milk
50 ml of liquid cream
200 ml milk
70 g of walnuts from California
1 pinch of salt
1 tablespoon of oats
1 tablespoon pure vanilla extract
3 tablespoons maple syrup
half banana
12 strawberries
10 Blueberry
For decorating the cake
250 ml whipping cream
a bunch of mint
10 strawberries
30 g of walnuts californiai
Directions
Beat mixer (mine the new Optima Magnum 6 of Taurus), coconut milk with nuts until you get a thin mixture.
Add the rest of ingredients and beat until the mixture is uniform for a couple of minutes.
Serve with some strawberries and a little whipped cream and garnish with a sprig of mint and medium walnut. Easy and delicious and super fresh.
Tips and Tricks
Add a touch of rum for a smoothie snack with friends
If you want a version more light uses only milk semi-desnatada
Preparation time: 5 minutes
Difficulty: easy
Servings: 3