These madeleines with orange blossom water are small soft and delicious cakes to be eaten at home from 10 to 10. For this reason, they are ideal for coffee, and its small size, make that you can make one or two while you're in full operation bikini.,
They are prepared with orange blossom water which gives them a very special flavor twist. Just as in our twisted roll of Kings or the Swiss, the orange blossom water brings a very subtle flavor that makes them delicious.
In its preparation to sift the flour the madeleines of orange blossom water out very fluffy. In addition once oiled mold it sprinkled with icing sugar, which makes that cupcakes have a crispy touch to eat them. These madeleines are very tiny, so ideal to take at any time. I used this precious mold to make them of Revol You can find here
The vessels of coloured stripes are of Revol, my favorite brand of porcelain, and super fun. My son goes crazy with them because they are fun and my I love them because they give a casual touch to the table. It is the collection Froisses or Crumple collection sure many know and which also appear in the pictures. They are a few cups crumpled to imitating the image of the classic plastic cups but manufactured in porcelain fine of a thousand different colors and with different designs and you will find here...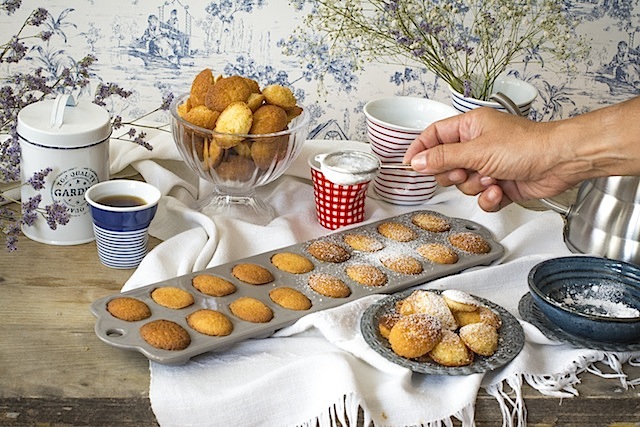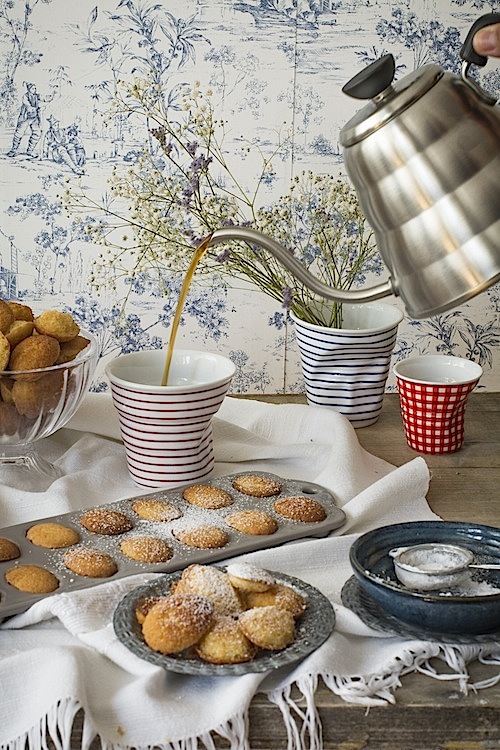 Ingredients
120 g flour €0.06
1 teaspoon of baking powder €0.10
2 eggs €0.28
120 g sugar €0.09
2 teaspoons orange blossom water €0.30
1 teaspoon pure vanilla extract €0.12
120 g unsalted butter, at temperature ambient €0.59
to grease the mould will need butter or grease spray €0.15
icing sugar to sprinkle the mold €0.10
Total €1.53 for some 60 madeleines with orange blossom water, i.e. €0.30 the dozen. Amazing right?.
Directions
1 preheat the oven to 200 ° C
2. grease the mould of madeleines. I used this precious Revol which also has more capacity (18 units), than the normal moulds that tend to have capacity for 9 or 12 madeleines
3. in a bowl, sift the flour and the yeast.
4. in another bowl, using an electric mixer on medium speed, beat the egg, sugar and orange blossom 30 seconds water. Increase the speed to high and beat for 10 minutes until the mixture has increased its volume.
5. with the help of a spatula, add the flour mixture and then the butter. Fill with the mix them molds prepared, filling each one about three fourth parts full.
6 bake for 10 to 12 minutes until cupcakes are slightly browned on the edges. Remove the Muffins from the oven and unmold them. Put them on a split grille to cool fully... Using a strainer or sifter, sprinkle our icing sugar with orange blossom water madeleines
Tips and Tricks
This mould is ceramic. If you are using one metal it is possible that the madeleines cooked before
Added a few pearls of chocolate if like a touch extra of flavor
Preparation time: 40 minutes
Difficulty: easy
Servings: 60