This glazed lemon cake, has its story. I really wanted to use my new mould Nordic Ware My sister had bought it for me. It is a very original mold because it is square while it is still a bundt, and that is not very common.
My sister's favorite cake is the lemon, cake so I decided that I would frist use my mould with a glazed lemon cake for her, and this is the result of a soft and delicious cake. It has sour cream. This cream is used in place of yogurt because its sour gives it a very rich flavor to the cake as well as a very soft texture. If you cannot find it, you can replace it with a mixture of Greek yogurt (full fat no light) with butter and lemon juice: 1 part of melted butter at room temperature mixed with 3 parts of Greek yogurt. and 1 tablespoon of lemon juice In the case of this recipe, use a cup of sour cream are 300 ml, so we would put 225 g Greek yoghurt and 75 g butter melted at room temperature and 1/2 tablespoon of lemon juice.
You will also love this recipe for the lemon icing that is acid and sweet at the same time ( I would eat full tablespoonfuls instead of pouring it on the cake whenever I prepare this recipe).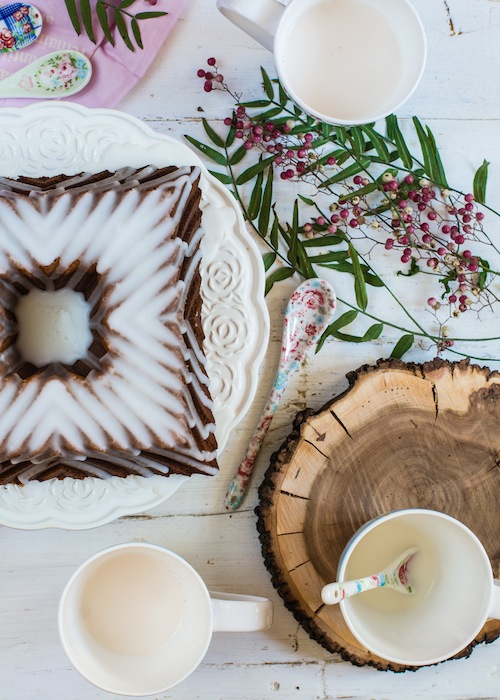 Ingredients
250 g unsalted butter, at room temperature €1,20

3 cups (450 g) flour €0.25
zest of 3 lemons and juice of 2 €0.40
1 teaspoon of sodium bicarbonate €0.10
1 teaspoon salt €0.02
2 cups and a half of sugar (550 g) €0.39
6 large eggs €0.75
1 cup sour cream or sour cream (300 ml) €1.20
For glaze
3 tablespoons lemon juice €0.15
3/4 cup icing sugar €0.35
Total
Directions
1 Preheat the oven to 175 ° C. Grease the bundt mould and reserve.
2. in a medium bowl, mix the flour, lemon zest, baking soda and salt. Set aside.
3. In bowl of electric mixer, beat the butter and sugar at medium-high speed until fluffy (4-5 minutes). Add the eggs one at a time, beating well after each addition; Add the lemon juice.
4. With the mixer on low speed, add alternately flour mixture and sour cream, beginning and ending with flour mixture. Pour the mixture into the prepared mold and smooth top with a spatula. Firmly tap mold on the table to avoid air bubbles.
5. Bake for about 50 minutes until until a toothpick inserted in the center of the cake comes out clean. Let cool in pan for 10 minutes, remove from pan and let cool completely on a wire rack.
6. In a bowl, mix the shifted icing sugar with lemon juice and cover the cake with the glaze.
Tips and Tricks
This cake does not grow much in the oven so the recipe amounts are for a 12-Cup mold and should be nearly filled up to above
If you prefer change quantities of lemon for Orange
Difficulty: easy
Preparation time 70 minutes
Servings: 10