These Blueberry lemon scones became the Favorites of our breakfast makes a lot of time. They are not the original British sounds that make almost no sugar and its texture is more type bizcochito, ideal to accompany your breakfast and snacks.
We test them for the first time in New York and its texture, much more juicy in the inside than the classics that are coated in butter and jam was very surprised.
The first time I made them didn't know what was going to be because I modified much the recipe I found, but they were perfect and since then this is the recipe that I repeat and repeat. My son and my love to prepare them early for breakfast. There are plenty, but we freeze them and we are eating them gradually until they are finished and we go back to do them again.
You can make them with your favorite fruit and add other ingredients such as oatmeal, chocolate chips or raisins. In any case, and as always I invite you you inventéis your own recipe with your favorite flavor.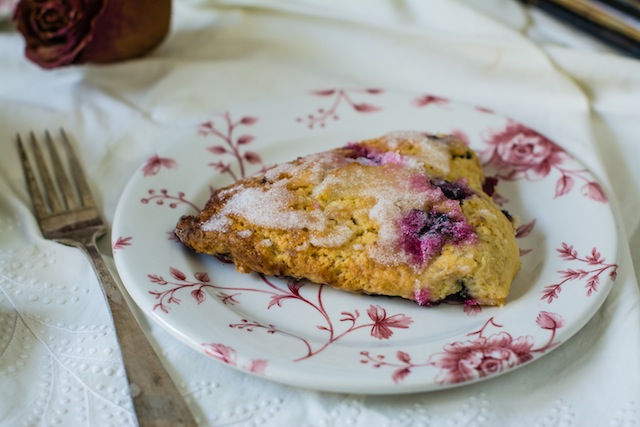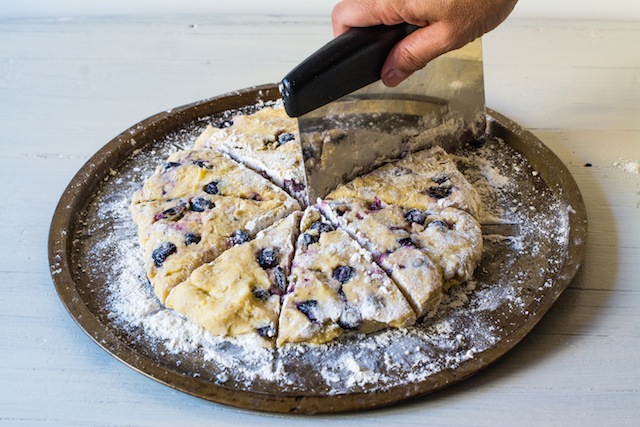 Ingredients
270 g flour €0.14
90 g sugar €0.07
2 teaspoons of baking powder €0,20
1/2 teaspoon salt €0.02
the lemon zest €0.10
115 g unsalted butter, cut very small and frozen €0.61
125 ml of liquid cream €0,30
1 egg large €0.12
1 tsp. vanilla extract €0.30
1 cup blueberries (fresh or frozen) €1,00
For glaze
100 g of sugar – normal is to make the glazed with icing sugar, but I I'm more greedy than anyone else, love to find the grains of sugar in the glaze of the sounds, so in this recipe in particular, I use normal sugar, but if you prefer to be a more uniform texture and soft then used the same amount of icing sugar instead of normal sugar €0.7
4 tablespoons of lemon juice or the same amount of water €0.10
Total €3.03 sue between 8 scones that come with these quantities, are €0.38 per unit
Directions
1 preheat the oven to 190 ° C. Adjust rack to bake at medium-low position. Cover a tray for baking large with baking paper or a silicone sheet. Book out of the oven.
2. in a large bowl, mix the flour, sugar, baking powder and salt. Add lemon zest and mix again.
3. Add the frozen butter and mix. With the help of two knives start to cut it until the mixture looks like coarse flour. Book.
3. in a small bowl, mix together the cream, egg, and vanilla. Add to the flour mixture and then join the mixture with a rubber spatula until uniform.
4. gently tip the blueberries. Personally I prefer to freeze them because to so add them are hard and not stain the dough too. If you add them without freezing the only thing that will happen is that the mass is probably put fucsia-morado color. Mix with floured hands and make a ball.
5 move the dough to floured countertop and press dough with your hands to make a disc of about 22 cm. cut into equal slices with a very sharp knife or a dough. Place the wedges on baking sheet.
6 bake for 20-25 minutes or until lightly browned and thoroughly cooked. . Remove from the oven and let cool for a few minutes. While rolls are still warm, mix glaze ingredients until smooth. Spray on hot buns. I did it with a kitchen brush.
7 let stand a little although these sounds are delicious still warm.
Tips and Tricks
The sounds will be perfect for a couple of days, but if you prefer you can freeze them and take them over when you want
It is replaced by blackberries blueberries if you prefer
Preparation time: 35 minutes
Difficulty: easy
Servings: 8