' If you are looking for different results, do not do always the same'

When I think of the macarons, I can't help thinking of all the sites that have tested since I ate the first and what are my favorites.
The first time I tried the macarons was in Laduree in Paris in 1989... Uf! It has already rained. A classmate told me that I had to try them. Try what?... I said. "Macarons, ma Chérie" she said, and took me to the Rue Royalefirst local of Laduree, to try them out.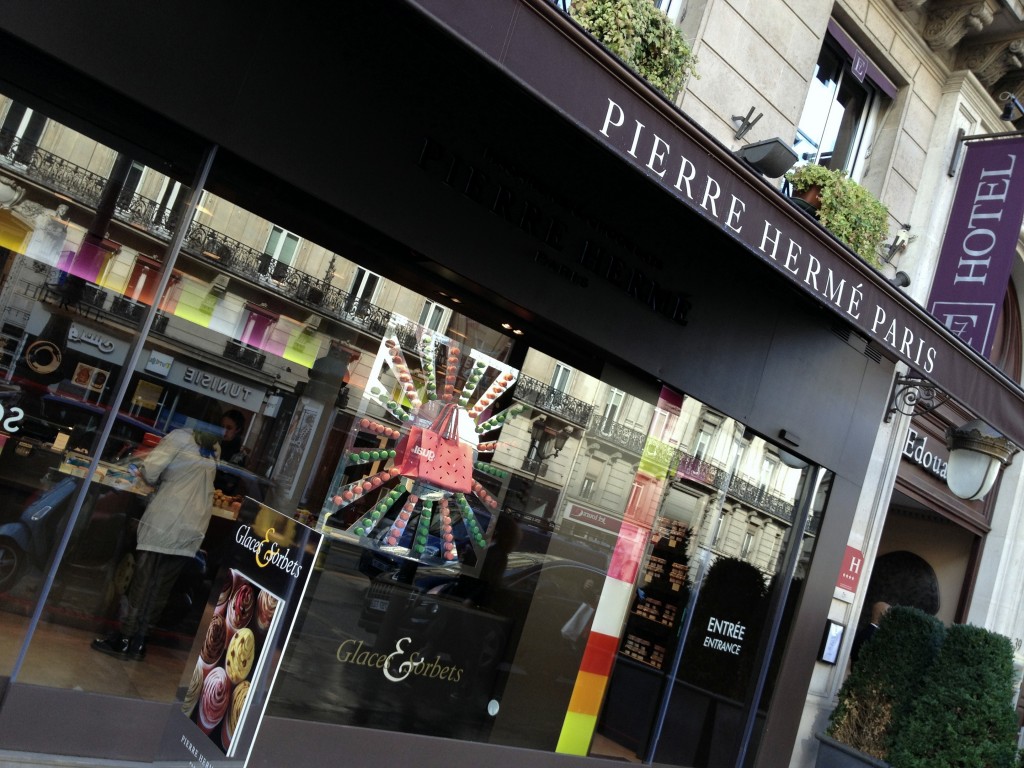 The history of macaron them from Ladurée began with Pierre Desfontaines, a cousin of Louis Ernest Ladurée in the middle of the last century. Pierre had the brilliant idea of uniting two shells of macarons and filling them a tasty ganache (or cream).
Recipe has not changed since then and the pastry chefs of the House weigh accurately the almond flour, eggs and sugar so always go with the same texture and flavor.
Finished once they are not for sale until after 48 hours. Thus the macarons balanced taste and chewy texture.
Each season Ladurée honors them creating a new flavor. The new creation is always based on the previous taking into account the colour palette and flavors. The color It is a critical piece of seduction that these cookies have about us.
And it is in my last visit to ParisWhen Ladurée had just out sale for its flavor of 2012 making it match the fashion week in Paris as in recent years. This time was devoted to the House of Lanvin French fashion and with a super flavor: bubble gum!. In fact, I think there is the same recipe posted (at least AFAIK in Spanish)
Since I came back from Paris I've been thinking that I had to make them. I wanted to try a new way of preparation of macarons (of master pastry chefs Thomas Keller and Pierre Hermé among others), and I wanted to start me trying to make the gum. Said and done... I hope you like them as much as my son and his friends, but I warn you, they will give you desire to make bubbles with them and you can not...
Level of difficulty: high
Time of preparation: 1 h. processing, plus 1/2 h. rest and 1/2 h. Cook (*)
Seating: Leave 70 seashells, i.e. about 35 macarons.
(*) I would also add to achieve the fullness of flavor: 24 h. minimum in freezer, more 3 h. fridge, more 1 h at room temperature.
Ingredients
For macarons:
150 g almond powder (also called almond flour) €3.60 (for example, Mercadona)
150 g icing sugar. It doesn't which is made at home in the thermomix or which sold in the supermarket of sugar Spanish. The grain of these sugars is much thicker to that which is required to make macarons. I use one English called Tate Lyle Icing Sugar. You can find it on Taste of America, El Corte Inglés, in Iceland, the sweet flowers, commercial Minguez cottage and in a lot more than shops American and English. €0,50
55 g of egg whites. Ideally, as old whites: they freeze a few days and then are thawed and are 4 or 5 days in the fridge. Whites endure up to 10 days in the fridge €0,20
8 grams of food dye pink (I used coloring gel Wilton pink) €0.25
In addition we will need:
For gum cream:
100 g white chocolate €0.60
120 g butter in 4 pieces €0.50
1 tarrito de 3,7 ml de aroma de chicle 1,85 €
30 ml of liquid cream €0.08
1 egg yolk €0.10
Total €4.55 or what is the same cost of €0.13 per macaron. It is worth or not worth trying it?
Equipment
(The digital Ikea van phenomenal) cooking thermometer
Cuisine of precision weighing (digital and that weigh in gram gram)
Electric mixer
If you have a thermomix, well, but a coffee grinder.
Sifter
Pastry with smooth nozzle 1 cm. of diameter sleeve
A couple of bowls
Baking paper sheets
Oven
Several bowls
Spatulas
Spoons, cutlery, etc.
Pairing
It is a typical sweet of the snack, I would recommend you that the tomarais with a tea, coffee or tea. Today I recommend a my favorite teas: Tetley Redbush y vainilla. A tea without caffeine of delicious flavor. The price is €1.40 box 40 bags, i.e. €0.04 per Cup. A bargain for a more delicious Cup.
Directions
1 preheat the oven to 175 ° C convection function. (If you don't have a convection oven I refer you to the tutorial Macarons: my secret incofesables)
2 spray a few seconds the almond powder to get the finest possible teztura.
3 sift the icing sugar and powder of almonds over a large bowl. Mix well.
4. make a hole in the center of the Bowl leaving some of the flour mixture and powdered sugar at the bottom, and tip the 55 g of egg whites and combine with the spatula. Add coloring and mix well, making sure that it is not anything on the walls of the bowl without mixing. Book.
5. put the other 55 grams of egg whites in bowl of stand mixer.
6. in a saucepan, bring to a boil to fire half the 38 g mineral water with the 150 g of sugar until the syrup (and called to the water with the sugar mixture) reach up to 110 ° C.
7 keep the fire the syrup.
8. Add a pinch of sugar to the egg whites which we have prepared in the mixer Bowl and begin to beat on medium-high speed until they reach soft peaks. (This pinch of sugar help heat the egg whites and will prevent that protein separates from water containing when we batamos too).
9. when the syrup reaches 120 ° C, remove from heat.
10 lower the mixer speed to medium-low power and add the syrup little by little. The meringue will come down but is normal. Then raise the temperature of the mixer and beat for about 5 minutes. After that time, the whites should be firm and shiny and although Bowl will still be warm to the touch, merengue temperature will be lowered to room temperature. If it is not, continue beating until the temperature has fallen.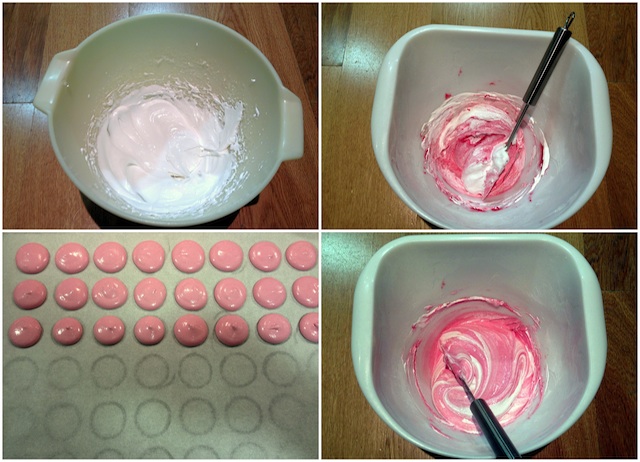 11. with the help of a spatula, turn over a third of meringue mix powder almonds, sugar icing, colouring and clear without beating. Mix with outflanking. Continue adding meringue to our colored mixture. The mixture should not be very smooth or very hard, so if we make a curl with a spatula, keep the form without moving or get rid. If before have incorporated all of the merengue had reached that point, it's not necessary to incorporate it all, since it is preferable that the dough is a little hard to be too smooth. I weighed the ingredients perfectly and joined all of the merengue.
12 move the mixture to one sleeve pastry nozzle of a centimeter.
13 place our template of circles on a sheet of oven. Place a clean on the template tracing paper so that we can perfectly see the circles under dibijados.
14. Insert sleeve filled to 1 cm above the oven plate and begin to press the sleeve by moving it circularly until we fill the circle. Stop pushing the sleeve. Lift and move to the next circle.
15. when we have all made circles, carefully slide the template under the macarons and pull it out. Tap firmly on the countertop oven tray so that the peaks that have been left to make the circles disappear.
16 let stand the macarons 30 minutes.
17 bake for 8-10 minutes until the surface is shiny.
18. fit the tray on a wire rack until completely cool.
19 placing in the oven the next tray of macaroons.
To make the cream of gum:
20. heat the cream. When it starts to boil add the white chocolate and toss until the chocolate has completely dissolved.
21 remove from heat and Add egg yolk. Let warm
22. in a bowl place chocolate mixture and add a piece of butter. BA tir well with a mixer until it is completely mixed and then add another piece of butter. Repeat the operation, bearing in mind that we will not add another piece of butter until you have not incorporated all the previous. Incorporate the aroma of bubble gum gradually beating each time, so that it acquires the flavour. You have to keep trying every little bit to see if the desired flavor has been reached already. I added all the jar until you get the flavor to... perfect gum!.
23 place sleeve pastry and fill the macarons. If the mixture is too soft, put it in the fridge a while so it take a little bit of body.
24. once filled, or well spend the macarons in the freezer, which is better, that you take them directly (I refer you to the tutorial Macarons: my shameful secrets). If you pass them in the freezer so they can acquire their maximum flavor, keep them frozen 24 hours to 15 days. When you you go to eat, descongelad them 3 hours in the fridge and then 1 hour at room temperature. !Ready to eat! Enjoy!
Tips and Tricks
-You can see all in my post: Macarons: my shameful secrets
-Only one thing, if you do not get the aroma of bubble gum, in specialty stores do not despair, because you will come out a few delicious macarons with chocolate cream.
– You can follow the day-to-day of the blog also on social networks: Facebook, Twitter, Pinterest, Flickr and Instagram
-Also you can subscribe to receive news in your e-mail, Subscribe HERE.