The generosity is to give before being asked
Sometimes life gives you surprises too nice and gives you the that you would have never imagined. Life is so, because it also has its moments say... less sweet. Through social networks, to my I gave one of those amazing surprises. Today you are of luck because you have double recipe...
There is a Russian painter named Anna Rastorgueva (I started to follow it through from) Instagramwhere it is known as Sally Mao). A few months ago I published a photo of my new Moleskine Cookbook, she liked it, we discussed it and we started to follow us.
It is a Russian girl with great talent which translates in drawings all what puts you ahead. The creativity It flows into it naturally, making some beautiful, original and colourful illustrations. Working for leading Russian magazines both design and cuisine, and I was lucky enough to cross me with her on my way. In this link you can see more pictures that have hung on the Flickr page. I'm sure that going to enjoy A lot.
I asked him to do an intro of his work and I leave here. It's worth much:
"I always loved to draw. The most impressive thing in my Soviet childhood was a markers box, which my father brought from a business trip. It was an amazing splash of rainbow colors and brightness, more beautiful than pen and pencils I had before! And after many years markers are still my favorite drawing tools. I am inspired by the world around me. All simple and casual things become a subject of my illustrations. I like the rudeness of daily situation drawings, thats why I have a lot of sketching diaries. Travel Journal, Baby Journal, The Book of Recipes and many else. I call this style "life sketching" and it's my way of living. "
"I always liked drawing. The most impressive thing of my Soviet childhood was a box of markers which my father brought from a business trip. It had an incredible touch of rainbow of colors and brightness was far more beautiful than pens and pencils that had before! And after many years, the markers remain my favorite drawing tools. I am inspired by the world that surrounds me. All things simple and casual have become a subject of my illustrations. I like to draw scenes of daily life, so I have a lot of drawing journals: Journal of travel, Baby Journal, the book of recipes and many others. I call this a "lifestyle drawn" and it is my way of life."
Recently, Sally, contacted me for that colaborásemos together: she loves my recipes and follow my blog closely. I considered a professional theme, and a love of cooking, and although it first there is little truth, the second is true to one hundred percent.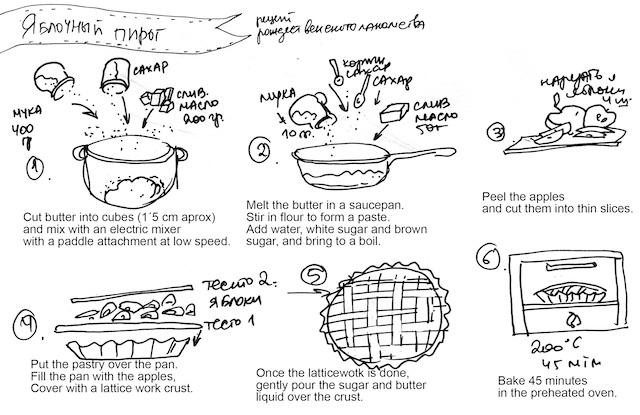 Sally asked me to help her find the best recipe apple pie, but a traditional recipe. A recipe that everyone can do at home without much difficulty and whose ingredients are easy to find... in Russia. It was to help in a job than the prestigious design magazine Russian Beamnused has commissioned for special edition Christmas. It had to be a delicious, easy and traditional cake, and Sally was convinced that I could help you.
Said and done: call you Apple pie project. Quickly I read and read all the recipes Apple had done that before and that had failed to do. I picked up here and there until you reach this cake that was the round end to a great day of paella with friends. She as you can check, I corresponded by sending me these beautiful Illustrations the step by step recipe. Draws as the angels, with a casual touch that makes everything look extra special... just beautiful! Not is if it will be the best Apple Pie, but I assure you that for the love that we have him put the two to make this post, it is more than delicious. Ruso-espanola connection! We tasted it? Thank you Anna!

I liked huh?... Come to the kitchen to prepare this delicious evening of apples that will be your favorite. I I assure you