Establishing more among us the taste for healthy, homemade food and increasingly devote time to take care of us, as with this vegetable lasagna that I bring you today. Some time ago I noticed the dairy I sat regular for a night. I am a coffee and I love cheese, but when the evening took me a piece was guarantee of Toledo night, poor digestion and nightmares. A few weeks ago he contacted Canon Kaiku. They wanted to try their products without lactose and enchanted di them my address. Among the products received, a package of Kaiku lactose-free cheese. He was hanging around in my refrigerator several days until one night, evening and without dinner, I decided to try it. A cheese was gouda, one of my favorites and I took a little piece with a couple of tortillas, knowing that I sit regular. To my surprise, I slept like a Dormouse. So I went back to take another piece the next night, but this time a larger piece, and the result was the same. Good digestion and total rest without nightmares.
Lol I have not done the test of lactose (I don't drink milk because I don't like, but that taking yogurt and cheese) and no, I do not think that you have intolerance as such, but the truth is that my body much better tolerate these cheeses without lactose, so now I always have them in the fridge when makes me feel crazy cheese like. And it is that my digestion are much lighter and above all, I no longer have to stop eating cheese at night
After having tried the product Kaiku lactose-free, I have to confess that they are great: milk, cream, yoghurt, cheese... and they have a very rich flavor. I always thought that lactose-free products wouldn't equal, that you would notice something weird, but I assure you that these tasting blind, you would not know what.
So,#DaElPaso, you also and you switch to lactose-free products. Will help you in your day to day just like mi!
Today I bring a very spring-like recipe, a vegetable lasagna with bechamel sauce made with milk and lactose-free cheese. A lot of seasonal vegetables with a smooth béchamel sauce that also proved a great way that my son eat all vegetables without protest. I hope you enjoy it as much as it!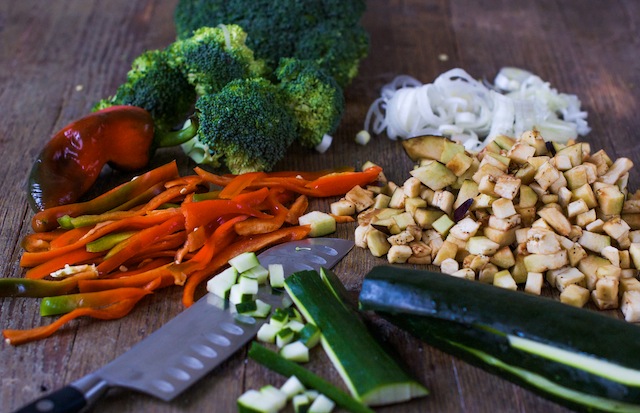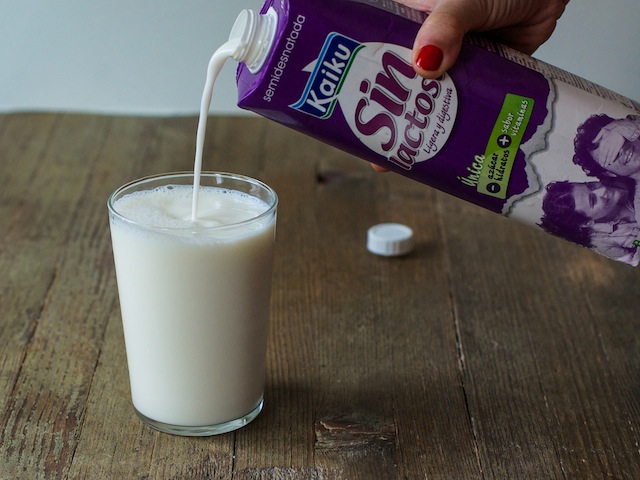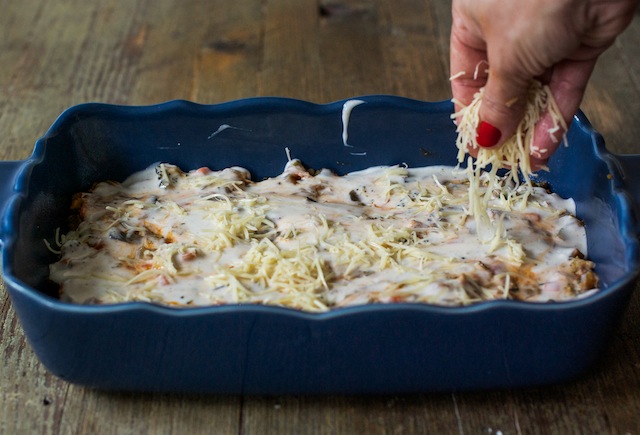 Ingredients
3 tablespoons extra virgin olive oil €0.14
2 aubergines €0.62
2 small courgettes €0.80
3 red or green peppers €0.35
1 broccoli €0.65
1 carrot €0.10
2 chives €0.35
1 glass of white or pink wine €0.30
a few basil leaves €0.15
Four tablespoons homemade tomato sauce €0.40
1 package of pre-cooked lasagna sheets (to my I like the Turkey, but you can use it you want, even fresh pasta for lasagna €1,25)
3 tablespoons flour €0.02
3 tablespoons extra virgin olive oil €0.14
750 ml of milk without lactose Kaiku 1.11 €
nutmeg, salt and black pepper to taste €0.10
1 packet of Kaiku lactose-free grated €1.49
Total €7.97 posed among the six generous helpings that come with these quantities, €1.32. can you imagine something richer for so little money?
(Sponsored by Kaiku #DaElPaso Post)
Directions
1 preheat the oven to 190 °. Lasagna sheets to soak in hot water.
2. wash and chop the vegetables. The important thing is to chop them all the same size. To my I like to chop them into small squares, but you can cut them into strips if you prefer it.
3. in a large saucepan bring to heat the oil and add the onions and the chopped pepper. When softened, add the zucchini and eggplants with the carrot.
4. after a few minutes, add broccoli and give a few turns. Add the wine and a glass of water. cover and let simmer about 10 minutes.
5 past this time, uncover and increase the heat until the liquid evaporate almost in its entirety. Then add the tomato sauce and a few laps. Remove from heat and reserve.
6. prepare the béchamel then. Heat milk in a saucepan or the micro. In a saucepan, heat the oil and add the flour. Using a spatula or wooden spoon, move until the flour has been toasted.
7 then start adding the milk gradually letting it cook over medium-low heat, non-stop moving with a few sticks so that not they form lumpy still lumps formed, we can remove them with the help of an electric mixer.
8 Add salt and pepper to taste and add half a teaspoon of nutmeg. Let Cook during at least 10 minutes so the flour to cook well and not know to crude oil. Add salt, pepper and nutmeg if necessary. Remove from heat.
9. in an ovenproof container, put sheets of lasagne pasta well covering the bottom of the pan. Put a layer of vegetables, and cover with a layer of bechamel. Sprinkle grated cheese and cover with another layer of lasagna pasta sheets. Repeat these steps until the mould is filled. We will end up with white sauce and cheese on top. Bake for 20 minutes.
Tips and Tricks
Use your favorite vegetables
Add uns pumpkin seeds to give a touch of extra crispy
Difficulty: easy
Preparation time: 1 hour and a half
Servings: 8