He had just arrived from my last visit to New York where he had visited the Union Square greenmarket, a magical place where you can learn much of American food culture, their products and their tastes. You will spend a morning funny and relaxed in that also children will enjoy a lot. Back in Spain, and as the theme goes green, thought of using fresh vegetables for cooking a coke of vegetables. Delicious, simple, and light. Ideal for sharing appetizer, or even first course this coca of vegetables with sardines and anchovies you will love. I hope you enjoy it as much as my family. Let's go to the kitchen!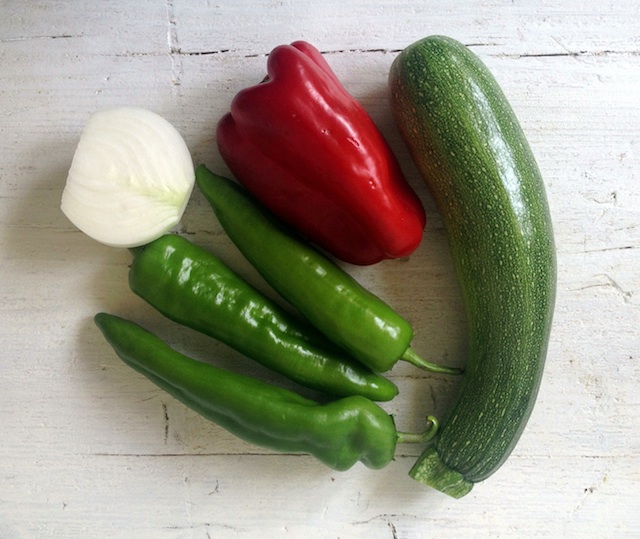 Ingredients
For the mass of coca
25 g fresh yeast (a pill of those sold in supermarkets) €0.16
235 ml of water lukewarm €0.02
1 teaspoon extra virgin olive oil €0.03
475 g flour €0.25
1 / tsp salt €0.03
For the filling
1 red pepper €0,20
2 green peppers €0.25
1/2 Zucchini €0.15
1 fresh onion or red onion 0.18
a little salt €0.03
an egg beaten €0.12
To put over vegetables
1 tin of sardines in oil €0.80
1 anchovy mini-can €0,50
1 can of olives black €1.20
Total €3.92, i.e. €0.98 for each delicious coca which makes an appetizer or first. Are you cannot ask more!
Directions
1. in a bowl, mix the yeast with the warm water pill and move with the hands until the yeast is completely dissolved.
2. in a bowl, dump the flour, salt and olive oil.
3. make a hole in the Center and pour the yeast diluted in water. Knead well until dough is homogeneous. If the dough is too dry, add a bit more water.
4 take a plastic bag of frozen and put inside a teaspoon of vegetable oil. Make that oil impregnate well inside the bag and tucked inside our masa. Close giving a couple of turns to the bag and let stand for 30 minutes.
5 turn on the oven to 200 ° C.
6 wrap the red pepper in albal paper and bake for 20 minutes.
7. cut the vegetables into finite rings: Zucchini, onion and green pepper. Pepper should remove the pips.
8 remove the peppers from the oven, remove the seeds and cut into thin wheels.
9. prepare the ingredients that we will add to the coca: olives, anchovies and sardines.
10 drain the olives and cut them into thin wheels.
11. drain the sardines. Clean the fur and spines. Book
12 drain the anchovies and if they had mustaches, remove them with care.
13 flour a surface for working our mass. Remove the dough from the plastic bag.
14. with the help of a pastry roller, work the dough until we have a plate of approx. 35 cm x 25 cm and a thickness of about 5 mm.
15. cut the dough in two large and wide strips. Using a kitchen brush, paint the dough with beaten egg
16. place the vegetables on the mass: onion, Zucchini, green pepper and red pepper, and chopped olives.
18 Bake at 200 ° C for 20 minutes. Finally, remove from the oven and place the anchovies and sardines alternating.
Tips and Tricks
Try to make them with mussels or tuna. It is delicious.
Take advantage of leftover vegetables and make it with eggplant, carrots, spinach or any other vegetables that you have in the fridge. Let your imagination fly
Among whites who appreciate most, are the Alvarinos. Today I'm going to propose the pairing with Ophalum Vintage 2011, the cellars of Paco & Lola. Something fruity and with character. Rich, rich. Its price, the very best: 9,00 EUR