New York It has many incredible and fantastic sites. Without a doubt one of those magical places is the Union Square Greenmarket, a great organic market, which is worth a visit)Union Square Greenmarket).
Located in the same square, the Greenmarket established in 1976, giving the opportunity to farmers and market gardeners in the surrounding area, sell their organic production. Today, open Monday, Wednesday, Friday and Saturday from 8 am to 6 pm, has become a pilgrimage for New Yorkers seeking the freshness of more than 1,000 organic products offered.
Such is the degree of quality of the genre, which many of the chefs in the best restaurants in the Big Apple are creations of fruits, vegetables and meat from this market. Among them, our great Dani Garciathat visit it quite often because his New York restaurant Chamomile is also located not far from here, also an obligatory visit for lovers of fine cuisine.
The Market Union Square is distributed down the center aisle of the square. Surrounded by trees, it is a perfect showcase to get an idea of which are the most varied, seasonal and products used in the good foods of this city (there are many): potatoes of a thousand shapes and colours, pumpkins of all sizes, authentic Brussels sprouts,... and plenty of mini vegetables that would delight my kitchen and here it is almost impossible to find. It's Dwarf versions of (in various shades for crudités) broccoli, carrots from three different colors!, cabbages and potatoes forming an arc incredibly beautiful iris. In the market, it is also possible to find canned, homemade pastries: cupcakes and cakes, pies and tarts that will help calm the hunger with an organic and delicious snack.
Another peculiarity of this super store in the open air, is the meeting point of "speakers". Something like the Speakers Corner of High Park London where citizens take advantage to shout their protests, ideas or criticisms (never better said).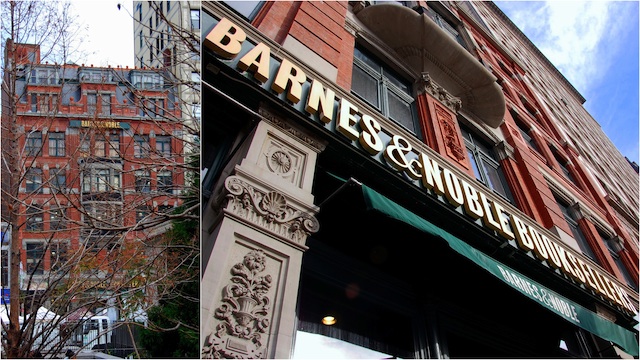 On the perimeter of the square close it some characteristic buildings from the beginning of the last century, as one of my favorite places in this incredible City: a branch of the bookstore Barnes & Noble. A space where lost in its six plants and let spend hours surrounded by the pleasure of printed paper. Its different sections: children, kitchen, sports, foreign novel, poetry, travel, biographies... time turns off within its walls and if you're into account clock, are you happen the whole day browsing books. Largest U.S. Bookstore stays fit.
I will give you another close recommendation, this gastronomic: after spending the morning among vegetables, fruit and books chose a delicious appetizer of crab. Recommended by Dani, I went direct to the ABC Kitchen, on 35th Street East with 18, a restaurant in the most cool revered by the beautiful people of Manhattan. You can dine, a meal or just a snack. The toast of crab with garlic lemon)crab toast with lemon garlic sauce), it is spectacular. Accompanied by a strawberry with rhubarb lemonade (Strawberry Ruhbarb lemonade), with a right touch of vodka. Simply unforgettable!.
Ultimately it's a magical place where you can learn much of American food culture, their products and their tastes. You will spend a morning funny and relaxed in that also children will enjoy a lot. Back in Spain, and as the theme goes green, thought to use fresh vegetables to cook one Coca's vegetables. Delicious, simple, and light. Ideal for sharing appetizer, or even first dish. I hope you enjoy it as much as my family. Let's go to the kitchen!