"Every exit is an entry somewhere else"
Today I woke up adventuress… I want to travel, and as for now I can not, we will do it through the blog. On occasion I have spoken of corners of the old Burma (today Myanmar), of the Sunsets in Old Bagan, of the Cultivation floating on Lake Inle, etc. Today I'm going to surprise with a place of film, and never better said...
As we began to ascend the river path of Dein In Ruins (along with the) Inle Lake, in Myanmar) I thought that I introduced fully in any of the films of Indiana Jones, but when we reached the path of the labyrinth of stupas, the admiration was total. The combination of vegetation, aged wood, the ochre bricks and sharp shapes I transported to more exotic locations of the famous series of action films.
In Dein is that type of places that need to go already because they have expiration date. It's a sea of stupas located in the surroundings of the pagoda's Shwe In Youralso referred to as the archaeological complex of Flower. While the journey by the River leaves us unusual prints, with distinct villages typical Burmese ankylosed and baths of happiness of animals and people, when you access the complex it is when one realizes that it was well worth the trip.
When it is concluded the cruise boat, accessed through a gallery full of stalls for the sale of souvenirs to tourists and visitors covered by a stale roof of wood that you enter on the archaeological complex. At the end of the journey they begin to see the first stupas destroyed by the passage of time. There are more than two thousand stupas in the enclosure, some small, more hearings in Thailand, and other style however, large proportions.
The stupas are built between XII and XVIIIwith base of native brick, hovering outside, once reflects the passage of time that along with centuries-old trees, vegetation and flowering Moss, make of these figures, the image evocative the steps seen in adventure films. It is precisely this erosion of centuries, which seduces tourists seeking in Asia unpublished images in other countries. Unfortunately, the Burmese Government is in the process of rehabilitation, limed and gilt of the stupas that makes that they lost its old flavor. Hence that tardéis not much to go. In a few years perhaps is no longer what it was. Up to eight leagues (El Mundo) recognizes it.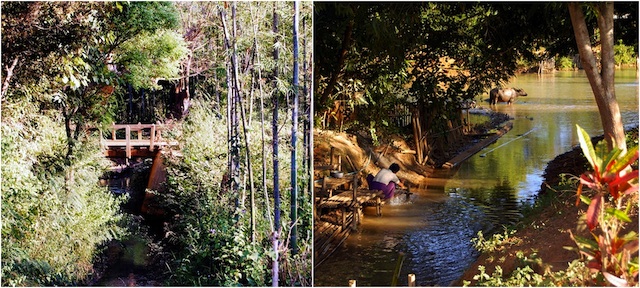 In Dein (Lake Inle, Myanmar)
General Information
Population: About 150,000 inhabitants.
Location Inle Lake in Google Maps. In the central area of Myanmar (formerly Burma).
Distances: At 638 km away from Yangon (former capital of Myanmar), to the South and more than 12 hours by road (not recommended). Of Bagán, to the East, it is 285 km (4 hour drive)
Climate: Dry. 30 ° on average, and rises to 35 ° from February to may
Timezone: Spain 4:30 hours
Access: From Yangon by domestic airport (not available for international flights) have circular lines between Bagán, Yangon and Mandalay, Lake Inle. Routes do not last more than one hour, and in my opinion is the most advisable option. They operate several companies, including Air Bagan
Look at the trip and enjoy other with www.explorer-acción.com
Once the tour was over, we sat down to rest, and what better occasion to try the recipe of one of the most representative Thai street food dishes. The Gai Ping (or chopped chicken meat skewer). A very simple, different and original prepare a good snack snacking or barbecue. You can surprise your guests... do you dare with the Thai cuisine? Follow me and you will see how easy it is. Let's go to the kitchen! Canalla Recipe!