It's been a long time ago that I prepare this cod At home. The first time I tried this Portuguese Golden cod or COD to Bras was thousand years ago in Portugal, in Elvasin a restaurant where we took cod in five different ways, and although priori my brothers and I thought that the would be least we'd, the truth is that it is the only recipe I consistently repeat that one day test in Portugal.
Of course I followed no recipe and guessing the ingredients and quantities. A few years later, a co-worker of my husband corrected me the recipe: "you are lacking onions and some more creamy eggs". And it was true, so I decided to double the quantity of onions as well as adding some cream to the eggs. Since then I do the same recipe over and over again and it always disappear in minutes!
Now that we're in full Lent, cod becomes a repeated food in almost all the houses where one can appreciate the cuisine, so I bring you today this recipe of this Portuguese Golden cod or COD á Bras so you can include it in your list of dishes for this Easter. I hope you enjoy it as much as we do at home!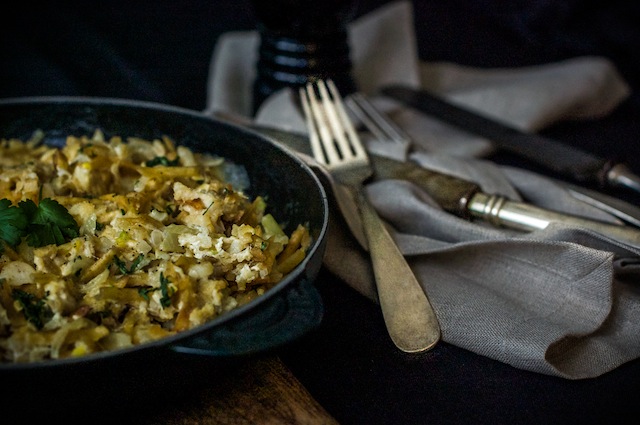 Ingredients
1 package of very thin crisps potato straws fried in olive oil (100 g) - sticks can be made at home, but with these potatoes comes out very good and almost not noticeable difference €0.80
200 g of cod shredded €3.80
2 large onions €0.50
4 eggs €0.50
150 ml of liquid cream €0.75
60 ml (2 tablespoons) extra virgin olive oil € 0.21
a little salt and freshly ground black pepper €0.10
a little parsley €0.25
Total €6.91 posed for each €1.72. A rich and traditional dish to accompany your days of Holy week.
Directions
1. Desalt cod in a bowl. Change the water every couple of hours. Whenever I prepare this dish I may forget to desalt the cod, so I have a trick. As what we are going to use are crumbs of cod and not big backs, we well rinsed of salt cod. We put it in a colander and wash well so they lose all possible salt. We fill a bowl with hot water and put the strainer, so all the cod is covered with water. After fifteen minutes rinse thoroughly with hot water. We tried the cod, and normally this is enough to make you lose salt. If it is still a little salty, repeat the operation. Leave the cod on the strainer so that you lose all the water.
2. Chop the onion in rounds or strips. Heat the oil in a pan and add the onion. Sauté the onion over medium-low heat until well soft.
3. Add the well-drained codfish crumbs and give a few turns. Meanwhile in a bowl beat the eggs with the cream and freshly ground black pepper.
4. Add the potato crisps and mix all ingredients well.
5 Increase heat and add the beaten eggs. Take turns with the help of a wooden spoon so the egg will curdle, but not too much. Salt to taste if necessary.
6 Remove from heat and sprinkle with chopped parsley
Tips and Tricks
Serve with a few croutons (slices of fried bread)
This dish is ideal for the days of lent vigil.
Difficulty: easy
Preparation time: 30 minutes
Servings: 4