These homemade cookies peanuts and gluten-free chocolate is a wild recipe for all those who have gluten intolerance and want to treat each other from time to time.
There are many of you who ask me for more and more gluten-free recipes and today I decide to share with you a very easy and very rich that always makes people happy gluten-free coming home.
They are prepared in 5 minutes and then you only need another 15 oven. It is handmade and only with 4 ingredients. Are you signing up? Well, let's go.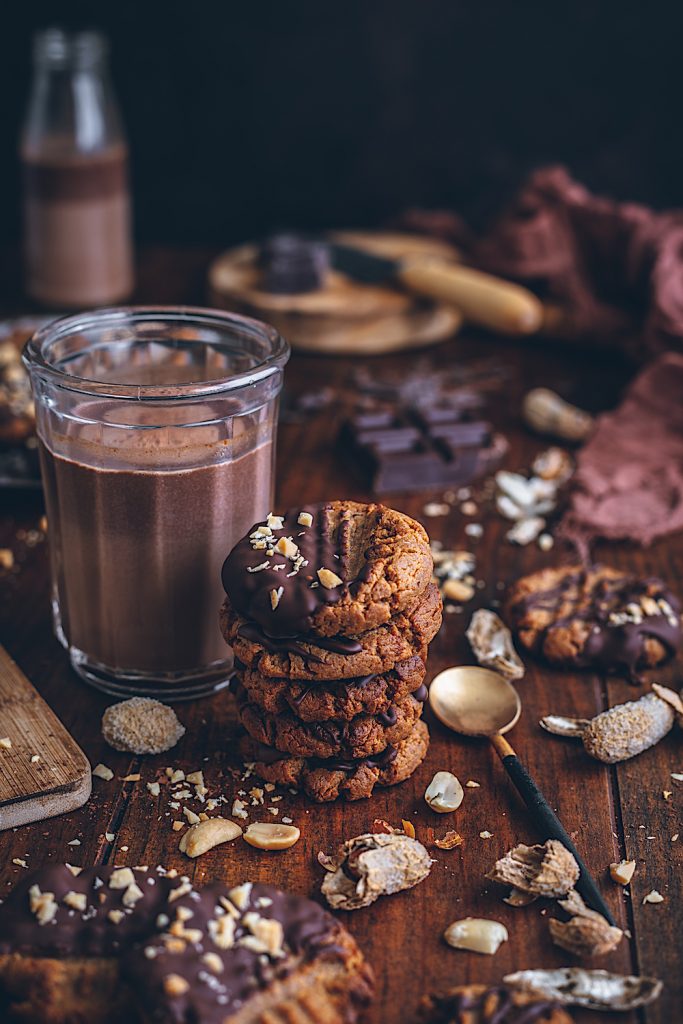 Ingredients
270g butter or peanut butter
8 dates medjoul or 170 g whole sugar cane
2 tablespoons pure vanilla extract
4 tablespoons gluten-free oatmeal or flour of your choice
1 egg
For decorating the cake
150g dark chocolate (I use 70%)
crushed peanuts
In a cooking robot we put the peanut butter and dates and crush until we have a smooth cream without pieces of dates.
Then add the flour and vanilla and mix again.
Add the egg and mix so that the whole dough can be modeled. We formed balls (Q6 came out of me) and put them on a baking sheet with baking paper-
With the help of a fork we crush them first from top to bottom and then from side to side leaving the fork teeth marked.
Bake at 175 degrees for about 14-15 minutes and leave to cool completely on a rack.
We prepare a tray with baking paper and set up. We chop some peanuts with the help of a knife and set up. Melt the chocolate in the microwave in 30-second stands, making sure it doesn't get on the move.
Now we can decorate the cookies in two ways:
with the help of a teaspoon we drop chocolate threads on the biscuits. We put them on the prepared tray and let the chocolate harden (we can put them in the freezer for a couple of minutes and it will harden immediately).
we bathed half the cookies in chocolate. Put on the tray prepared with paper and splash with chopped peanuts (we can put them in the freezer for a couple of minutes and it will harden immediately).
Servir acompañado de un granizado si es verano o de un chocolate caliente si es invierno y ya tienes una merienda completa en un ratito muy pequeño