Today I am delighted to bring you the best American cookies recipe gluten-free. I have done cookies many times (and I cannot), because I love them, but whenever he had cookies gluten, the result was very rich but a different texture.
When I made them, very rich indeed, oats and coconut vegan for example the taste is always rich texture is a little sandy, so I decided to go in search of a few gluten-free chocolate cookies but were chiclosas, of those that are fluffy, very wet and soft, because I've always found that cookies should n If so.
No I'm going to cheat. My son has been purple of cookies of all the tests I've been doing. Staying with this texture but the taste of this one, and today I'm super happy and very proud of the taste and texture of these cookies that do not hide no secret but which have been a challenge getting.
So I hope that you, gluten-free and non gluten-free you enjoy much because they are rich, but rich in truth and not find the difference with others with gluten. They are simple and easy to encongtrar flours.
There is an ingredients a little weird, the xanthan gum, than those not celiac won't probably at home (good if you're so geeks like myself that have), but is easy to find uy also sell it online at a lot of sites, it is cheap and hard life , so I encourage you because it is rather Basic for gluten-free baking, and making that the masses will come out moist and fluffy without using gluten. In the end that are very easy and that makes me very excited to bring them. A for the recipe and eat them all!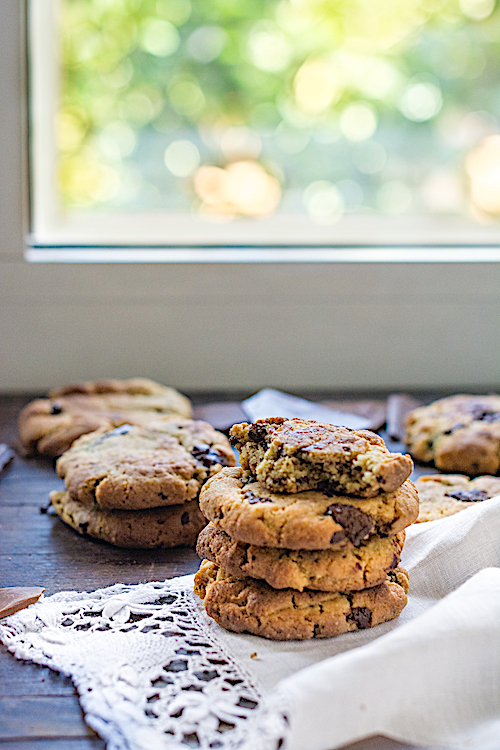 Ingredients
100 g corn flour
100 g rice flour
20 g cornstarch
60 g almond flour
1/2 teaspoon of xanthan gum
1 teaspoon of baking soda
1 teaspoon salt
60 g of room temperature cream cheese
150 g vegetable margarine melted
200 g brown sugar
100 g sugar
1 teaspoon and a half of vanilla extract
2 egg yolks (room temperature)
120 g chocolate chopped 50% s
Directions
In a medium bowl, mix together flours, the xanthan gum, baking soda and salt. Book.
In bowl of mixer electrical, put the cheese cream with melted margarine. Add the brown sugar and the sugar and mix on medium for 2 minutes speed. (I use the paddle attachment on my mixer, the T of which we have already spoken sometimes).
Add the vanilla extract and the yolks of eggs (one at a time) mixing on medium low speed until well mixed.
Add flour mixture, mixing on low low speed until combined scraping the bottom with a spatula to make sure that everything is well integrated.
Add the chocolate chips and mix by hand until completely blended.
You now have two options:
Form a mass of about 50g balls and place on a tray. Cover well with plastic wrap and refrigerate at least 5 hours (maybe one day to the next, and up to 3 days which is always well covered).
Cover the bowl with plastic wrap (I already know that I use a shower CAP that I keep to make bread) and refrigerate a minimum of 5 hours (maybe one day to the next, and up to 3 days which is always well covered). Let stand for about 15 minutes out of the refrigerator when we are going to bake.
Preheat the oven to 190 °. Put baking envelope paper 2 oven trays.
Put the balls on a baking sheet (about 12 per tray).
Bake cookies for 11-12 minutes, and remove from the oven when edges are golden brown. The centers seem little to cooked, but they will continue cooking as they cool.
If you like soft and chewy centers (to my I love as well), cooking less, if you like crisp, cooking more cookies.
Let the cookies cool on the pan for a couple of minutes and pass them on to a wire rack until completely cool
Tips and Tricks
To make sure that is not baked too, can do a test first with 3 cookies and see how are thus well setting the cooking time
You can use already prepared gluten-free flour
Preparation time: 30 minutes more rest time
Difficulty: easy
Servings: 18-20 cookies