These cookies of peanuts with strawberries are known in United States as fingerprint or your thumb () cookiesThumbprint cookies), because with this finger shaped a notch, small hole in the center of each filled with Strawberry Jam before baking. You can use the jam that you like or inlcluso do it without jam, but they are delicious with strawberries so I I decided to prepare a jam for my cookies I made while cookies are introduced.
The recipe is easy and quick to prepare and children it will pump making the holes for the jam. Is a very popular recipe for holiday gtrata. They are made with a brittle mass that forms a cylinder that is passed by chopped peanuts, and although I've also eaten ever with walnuts, the truly typical are with peanuts.
You can use the jam that like you but strawberries or red fruits jam gives them a note of contrast, a different color that point my love. Now just now that you put you hands to work and that you enjoy them as much as I.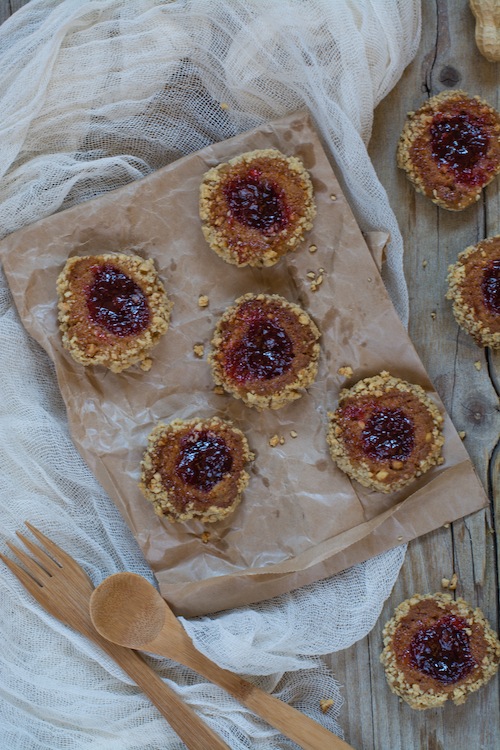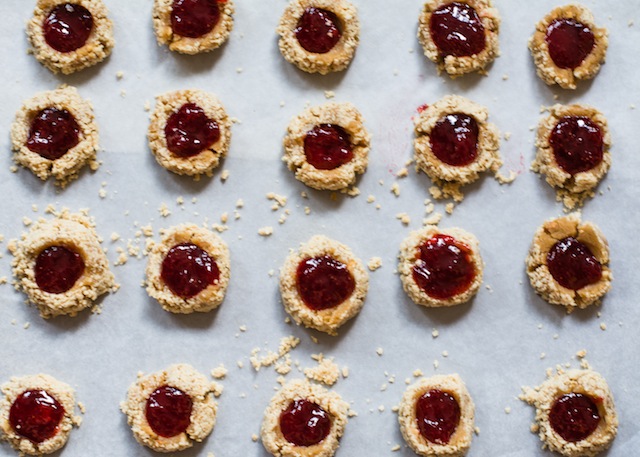 Ingredients
For cookies
115 g unsalted butter, at temperature room €0.61
70 g sugar granulated €0.05
75 g Brown cane sugar (if you can better use light brown sugar) €0.10
220 g of peanuts butter €1,00
1 egg XL, ambient €0,13
1 teaspoon pure vanilla extract €0.30
170 g of wheat flour €0.08
1/2 teaspoon of baking powder €0.10
1/2 teaspoon of baking soda €0.10
a pinch of salt €0.01
1/2 teaspoon of flakes of salt sea 0.05 €
1 cup roasted peanuts €0.25
For the Strawberry Jam
340 g strawberries €1.20
200 g sugar €0.14
Total 4.12 by 40 cookies are €0.10 per biscuit incredible right? Because neither you imagine the good that are
Directions
1 we start by the jam. In a medium saucepan over medium-high heat, place chopped with sugar strawberries and simmer, stirring frequently to prevent that you overflow, for 6-8 minutes. Lower the heat to medium-low and cook until most of the liquid has evaporated and the jam has thickened (about 20-25 minutes). The Jam will continue to thickening will be used for cooling.
2. now we are going with cookies. In the bowl of an electric mixer, mix the butter and sugar at medium speed until the butter is soft and foamy (3-4 minutes). Get off what has been glued to the sides of the bowl with a spatula and add peanut butter and mix at medium speed until well blended. Add the egg and vanilla to the butter mixture and mix until dough begins to look like a melted ricotta, as fat sand.
3. in a separate bowl, mix the flour, yeast, the baking soda and salt.
4. add dry ingredients from one time to the butter mixture and mix on low speed with care do not until the dough is uniform, (20-30 seconds). Remove the Bowl from the mixer. Dump the dough onto a film role.
5 stretch in the form of about 14 cm by 18 cm rectangle and wrap well in plastic wrap. Let stand in the refrigerator for at least 2 hours (holds well in the refrigerator up to 3 days).
6 Preheat oven to 175 ° C. Prepare two trays of oven with baking paper
7. with the help of a food processor, grind the peanuts. But you have robot can put them in a bag of frozen and with the help of a rolling pin beat them until have been broken into small pieces, small (should be very, very small pieces).
8. remove the dough from the refrigerator and cut it lengthwise into 5 strips. Form a tube of about 22 cm long. Pass it over the ground peanuts.
9. cut each tube of dough into 8 equal pieces. Place each piece on the tray of oven (20 cookies in each tray).
10. with the tip of your thumb, make a notch in the center of each cookie, forming a hollow and slightly flatten cookie. Put a teaspoon of jam in the center of each cookie.
11 bake for 8 minutes. Rotate the Pan and continue baking until cookies begin to break a little at the top (about 6 minutes). Remove the cookies from the oven and let cool on a wire rack before serving.
Tips and Tricks
You can do them without peanuts or use your favorite dried fruit instead
Try to fill them with chocolate cream if you don't like the jam
Difficulty: easy
Preparation time: 45 minutes and 2 hours from fridge
Servings: 40 cookies