This b und cake Bundt of chocolate and peanuts with homemade garrapinados was the sensation at the birthday of one of my friends. In fact we didn't know it was his birthday.
My friend Patricia had invited us to lunch at his house. I offered to take something and a cake seemed well. I had a jar of peanut butter at home and wanted to use it so I decided to make a sponge cake with chocolate. When we get home Patricia discovered that it was the birthday of Susana, that he had not said anything and so this bundt cake of chocolate with peanuts and caramelised dried fruits became e a super birthday cake that I liked all.
Instead of using chocolate in tablet, peanut butter would already provide fat, I decided to use cocoa powder. When we make desserts have to be clear that much better is the quality of the ingredients, better will be the result and here the cocoa is essential. As is you I'm going to ask, I will tell you that Barry or Valrhona I really like (buy them at Makro or online), and which always have close, value because it has a good cocoa and is pure with no added sugar.
The cake was a success, I handed the recipe and since then I have repeated and repeated the recipe with butter, almonds, hazelnuts and simrpe garrapiñando nuts. The result is as you can see, rich and super juicy. I hope you like to you equal.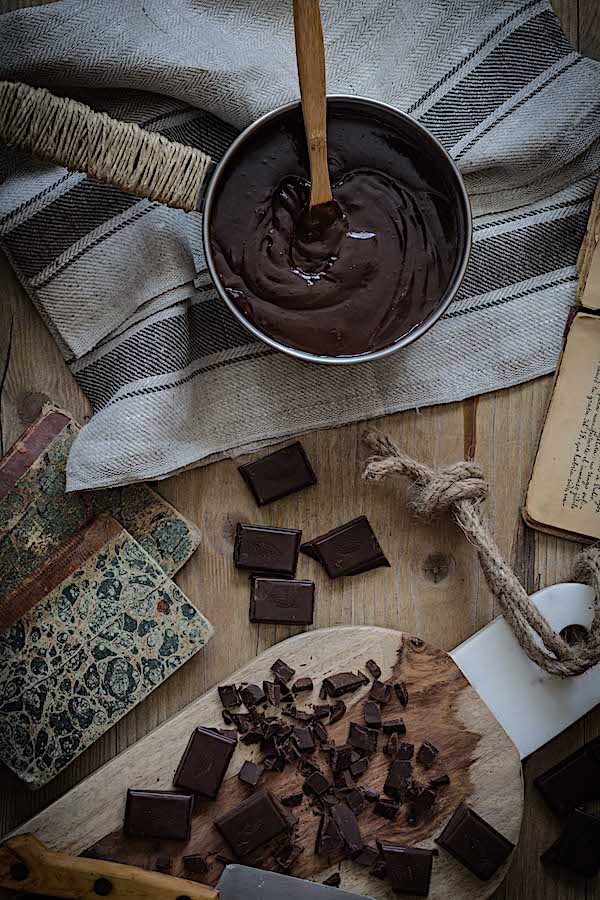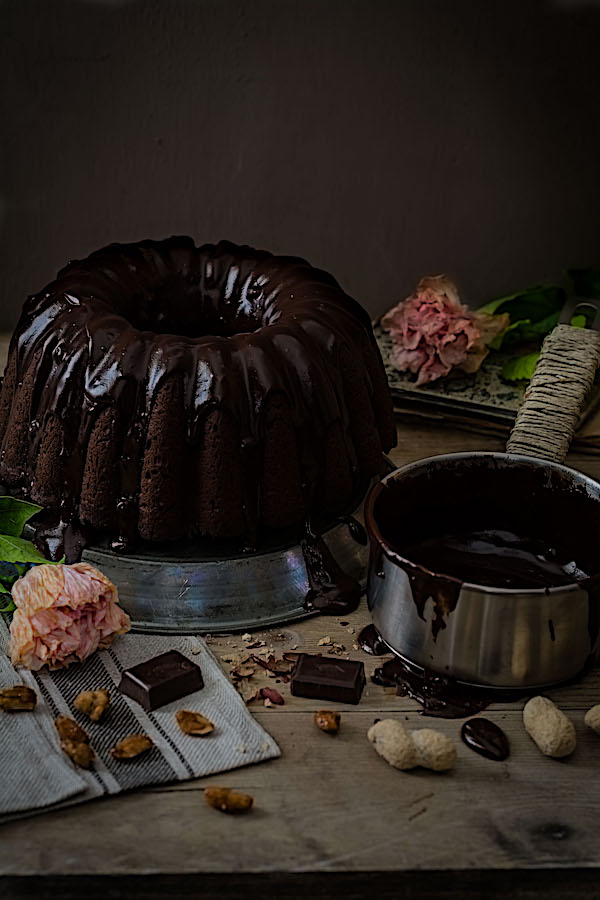 Ingredients
For the bundt or sponge cake
325 g of flour
1 ½ teaspoons baking powder
1 teaspoon baking soda
½ teaspoon salt
120 g of butter without salt at room temperature
115 g of brown sugar clear
105 g sugar
250 g of peanut butter (the best that you find because the better peanut butter best ser´el taste of the cake)
2 teaspoons of vanilla extract
3 large eggs
250 ml milk
3 tablespoons (40 g) of pure cocoa powder
For frosty peanuts
1 cup roasted peanuts

150 g sugar
3 tablespoons water
a pinch of salt
For chocolate with peanut butter glaze
125 ml of liquid cream
1 tablespoon granulated sugar
2 tablespoons syrup from Maple or golden syrup
70 g of peanut butter
115 g of dark chocolate, finely chopped
Directions
1 preheat the oven to 175 degrees and grease the mold you are going to use. Book.
2. in a medium bowl, mix the flour, yeast, the baking soda and salt. Rwservar.
3. in an electric mixer with paddle attachment (mine has form of K), beat the butter and sugar at medium-high speed until fluffy. Approximately 2-3 minutes.
4. Add peanut butter and vanilla, beat until well blended.
5 reduce speed and add the eggs one at a time, making sure everything is well blended before adding the next.
6. on low speed, Add flour mixture in 3 times, alternating with the milk. Mix until everything is well integrated.
7. divide this mixture into two. Put one of the two parts back into the mixer Bowl and add the cocoa powder. Mix with mixer until cocoa is well integrated.
8. prepare two disposable pastry and put in a mix without cocoa and in the other the mixture with cocoa.
9 start to fill the mould, alternating the two masses. Start with chocolate, then put a bead of the cocoa mixture and finish covering with chocolate mixture.
10 Bake 45-50 minutes until by pricking the cake with a needle is clean.
11. When is the cake ready, remove from the oven and let cool for 10 minutes on a wire rack before removing from pan. Then let cool unmold onto rack until it is completely cold.
12. for caramelized peanuts, cover a tray for baking paper for baking or a silpat.
13. in a pan make a caramel with the sugar and water until golden. Then add peanuts and salt
14. continue to cook sugar until candy reaches a golden color. Add peanuts and salt and leave cover. Put a baking above paper tray from oven and pour onto her candy. Spread evenly and leave to cool completely. Break into pieces. Book.
15. for coverage, in a saucepan heat the cream, sugar, peanut butter and the syrup until it begins to boil. Pour the hot mixture over the chocolate and let stand for one minute. Then mix until it is smooth and shiny. Bathe the sponge cake with chocolate cream and decorate with some caramelized peanuts.
Tips and Tricks
You can freeze the cake with or without icing wrapping very well in plastic wrap
Preparation time: 80 minutes
Difficulty: easy
Servings: 10