These pumpkin and chocolate cookies have been the discoverer of this pumpkin season.
Every year I try to bring you a prescription with pumpkin different from what we're used to seeing and these cookies I think have made it.
The first difference with other cookie recipes is that they carry a homemade pumpkin butter that will transform your breakfasts and snacks from autumn from now on. A roasted pumpkin cream with very autumn spices and a rich sweet taste.
It goes well with toast, pancakes, ice cream, and is a great base for making a mousse, cheesecakes, biscuits or these rich cookies. It is very simple to prepare and is stored very well for days in the fridge.
The second novelty is that these cookies are made with toasted butter. This is that the butter is melted and roasted in a scoop so that it releases all its aromas. If you have never tried making biscuits or biscuits with toasted butter I promise you that you will become addicted to it, because the simple fact of heating it and letting it turn the butter into a mixture of incredible flavors and aromas.
Finally, we pass the cookies before baking them for a mixture of ground brown sugar and cinnamon that give it an incredible texture and a very rich flavor.
It sums up a few different cookies with a delicious taste and a perfect texture. Have I convinced you? Well, let's go get 'en' for them.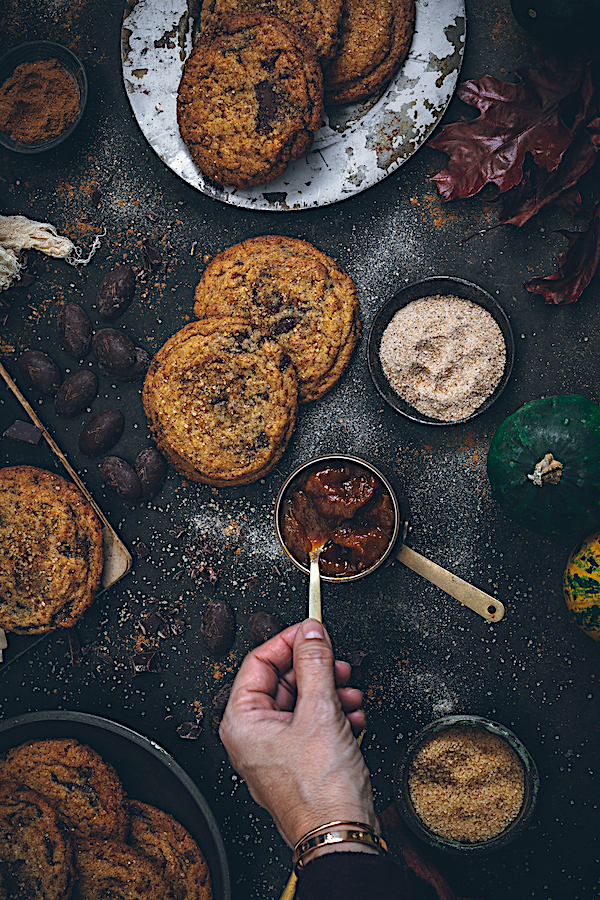 Ingredients
For pumpkin butter
250g very soft roasted pumpkin
70g brown cane sugar
40ml maple syrup
100 ml organic apple juice (sugar-free natural apple)
the juice of 1 lemon
half a teaspoon of cinnamon powder
a pinch of clove powder
a pinch of ginger powder
a pinch of nutmeg
a pinch of salt
For cookies
250g butter with salt, at room temperature
230g brown sugar
90g pumpkin butter (recipe above)
1 egg at room temperature
2 teaspoons pure vanilla extract
300g scallp flour
1/2 teaspoon of baking soda
1/2 teaspoon ground cinnamon
Pinch of salt
250g sparks or pieces of dark chocolate
2 tablespoons cinnamon sugar – 2 tablespoons brown sugar with 1 teaspoon ground cinnamon
Directions
For the pumpkin butter put all the ingredients well mixed in a scoop and let it cook for 10 minutes until the liquid has evaporated and we have a texture similar to the jam. If pumpkin lumps remain, we can use a hand mixer to undo it and leave a smooth texture. Reserve.
To make the cookies, put half the butter in a small scoop over medium heat, cooking until the butter starts to brown, about 3-4 minutes. Remove from heat and transfer to a heat-resistant container. Put in the freezer to cool, 10-15 minutes, but no more.
Preheat oven to 180 degrees. Put baking paper on a baking sheet
In a large bowl, mix the two butters with the brown sugar until combined. Whisk the pumpkin butter, egg and vanilla, whisking until creamy. Add flour, baking soda, cinnamon and salt. Chop the chocolate.
We make balls with the dough and then generously pass them through sugar and cinnamon and put them on the prepared baking sheet.
We baked 8 minutes. Remove the tray from the oven and tap it lightly on the counter to flatten them. Return them to the oven for a further 6-7 minutes and allow to cool completely on a rack.
Trucos and tips
You can use butter to make pumpkin mousse, different pancakes, to spread on bread, make biscuits...
They are kept for a few days in an airtight container
Difficulty: easy
Servings: 13 biscuits
Preparation time: 40 minutes