These oats and coconut, cookies are the ANZAC cookies. and what is that? They are cookies made in the second world war at home women at home and that sent the soldiers of Australia and New Zealand ((Australian and New Zealand Army Corps), and who have become my treasure these months that I have not been able to take sweets.)
According to count, the women of the Australian soldiers and new Zeelanders which were destined for abroad, made these cookies and sent them so that they will remember their homes, they are cookies not carrying eggs, so its conservation is easier, and although the originals are butter, I assure you that with oil come out delicious.
These cookies oatmeal and cocoSon vegan and gluten-free. Do not carry egg (I have them limited to twice a week) and texture obviously changes to not to take them, but they are very rich, they are sweet and care me a lot.
To prove it, my son took them to school. They had a charity sale of candy and I had just made. When I told him that they were vegan and gluten-free you said I didn't tell him because then no you would sell any the rest of children. He was the first to sell their cookies oatmeal and coconut, and once they finished eating them friends, told them they were cookies oatmeal and coconut vegan and gluten-free.
Since then children from her class asks when I return to cook some sweet vegan and gluten-free... to laugh huh?, then the same will you you if you don't believe the rich who are.
They are super easy-ideal if you want to cook something with your children and tell them that the goodies can be made at home without complications. I hope you enjoy my cookies oatmeal and coconut, and do them at home. For my have been all a discovery. Here is the video so you don't miss the recipe detail!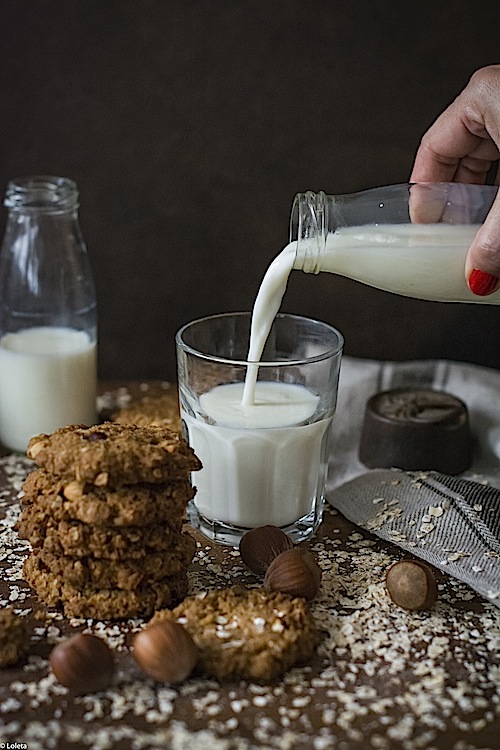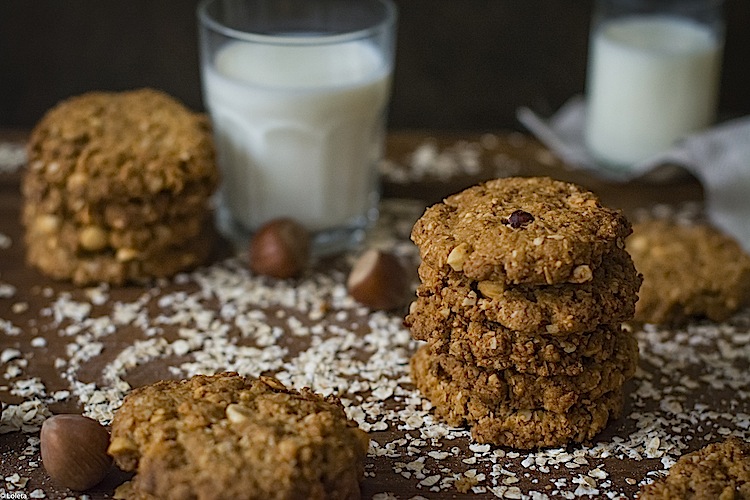 Ingredients
100 g rice flour
30g gluten-free organic oatmeal
75g gluten-free organic oat flakes
35 g of hazelnuts
155 g brown sugar
50 g of grated coconut
a pinch of salt
3 tablespoons boiling water
1 tablespoon agave syrup
90 g of oil organic coconut (can substitute butter)
4 g baking soda
Directions
1 preheat the oven to 175 ° C
2. in a bowl, put the water boiling and add baking soda. Move and dissolve well. Add the syrup and coconut oil. Mix well. Chop the hazelnuts and book.
3. in a bowl, mix all dry ingredients: flour, oats, sugar, shredded coconut and chopped hazelnuts. Mix well and set aside.
4 join this mix cookies by mixing and making sure everything is well integrated.
5. place a baking above paper tray from oven and with a spoon of ice cream balls form the cookie dough balls. You must be well separated (at least 5 cm) for baking does not join. Bake for 15 minutes until they are golden: 7 minutes change the pan position and let bake for another 8 minutes. Move to a wire rack and let cool completely.
Tips and Tricks
You can replace the oats and rice flour by normal wheat flour or whole wheat flour.
Add if you fancy a few raisins or blueberries
Preparation time: 25 minutes
Difficulty: easy
Servings: about 20 cookies