"The toughest job, is the most rewarding."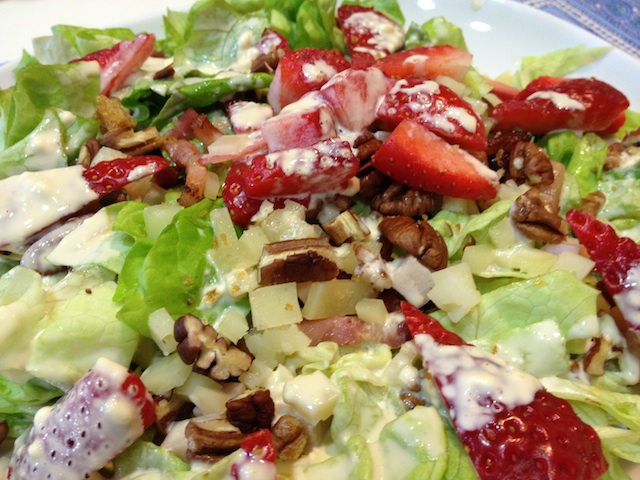 Now approaching the summer are many who ask me to rise over chilly, light and easy recipes. One of my secrets to save the line is not abuse of fat during the week, and always take many types of salads, and the truth is that we almost never repeat because I try to use foods that can be easily used, sometimes even making it with some leftover may have ended, but there are days when I leave in addition to tasty, very colorful. This is one of them.
And colors I wanted to I tell you. I suppose you will know that an initiative has been promoted to open trade on Sundays in spring in the District of Salamanca (Madrid) (other tourist cities could copy it), called Sunday Shopping, and the truth is that the streets are crammed and appear Friday afternoon or Saturday instead of the day of rest required. The animation runs especially along Serrano, that looks radiant and new after its renovation with a wider sidewalks that allow a more pleasant ride to the pair that has reinvented the concept of terrace on a street that not honored precisely for this reason, despite being the main artery of Madrid fashion.
But what most caught my attention, and I think that the thousands of tourists and passers-by also because they were photographing them (looked like Japanese), it was the initiative Shoe Street Art, in homage to the footwear industry. They have placed more than 25 pieces simulating high heels more than 2 m in height with style casual and originally designed by artists of Elda (Alicante), birthplace of the footwear in Spain, full of colour and design. They are based on the successful exhibition Cow Parade that since 1999, it has traveled more than 75 cities around the world. Until next June 24 will be the heels by Serrano.
In this case it had an extraordinary type Trocadero lettuce and didn't want it unnoticed. In the fridge also kept a few strawberries and I decided to test the mixture. We are generally quite reluctant to make this type of salad that savory ingredients and fruit mix unless we go to a restaurant. However, in many cultures is something completely everyday: mix of flavors, yin and yang...
Fruits salads mix gives them much balance, since we can find soft, acidic and salty and sweet flavors. It must not miss a crispy touch in this case contributed by walnuts and manchego (sheep's milk cheese) gave that flavor that enhanced strawberries. It is a very easy recipe, prepare in minutes and very light, so the operation bikini will not suffer, and you can fit you a few vertigo heels this summer (like los Serrano). I hope you enjoy it. Do you dare?... recipe scoundrel!
Level of difficulty: easy
Preparation time: 15 min.
Seating: 4 persons
Ingredients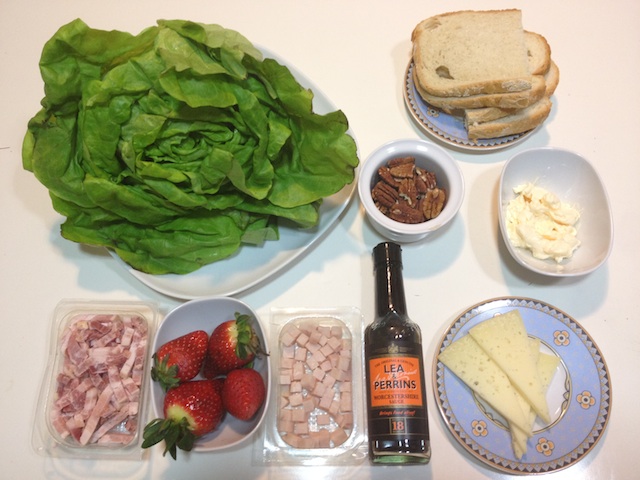 trocadero lettuce €2,00
2 slices bread (optional) €0.10
100 gr chicken breast Turkey €0.70
100 g strawberries or Strawberry €0,20
100 grams of bacon into strips €0.60
100 g of manchego cheese in a piece €0.90
3 tablespoons mayonnaise €0.30
a teaspoon of salsa perrins €0.10
salt and freshly ground black pepper, €0.05
2 tablespoons walnuts chopped €0.25
Total for four Diners €5,20, i.e. €1.30 per person. Healthy, cheap and very light.
Equipment
a pan
a wooden spoon, bowls, tables of cutting, knives.
Pairing
Salads go great with beer and for beer I recommend castizos La Cibeles blonde type, with citrus taste and slightly cloudy. It is a handmade type beer, costs €2.00 and is made with water from the Canal de Isabel II, which I assure you is a water town of quality, the better than going to try in your life.
Directions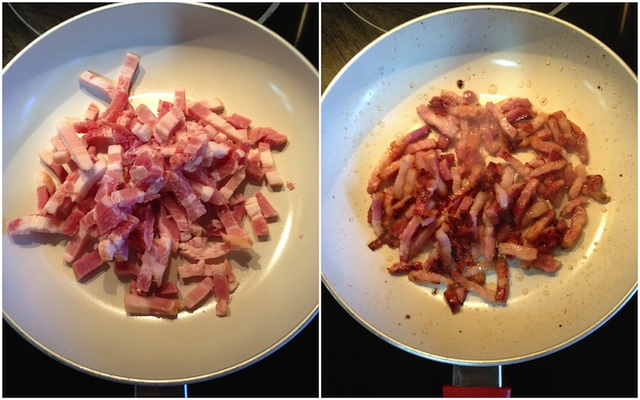 1 chop the bacon into strips and fry it in a pan over high heat until it is golden brown.
2. with the help of a pair of scissors cut the bread cubes and FRY in oil until browned. With a knife, cut the manchego cheese into little cubes. Book.
3 chop the walnuts.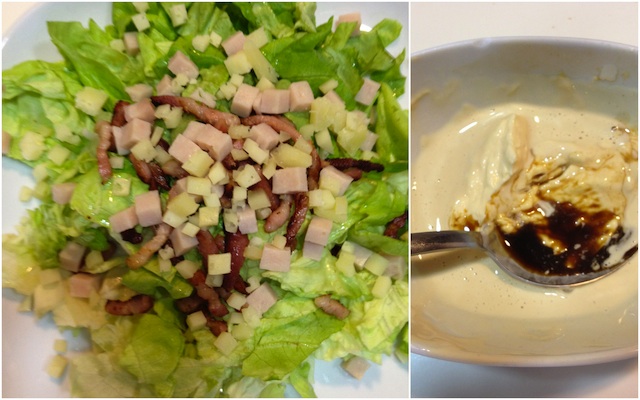 4 separate the lettuce leaves and place them on a plate. Put over the sliced Turkey, cheese, and chopped walnuts.
5. in a bowl, mix the mayonnaise with perrins sauce and add salt and pepper.
6. put chopped strawberries lengthwise (as in segments) and drizzle.
7. Optionally you can add a few fried bread croutons. Fast, fresh, colorful, and healthy!