May 2017 Recipe
This is the recipe for the best homemade tiramisu and the easiest. It is the recipe for tiramisu of Antonio, a coworker who gave me this recipe makes a lot and that I have not changed anything.
In the company where I worked, already long ago, we had custom carry some sweet to share our birthday or our holy day. Had who bought it at a patisserie, who carried a box of cookies or chocolate, and who prepared at home something rich to share.
Every year we expected to arrive the birthday of Antonio because he was always preparing this tiramisu whereby all us fought when arrived the day.
I never knew how was he with this recipe, although I recall that some Italian friend gave it, but the truth is that I keep it as gold cloth.
After that, I've tried other recipes many of tiramisiu, but never one as good as this in which flavors are well balanced. With a touch of cognac that is not noticed but that gives strength to the flavor of the cream. Without a doubt is the favorite of Juanje, my husband, who is not very leave q but that is a super fan of the best homemade tiramisu according to him
It is very easy to prepare, even if we have no electric mixer because we can do it with a mini pimer or some manual rods, you can prepare in advance and even freeze it, although nothing like take it a few hours after having done. Cocoa enhances coffee flavor. A dessert of 10 that you can prepare at home as a true Italian.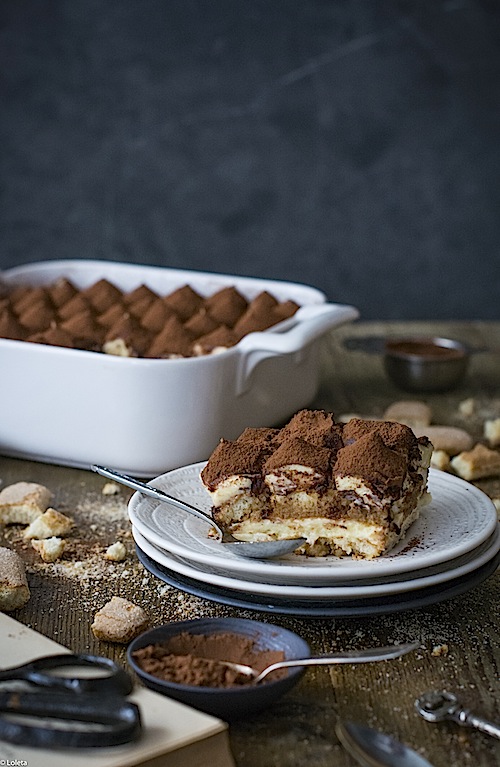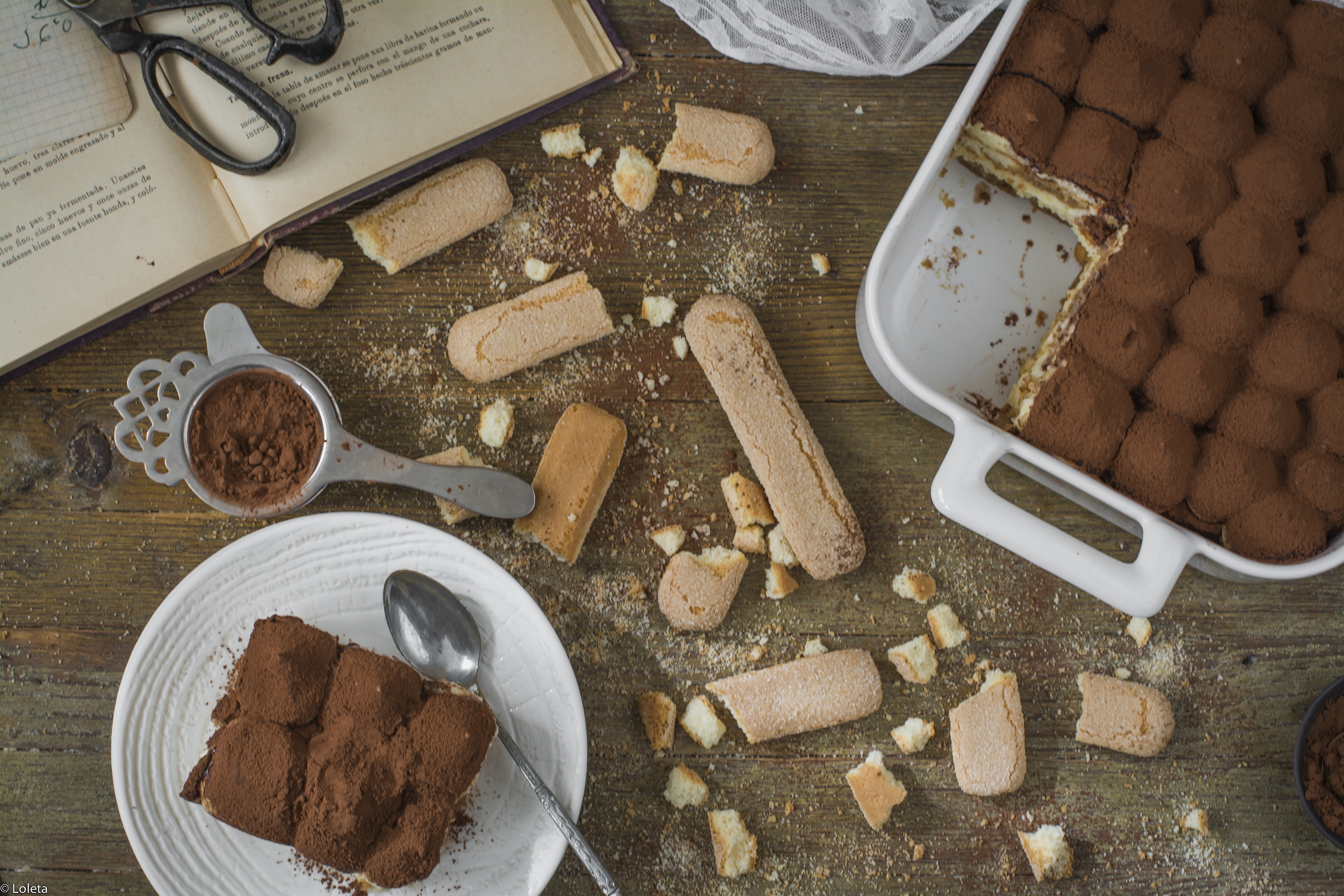 Ingredients
500 g mascarpone cheese
250 g of icing sugar
3 eggs at room temperature
3 tablespoons Cognac or brandy (actually used almond liqueur but a mi me gusta more brandy)
1 tablespoon sugar
2 packages of biscuits type cake
1 cup of coffee (you can use decaf as I)
3 tablespoons pure cocoa powder
All the bowls and the mould used in the elaboration of this recipe are of Revol, my favorite porcelain for household goods brand. The collection is Lab color that can be found in many colors, all beautiful and they look super nice on my table.
Directions
Separate the egg yolks from the egg whites and reserve the egg whites.
In a large bowl beat the egg yolks with the cheese, sugar and brandy, beat with the help of some electric rods until the mixture is creamy good. With the help of a spatula, lower what you have pasted on the walls, and book
In another bowl, beat the egg whites until soft peaks. We started to batis and when they have a little foaming, add a ciucharada of sugar to help that they bleach and remain formes. I beat them to a hand, so can see that you can do, but it is a little more time. If you have a few electrical poles much easier and faster
When the egg whites are ready, begin to add them to the cream cheese gradually, with help of a few hand rods or a spatula until they are well integrated and the cream is good foamy.
In a rectangular mold, or individual vessels, put a layer of biscuits dipped in coffee. On this layer, we will put a layer of cream. Then another wet in coffee cake and finish with a cream. Let cool in the refrigerator for at least 4 hours. Best to prepare it the day before and let cool 24 hours so that sits well.
Before serving, we sprinkle it with pure cocoa powder and enjoy!
Tips and Tricks
Prepare it the day before and you win in taste and texture
If you don't want to use alcohol you don't have to do it
Preparation time: 30 minutes
Difficulty: easy
Servings: 10