This Panettone express that I prepared in version mini panettones is very easy, and is going to be your salvation whenever you want eat you a snack of this sweet, and that not can devote you two days to develop the traditional Panettone Milanese (that also I have posted and you leave in the link above)
Obviously it quickly in the elaboration is to coast of something of flavor, but mostly is to coast of its temporality. Is delicious freshly made and although not is a crumb so Baker as it of the version of mass mother, endures very well the first 24 hours.
Starting from there will have that have much care in how it preserves because of another mode is put something hard. In House last that time never is none, so I also I would worry much by the temporality, although the flavor nor is the same obviously.
When we cook with sourdough, let the dough ferment and light which enhances the flavor of the dough, the ingredients come together better and flavor is very special. Obviously the flavour of the Panettone express is different, but equally delicious.
On the contrary, it will take you 2 hours to have your panettone in the table and not have to cool it mouth to low. In my case, and with the amounts that you give in the recipe, leaving 7 mini panettones. As I have already mentioned the next day there was none, so I can not tell you if more than 24 hours hardens too much or not.
This version of Panettone is also very easy to express that I have prepared in mini panettones, is ideal for example to customize them for dessert or breakfast. We can also wrap them in foil, cellophane and take them as a gift to friends or family home, or give them as a gift now at this time. Anyway, I hope you will bother and see what you think. A mi me saves whenever it makes me mad Panettone desire after eating and I want it to have a snack.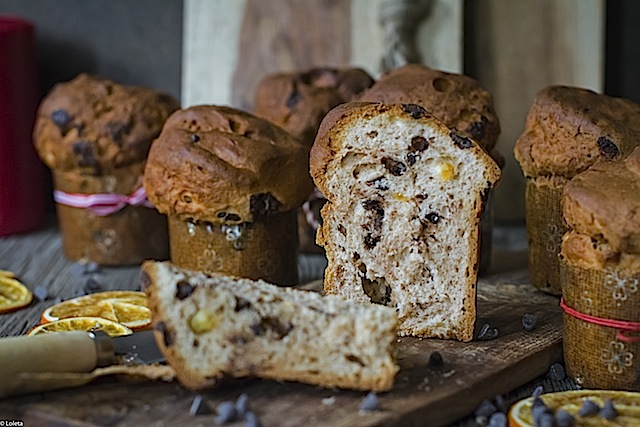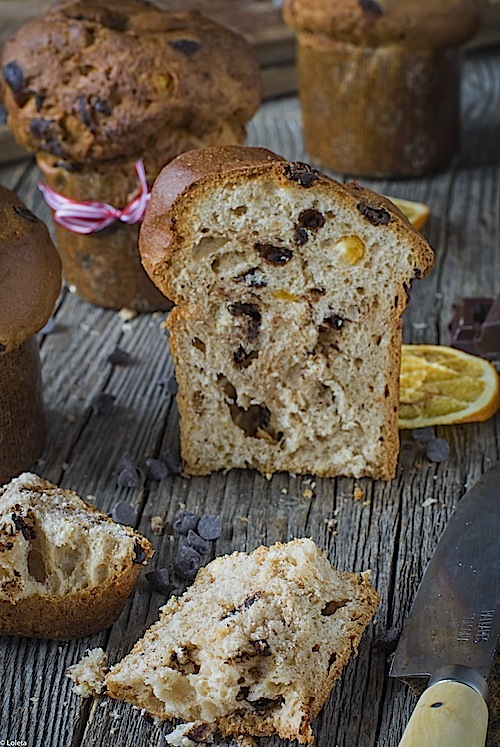 Ingredients
270 g flour strength or super strength - is very important the quality of the flour. I use organic flour of strength of El Amasadero, or flour of super strength of Allinson to buy in supermarkets English
1 cuchardita of xanthan gum.***
135 g sugar
2 large eggs at room temperature
90 g of soft butter
30 ml warm water
20 ml of orange blossom water
50 ml warm milk
1 tablespoon sugar
10 g fresh yeast
70 g of dark chocolate chips
70 g of very chopped candied orange
*** We can use flour gluten to make our panettones for coeliacs. In the event that we use gluten-free flour we need a component that all ingredients. In the case of wheat flour, this gluten makes it, but if we use flour without gluten, then we need a teaspoon of xanthan gum. They sell it on amazon, Makro and specialty gourmet shops
Directions
1. prepare and weigh all the ingredients of the Panettone fast and easy. Mix the flour with the xanthan gum and sugar and set aside.
2. in a large bowl mix the water, orange blossom and warm milk. Add a tablespoon of sugar and fresh yeast. Undo with the fingers and mix. Book.
3. in an electric mixer Bowl place flour mixture and add an egg. Place the hook attachment. Not worth neither rods nor the mixing accessory. If you have a hand mixer, valen twisted rods. Also it can be crafted with the help of a fork simply. I prefer the mixer because it is easier not to get lumps, but if you don't it is also very easy.
Add an egg. Wait until it is completely incorporated before adding the next.
4. slowly add the mixture of milk and water taking care of mixing well. When have we added all liquids. Upload speed and mix for a few minutes until the batter is uniform and smooth.
5. then add the butter in small pieces. Add one and add another until it is completely incorporated into the dough. Continue to mix about 8-10 minutes until the dough is almost entirely separate bowl.
6. then add chocolate chips and orange and beat a few seconds until well mixed.
7 turn on the oven to 50 degrees. Spread batter into molds. With these quantities to my came me 7 panettones minis about 120 g.
8. switch the oven off. Place them panettones on a tray of oven and let stand with the oven off that will be slightly tempered, during an hour and 45 minutes with the door closed.
9 quick and easy Panettone will have risen almost to double the volume. Remove from the oven and turn it to 160 degrees with the heat up and down. Put the panettones without waiting for the oven to heat and bake for 30-35 minutes until browned.
10 cool the mini panettones on a grid. To my as I most like is nothing but can decorate them and customize as they like us.
Tips and Tricks
We can add raisins, nuts or fruit confit instead of Orange and chocolate if you prefer
After cold we can bathe the mini panettones in chocolate white, black or with milk and garnish with chopped almonds, or simply sprinkle with icing sugar.
Wraps the mini panettones in paper cellophane to give them
This version mini allows you to freeze them and defrost them in portions
Difficulty: easy
Preparation time: 2 hours and a half
Servings: a panettone or 7 mini panettones