"The impossible just takes a little longer"
This is the second post dedicated to a tour of ideas for recipes to choose between Thanksgiving U.S. and our Christmas. If you didn't see the first post, linka HERE. In both events the can use, hence its versatility, and in addition, practically all composed of typical ingredients of the time, and in this case, also of chestnuts.
Among precious walks through forests of colors, for example in the Sierra de Ronda, at this time want this type of recipe, at least to my.
Although with the mashed sweet potatoes and potatoes I also prepared, there was enough lining, a true Thanksgiving dinner always includes in addition a vegetable dish and a stuffing.
I also cooked some Creamed Spinach which were very soft, but I also made this stuffing was delicious. The original sense of the stuffing or filling, was precisely that, to serve stuffing the Turkey to make it juicier. It normally carries a base of meat, some vegetables and a mixture of bread crumbs which amalgamates all the other ingredients. It took this Turkey stuffing and was served as a side dish. However, little by little, these fillings are were perfecting, adding different ingredients and serving directly as main dishes. This one is very original, autumn and delicious. At home is chuparon fingers, so encourage you to a nice dinner or meal with friends, and why not, in Christmas.
Stuffing of sausages, mushrooms and chestnuts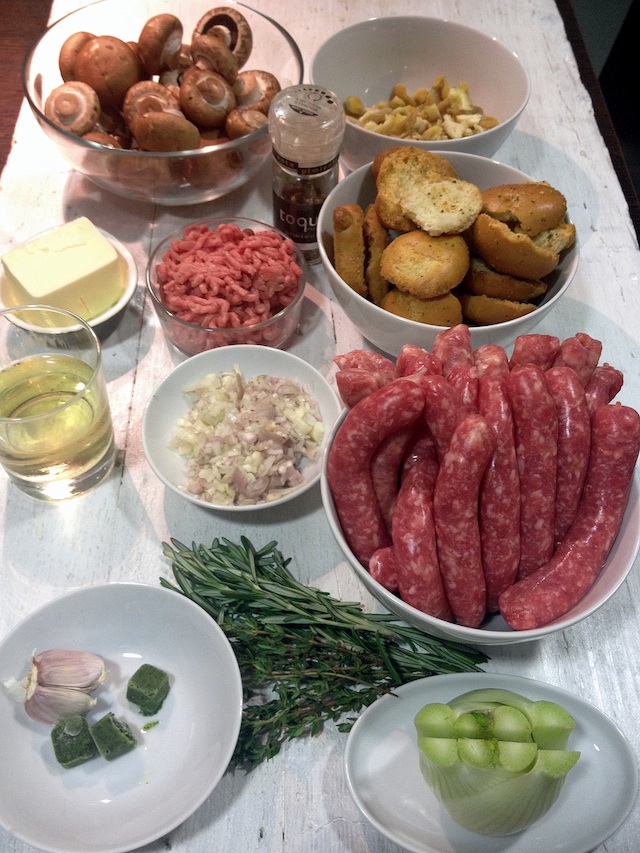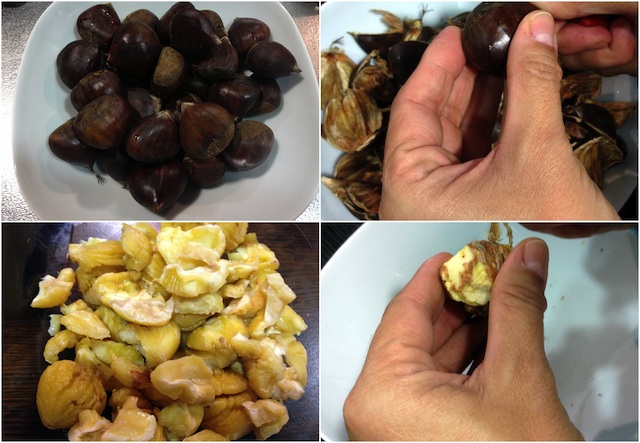 Ingredients
1 kg of fresh sausages €7.46
5 shallots, finely chopped €1.07
1/2 cup of sherry €0,50
1 bulb fennel, chopped very small €1.59
1/2 cup of broth €0.45
1/2 kg of clean and chopped mushrooms (I used Portobello type because they are smaller and more tasty, but if you cannot find them you can use normal white mushrooms) €1.95
black pepper ground €0.05
2 tablespoons parsley €0,10
1 tablespoon of fresh thyme chopped €0.15
1 tablespoon fresh rosemary chopped €0.15
1/2 kilo of chestnuts, peeled (hard skin and the soft) and chopped €1,50
1 package of buns toasted garlic €0.79
100 g butter €0.38
3 cloves of chopped garlic €0.10
Total €16.24 among 12 Diners we have, departs at €1.35 ration. A subtle and delicate and very original garrison.
Directions
1. the first thing we will do will be to prepare the chestnuts. For elllo we'll remove them with hard skin and escaldaremos them in water by boiling for a few minutes. Passed this time, we will remove them in hot (careful not to burn us, if si hace does lack can use gloves) skin that Peel easily. Once we have them without skins, set aside them in a bowl chopped.
2 gut the sausage and sauté them in a pan until meat is done. Reserve in a bowl.
3 chop the mushrooms. Book
4. in the same Pan saute the chopped fennel and the shallot finely chopped butter. Saute until the shallots are soft and transparent. Add very chopped garlic and sauté until browned.
5. add chopped mushrooms, herbs, pepper, salt, parsley and chestnuts and saute until mushrooms are made (about 3 minutes).
6. Add meat sausages that we had previously booked and sauté, stirring well for 3 minutes. Then add Sherry and cook until alcohol has evaporated (about 4 minutes).
7 remove from heat and add the shredded toasted buns and mix well. It is likely that with the stock that beech mushrooms and wine, bread has already desired texture: texture soft and squishy, but not in soaked bread.
If the bread remain crisp and hard, add a bit of broth. We will do it in the following way: Add a little stock and move well. We return to check the texture of the bread, and if still hard, add a little broth and would return to mix well and try a piece. If suddenly we add too much stock, risk gets too soft, and it is not the texture that we need.
8. bake 20 minutes at 180 degrees covered with foil. This past time to uncover and continue baking until top is golden and crispy.
I hope you enjoy it. In my house the toes were sucked!!... and in addition
Tips and Tricks
Difficulty level: intermediate
Preparation time: 60 minutes
Servings: 12
For both dishes: main and side dish, I recommend a wine red wine Ribera del Duero, young but rich, tasty and balanced. The winery Arzuaga Navarro, is called Plantharvest 2010. Give a try it, very much worth
Puré de batata con marshmallows
One of the fittings that can not miss in typically American dinner to accompany the Turkey, is mashed yams or sweet potatoes covered in marshmallows (white sweet clouds). Although it may seem you strange, I assure you that they relamen and never needless. It is a strange thing because we probably never would have occurred to us mixing a vegetable with baubles, but we already know how are Americans, lovers of the strange and unusual mixtures. I assure you that if you like sweet potatoes or sweet potatoes, this mash will delight you and you will have it by essential. For Christmas!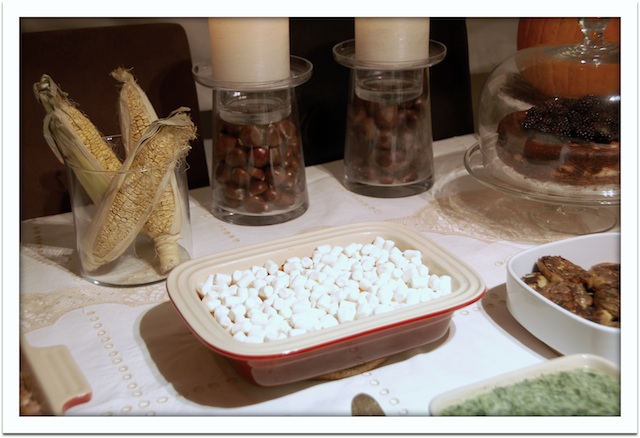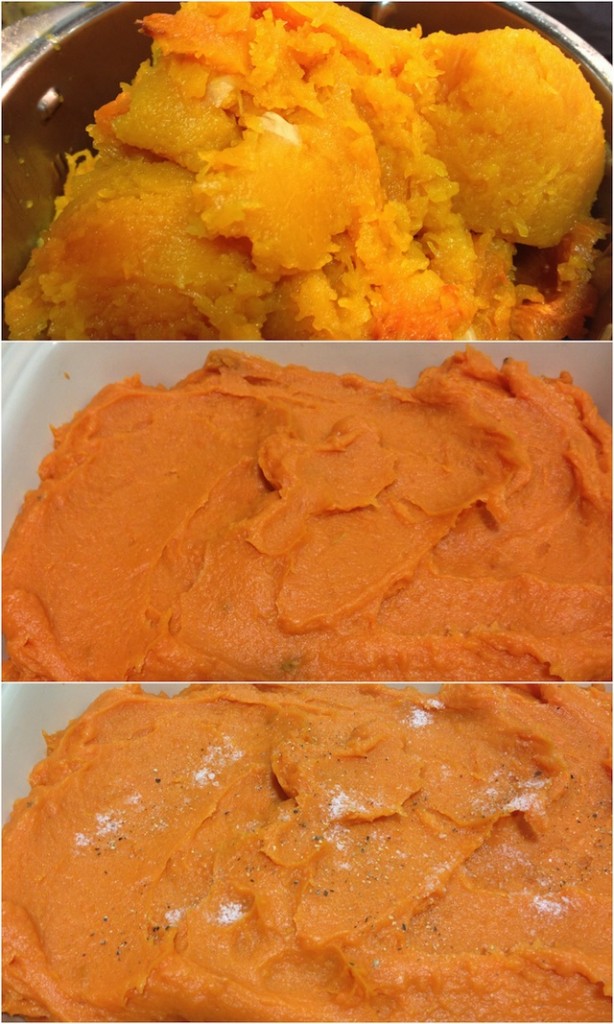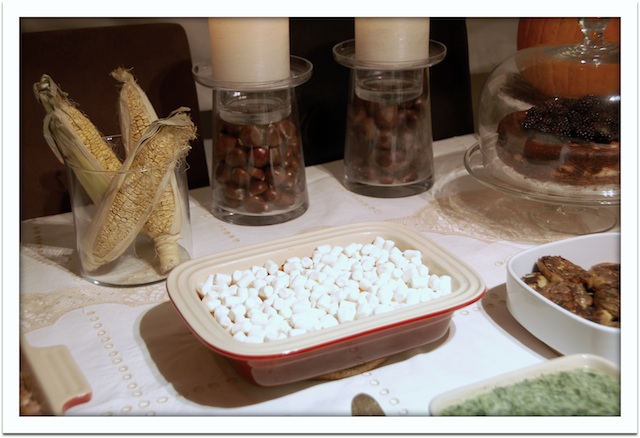 Ingredients
4 sweet potatoes €4.10
150 grs of white clouds €0.95
Total €5.05, among 12 Diners are €0,42 per person for a lining that will not leave anyone indifferent.
Directions
1. wash the potatoes with the help of a kitchen scouring pad and rinse
2. place the potatoes unpeeled in a baking dish.
3. Bake at 180 degrees for 40 minutes.
4. allow tuning to be able to peel the sweet potatoes.
5 pass them through a food mill or blender to mash.
6 cover with white clouds and bake at 170 degrees until slightly brown clouds. Enjoy!
Tips and Tricks
Level of difficulty: easy
Preparation time: 40 minutes
Servings: 12