"Our friends are brothers that Dios forgot to give us"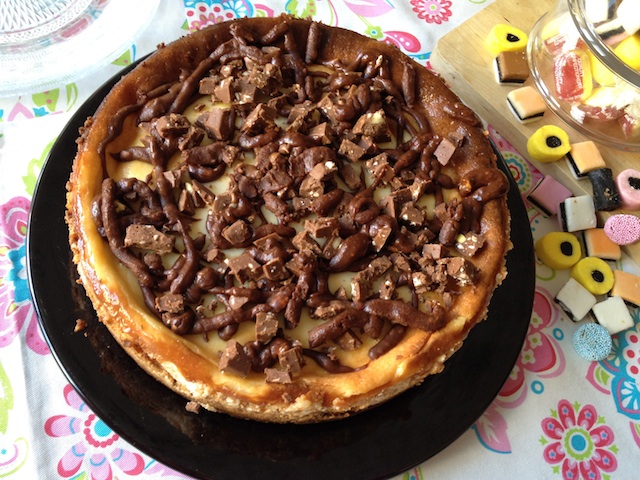 Toblerone cheesecake in Spanish
List of ingredients to the shopping cart
The problem to be greedy There are few things that you don't like, but in the case of the Tobleroneeven non-sweet often them go crazy. This chocolate with honey, walnuts and almonds is unmistakable by its triangular prism, and a perfect combination that makes that you can never stop eating until you finish the whole bar.
Original SwitzerlandToblerone is trustmark's life. The founder of the company, Jean Tobler, marketed when he gave the company to his sons in Bern at the beginning of the 20th century. The word Toblerone on the one hand comes from the surname of the founders, Tobler, and Nougatwhich means "nougat" Italian honey and almonds. It is what gives the flavor to the chocolate bar. Since then it has rained enough, and is now internationally known, belongs Kraft, and is sold in more than 120 countries... Irresistible eh?
I'm sorry, but hablanbo of chocolates and at holiday time, always comes Belgium in the lead, and while already spoke of origin of its relationship with this captivating product in the post of the Super White chocolate CheesecakeI let myself interesting somewhere in the pipeline (which has many), and taking advantage of it is summer, that best chance to bind them and introduce you to Knokke-Heist, holiday city par excellence for the Belgians, on the coast of the North Sea, in the Flanders Eastern almost right with the border with the Netherlands and within walking distance of ZeeBruge (the port of Bruges). If you situáis Brugge or Ostend, you can locate Knokke a little higher, it separates them 17 and 34 km. respectively. Here you as I link
Knokke is a small town of about 34,000 inhabitants that multiplies in the summer since it becomes one of the destinations favorite national tourism. Historically related with spastoday has several of them that recall the retro-style of early 20th throughout its more than 12 km of coast. It is a lovely town, where the economic clout of the wealthy classes looks. There are houses and villas scattered around the coast to the interior that you will be surprised by their good taste, with targeted designs and sloping volumes, facades reminiscent of Flemish, and gardens open without protection fences and lattices of security. That envy!
While some such period as the weather permits enjoy Knokke-Heist (remember that we are in Belgium, not in Spain), when you can is fascinating. Temperatures rarely exceed the 25 degreesallowing you to feel comfortable without excessive heat. The beaches are combined with the green of the damp landscape of Northern Europe that highlights the beauty of the place. You will find luxury shops in the Centre of the city, you will visit Gofrerias in ancient villas with gardens and play areas for children who seem to playgrounds (here the children of pass it pipe), and must take advantage of to hire some bikes and make endless travels along all the coastline from its beach in a gentle and long walk or to go to stoke up you fresh in Le Pain Quotidien (here I discovered this essential bakery) and buy their famous increasing, pan au chocolat, or guns for breakfast. It is quite an experience.

Finally, after a morning of shopping along Kustlann, From Bunne Square and its surroundings (warning visa that are present almost all the luxury brands and the Flemish design you be surprised), do not forget to sit to take the aperitif of Pimm's (drink English of the summer in England, based on Geneva coppery color, fruit and lemonade soda that locals love to) some of the terraces from the famous "M'as your vu" (at the confluence of the Lippenslaan and Van Bunnenplein), i.e., the place where you feel to see and be seen. It's great!
Returning to the Toblerone, I remember when little my parents brought him us of duty-free to the return of his travels and we came back we crazy nibbling the delicious triangle, both, that it does not came home alive. What ever!
This cake I discovered investigating the possibilities that the cheesecake, one of the favorite desserts of my son, can offer and the truth is that it was all a find. I left hand and I made it great, and I thought that there would be cake for many days, but turned out so incredibly delicious that at the end of the day were not the crumbs. Ready to Cook? Let's go

Difficulty level: intermediate

For eight

Preparation time: 40 minutes more about 5 hours minimum to cool
Ingredients
For the biscuit base:
2 packs of 180 grams of Lotus biscuits (are Belgian cinnamon cookies that are good quality. You can find them in Mercadona, El Corte Inglés and superstores) €2.40.
8 tablespoons of butter to melt after €0.40
4 tablespoons of brown sugar €0.25
3 tablespoons flour €0.10
a pinch of salt €0.02
For the rest of the cake:
1 400 g large toblerone €4.25
3 eggs €0.30
1 cup and 1/4 sugar €0.35
600 grams of cream cheese (can use any brand) €2,00
140 ml of sour cream (is in British supermarkets and Auchan, but if you cannot find it you can use 140 ml of liquid cream with 2 tablespoons of lemon juice). €0.86
Total €10,83, i.e. 1.36 if we distributed it among 8 generous servings. Delicious and unbeatable price.
List of ingredients to the shopping cart
Oven
A cooking ring or a removable mold of 25 cm in diameter
A hand or electric mixer
A ladle
Bowl
Spatula, spoons in wood, etc.
Pairing
With the cheesecakes are going very well the sweet wines. Today I recommend a wine of MadeiraWine Madeira, from Winery The House of Sandemana sweet wine of intense perfume that you'll be pleased if this type are you. €7.99
Directions
1 undo the cookies with the help of a blender or putting them in a plastic bag and hitting them with a roller, a hammer or anything else that you can crush the biscuits to undo them completely.
2. grease the mould or cooking ring, by placing a paper towel at the bottom (which will help unmold the cake later).
3 mix all ingredients base (biscuits, butter, flour, brown sugar and salt), and with the help of a spoon cover removable cast. Bake 12 to 15 minutes at 170 degrees. Leave to cool for 30 minutes at room temperature on a rack.
4. in a large bowl beat cream cheese until you have a soft texture (about 3 minutes).
5 pour the sugar and beat.
6 Add eggs one to one and beat until well-blended.
7. Add the vanilla and the sour cream. Mix for 30 seconds.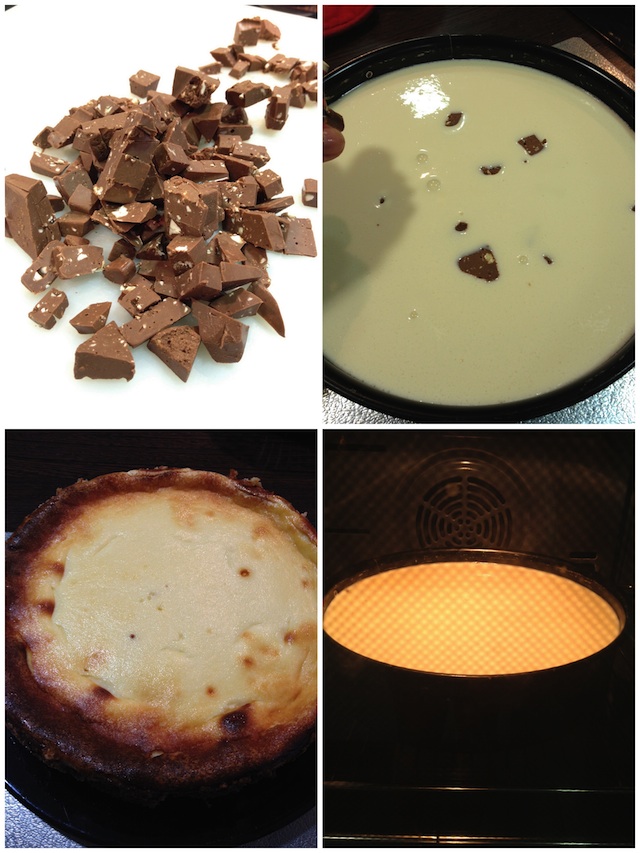 8 tip with a spoon cream into pan.
9 chop 5 triangles of toblerone into small pieces and distribute on the cake.
10 Bake at 170 degrees for 35-40 minutes until the cake is curdled at the edges and slightly soft in the Center. Cool the pie at room temperature for 2 hours. Pass it then to the refrigerator and let cool at least 3 hours.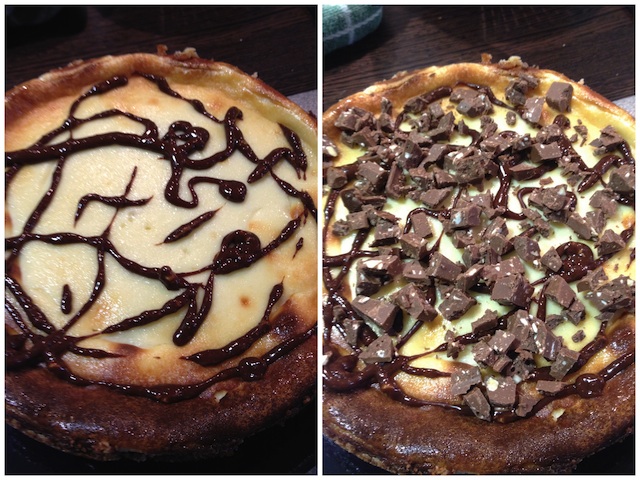 11. once the cake is cool, melt 3 triangles of toblerone in a bowl on the bus, at intervals of 30 seconds so it won't burn. Pass the melted chocolate to a pastry sleeve. or to a plastic freezer bag. With a pair of scissors cutting a corner to allow the melted chocolate to escape. To create strands of chocolate over the cake.
12 chop two triangles of toblerone into pieces and spread on the cake. To enjoy!!