This Hungarian green beans cream has been a discovery that the Hungarians take forever. It's fun to discover how a recipe that suddenly arises because it is what is in the refrigerator, then it is that is very similar to a dish here or there. And that happened to me with this cream. I had a few green beans in the fridge. already we had taken them sautéed with ham (which I love as well), but remained a handful, so I decided to make a cream.
The first time I made it with cream. I usually prefer to use cream cheese because I like the acid and soft touch that gives the vegetables creams, but that single day had cream and the result was a little bland.
So I decided to read about cream of green beans to improve my result and was when I discovered that Hungarians are much like green beans cream, blow that they not crushed it and leave the whole beans. They used to do it with a roux, a mixture of flour with the bechamel-like butter but is made with the water from boiling the beans, and served it the same cold that hot, though I have not dared to take it cold never, admit.
Loleta is the siracha sauce, delicious and very spicy Thai sauce that is made with fermented chilli and which gives a unique flavor. To my I love using it in dishes of vegetables and chicken and is the basis of many other sauces. A touch of rock and roll in this cream that is ideal for these cold days.
You know that I love to give a different touch to the creams, as the pumpkin cream to which I add a little curry and coconut milk. Here the sitacha make magic in a cream which a priori may seem a little bland but which is very rich. Once again, party won the "I don't like".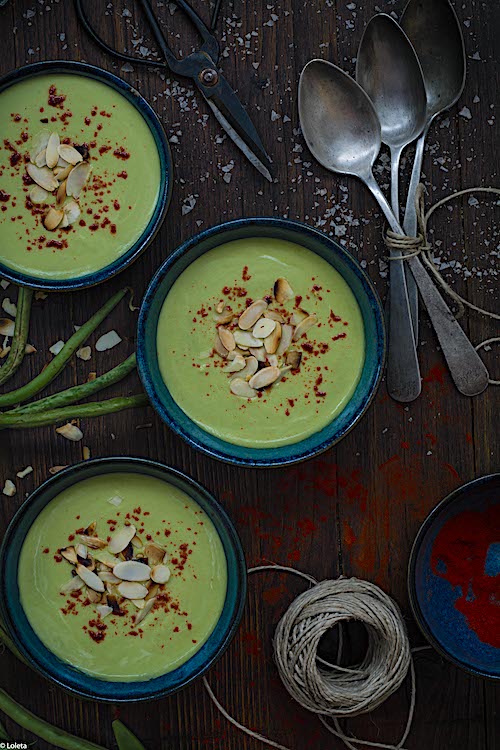 Ingredients
2 tablespoons butter
2 onions
2 shallots
500 g of green beans
250 ml sour cream
salt and black pepper
Cayenne Pepper ground
1 tablespoon of siracha sauce
50 g of almonds
Directions
ENA large saucepan, sauté the onions and shallots in butter until they are white. Then add the chopped green beans and saute one minute. Cover with water and let Cook for 30-35 minutes until they are soft.
With the help of a food processor, blend by adding as much water as necessary to obtain a smooth, creamy texture.
Then add the sour cream, pepper and Siracha sauce moving well with a few rods until a smooth mixture.
Salt to taste if necessary.
In a skillet, Saute almonds in a drop of oil and a pinch of salt until browned around the edges.
Serve very hot with a little paprika on top and a few almonds add texture
Tips and Tricks
Add a couple of potatoes to soften the flavor but she is rich uh
If not the spicy like do not put siracha and replace it with a bit of lemon juice
Preparation time: 40 minutes
Difficulty: easy
Servings: 5
Raciones