And as promised! With this green curry of fish and vegetables, announcing the sweepstakes Lekue, second we do to celebrate the four years of the blog. And the truth is that not is what you will like more, if curry fish and vegetables or the lot of the Lékué draw which seems to me the most. And why not? Stay with the two.
To participate you must:
Become a fan of

Lékué

en Facebook

Become a fan of Loleta Life, Market and Cooking on Facebook

Share this Win BRA on your facebook wall

Leave your comment to this recipe on the blog (don't let your mail is missing, as it is registered to leave the comment on the blog). You have to leave the comment at the end of the post you are reading
With all this, you can participate in this sweepstakes, and bring you these great products Lékué with which you can cook easily, taste and very natural:
1. Detachable mould of millefeuilleto make some delicious cakes cold cheese, cream or flavor that you prefer and with a beautiful plate to unmold it and serve it without having to change the dish
2. Kit ovor, with which you will discover eggs in microwave. In 30, 40 0 50 seconds get the perfect texture without getting dirty and without having to bring water to a boil. All a discovery
3 Popcorn, I love popcorn and with this product, you will discover the thousand possibilities that has. I make them with curry and paprika as a snack for my guests, and love my son to see movies at home with sugar. A natural, healthy and fat-free delight
4. Steam Hondo case with which to make an infinity of dishes in minutes and without getting dirty. It is the yoi I used to prepare this delicious green curry.
We'll do a draw I enter all participants who meet the requirements, the scope of it is limited to Spain, and if you're lucky, you will receive at home all this gift to Lékué and Loleta want you for always being there. Cheer up! and participate in this sweepstakes that we will perform this week on the occasion of the fourth anniversary of the blog. We will keep the giveaway open until Wednesday 23.
And now we are with the recipe for this delicious Green Curry of fish and vegetables, following dishes from waking, but with a different and Eastern touch that you will prepare just in 10 minutes, without dirtying the vitro and while showers the children or read a time calmly. And best of all, you will see as the toes suck... is death!. Next Friday is the Friday of sorrows and officially begins the Easter, the holiday of the children, and this recipe will be ideal to eat well, healthy and enjoy the family with a whacked of lent.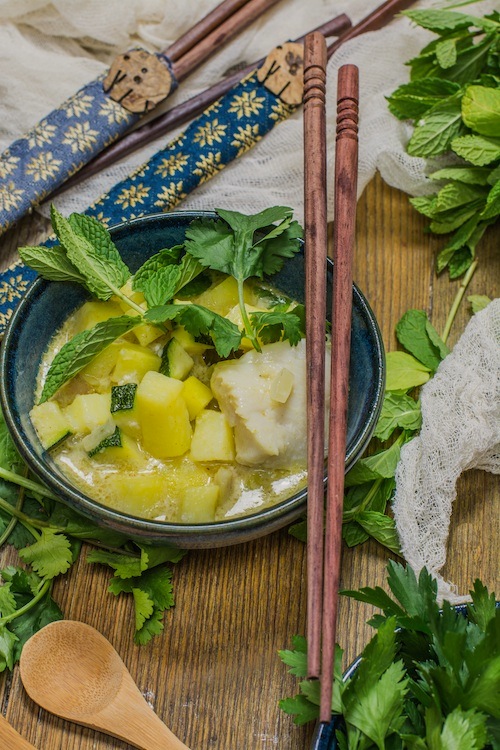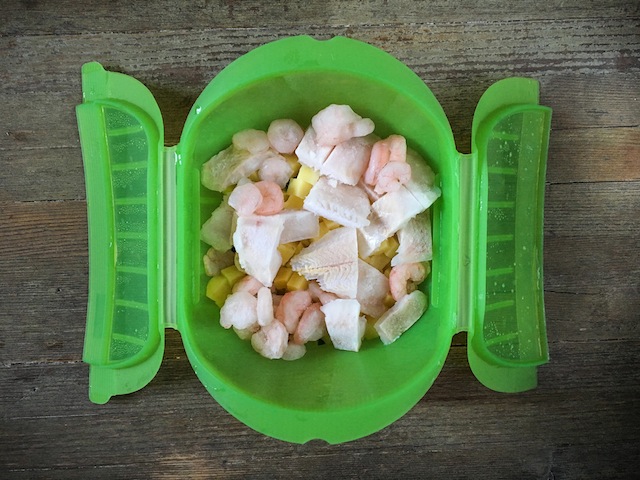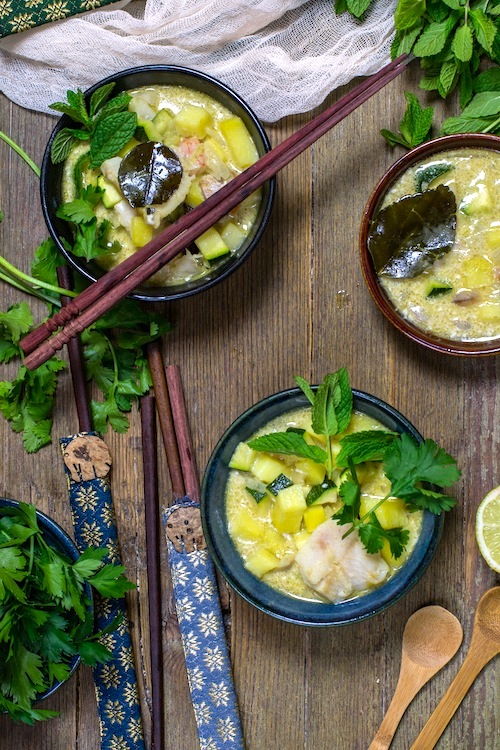 Ingredients
1 potato

1 Zucchini

2 spring onions

2 tablespoons oil

150 g prawns (can be frozen)

200 g of fish caught or hake white type (can be frozen)

1 tablespoon green curry that will give the different touch to our Green Curry of fish and vegetables

3 lime leaves kafir

a bit of lime juice

2 tablespoons fish sauce

400 ml coconut milk
Directions
1 we put two tablespoons of oil and the chopped chives, and put it in the pot in the micro for 1 minute at 800 w.
2. to the next minute, add chopped zucchini and potatoes made taquitos, and cook for three minutes.
3. last this time, add the prawns and fish, mix well
4. at the next minute, we add the green curry mixed with coconut milk. We offer you besides lime leaves kaafir and cook in the microwave for 8 minutes at maximum power.
5 then add fish sauce, we tested our Green Curry of fish and vegetables, and if necessary a little salt. Dejamos Cook half a minute longer.
6 serve Green Curry fish and vegetables with a little herb above: Mint, cilantro and basil and a bit of lime juice to give a fresh touch.
Consejois & tricks
Serve the Green fish and vegetable Curry served with basmati rice

Difficulty: easy

Preparation time: 10 minutes

Racion:5
The winner of the draw was:
'menu_position' => 063
Congratulations Victoria Montes de Torre! Soon I will contact you to arrange shipment of your gift. Thank you very much for participating and now... I hope that you cook much and enjoy it!