I saw this curry lentil cream a few weeks ago to Dani Garcia on his TVE show, Making eating.
That I love Dani Garcia is an open secret but I love his cooking even more. The first time I tried his kitchen was at the Tragabuches restaurant in Ronda.
I don't remember exactly the year, or the whole menu they served us, but I do remember that the first thing they served at the table, as an appetizer of the house, was a shot of lentil cream. The richest one I've ever taken in my life and it sat us in luxury. It was very cold, it was winter and warm was restorative and prepared us for a fantastic meal.
So when I saw Dani prepare this lentil cream the other day, I wanted to and I decided to prepare it for you. I hope you like it as much as you liked it at home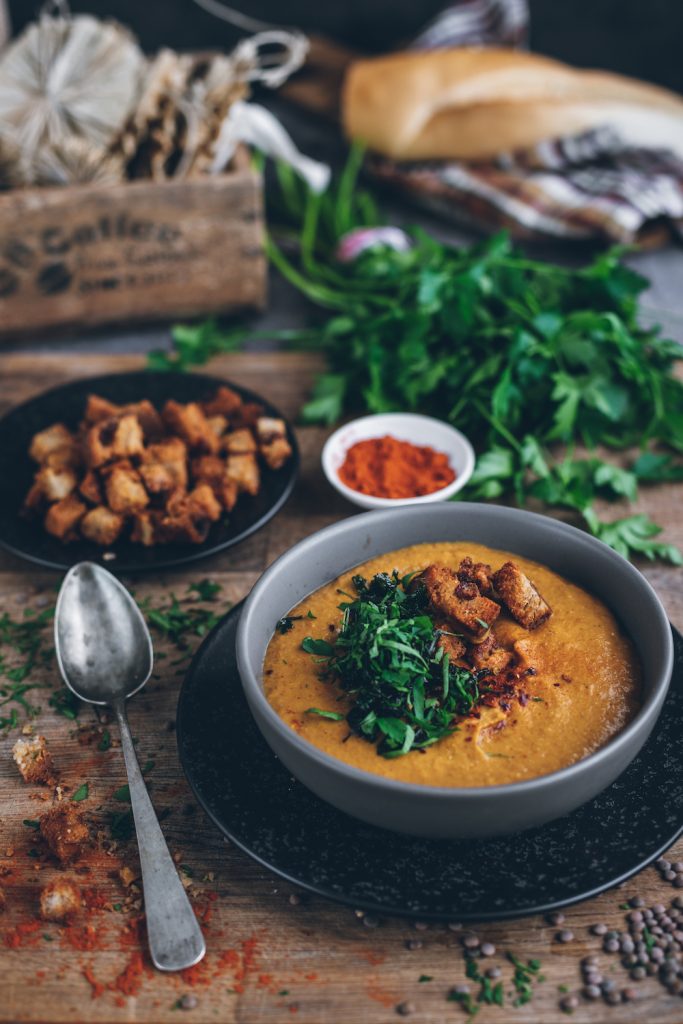 Ingredients:
2 tablespoons oil
3 garlic cloves
1 Onion
1 Leek
1 green pepper
1 red pepper
1 carrot
3 potatoes
5g sweet paprika
1 Bay leaf
300ml vegetable stock
500g brown lentils
1 tablespoon spicy curry
a slice of bread raisins and nuts
4 tb2 tablespoons olive oil for frying
Directions
Cook the lentils in the espresso pot for 10 minutes. Rinse and reserve.
Chop the garlic cloves, onion and leek finely. We chop the garlic too. Salint everything in a saucepan with a couple of tablespoons of oil.
We also chop the green pepper and the red and carrot in squares. Add them to the pan and salte for a few minutes over medium heat.
When they're ready, add the bay leaf, paprika and curry and go around. We let him to tease.
Now add lentils, potatoes and vegetable stock. We cooked for 10 minutes.
After this time, we remove the bay leaf and crush until we obtain a smooth cream. Depending on the texture we want we add more or less broth
We rectified salt and pepper, and reserved.
In a frying pan, cut the slice of bread into squares and fry them in a frying pan with a little olive oil.
We serve with the picatostes, sprinkle with a little paprika and put some chopped fresh parsley leaves.
Tips and Tricks
We can use already cooked bottlers instead of cooking them
Add some chorizo or ham stumbles
Preparation time: 25 minutes
Servings: 4
Difficulty: easy