Do you think these Crab cakes? They are cakes from crab with spicy kimchi and serrano chile sauces that you will love. But today's recipe thought it the reverse of what is normal in Loleta: first drink and then what Cook. It responds to a challenge: find a good couple Inedit beer, beer of Ferrán Adriá and the team of sommeliers from El Bulli, which is designed to accompany the best of the best.
Always been interested in what drink with each dish. Those who follow me from the beginning, remember that always proposed a drink with each recipe, and I find it very fun to find the best pairing for each proposal
When I challenged pairing Inedit beer with a recipe, which I would like to, I was clear from the outset that it would be a powerful spice, spicy dish because it accompanies very well the soft character with complex hints of this beer that is fruity and refreshing that is much appreciated when we take so spicy dishes. Why it goes so well with my crab cakes or cakes from crab with spicy sauces of serrano chile and kimchi
Having decided that the dish would be spicy I had it very easy. Long time that I wanted to bring you these crab cakes or crab cakes which are one of my favorite dishes and they are very close to the moments of friends, the weekend movies and football matches.
It is one of those football fans dishes that I always have ready in the freezer and then end in 2 minutes when I have friends at home, my sister comes to stay for dinner or simply I want to bundle me in the kitchen but I want to eat rich really.
When you take them, and they melt in the mouth in an explosion of flavor. At home you know that going strong emotions, so we make them spicy and accompany them with sauces that also have muuucho rock & roll, and so beer is appreciated and will enjoy much more. You join? As we go for the recipe.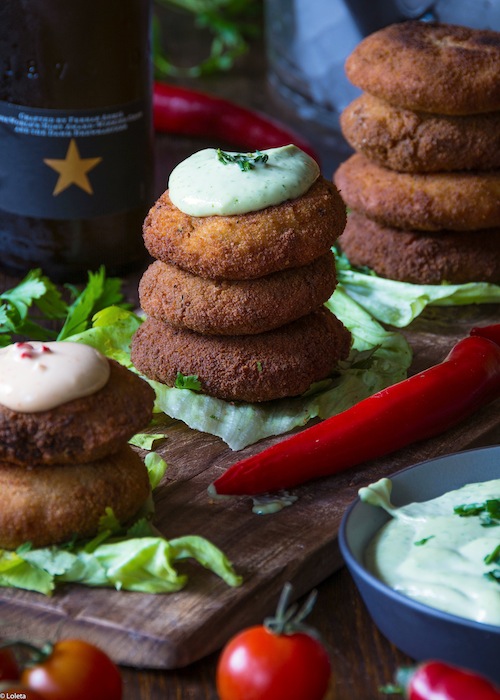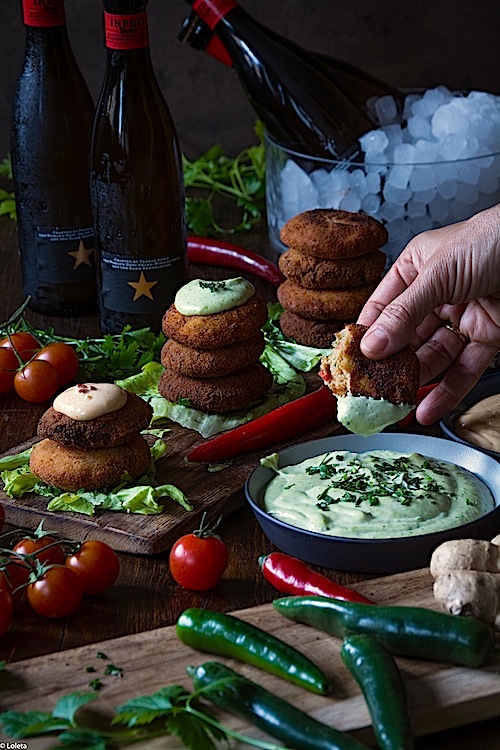 Ingredients
For sauces
500 ml of mayonnaise
3 Jalapeno chiles
a little fresh parsley
a bit of fresh cilantro
a little chives
1 teaspoon of kimchi
1 chile Red
for the crab cakes
1 fresh onion
1/2 red pepper
1/2 medium large green pepper
1 tablespoon Dijon mustard
1 tablespoon of Worcestershire sauce (the most common is the Perrins sauce)
1/2 teaspoon garlic powder
1/2 cup mayonnaise
1 teaspoon hot sauce (which you may have at hand: tabasco, kecap manis, Valentina... anyone who chop well)
500 g of cooked crab meat
20-30 finely crushed pretzels (I used Tuc)
For batter cakes
breadcrumbs
two tablespoons of flour
2 eggs, beaten
1/4 cup canola oil
half a liter of oil for frying
Directions
1 begin by sauces. We divide the mayonnaise into two parts.
We put one half into a bowl and add the jalapeno peppers and parsley and cilantro. Blend well and chop up some chives. We reserve.
The other half of mayonnaise, put in another bowl and mix with kimchi and decorate with red chili slices. We reserve.
2. in a bowl well undo crabmeat taking care not to get pieces of shell. Chop onion and peppers as small as possible (in brunoise or small squares). Add the crab and mix well.
3. in another bowl, mix the mayonnaise, hot sauce, Worcestershire sauce, mustard, and chopped garlic. Move well.
4 then add the sauce to the mixture of crab and vegetables and mix. We need a creamy texture but which we can form into meatballs. To achieve this texture will add crackers into small pieces then: we crush them with your hands and you're. It doesn't matter that some pieces are slightly larger.
It is sometimes necessary to use some more because the mayonnaise is too liquid, so we have to go see the texture that will allow us to form the meatballs.
5. when we have ready meatballs, we crush them to form the cupcakes. We pass them through flour, beaten egg and bread crumbs and fry them in plenty of hot oil. We left that they pick up color and give them back so that they are golden on both sides.
Serve accompanied by sauces and enjoy
Tips and Tricks
Once we can freeze breaded before frying so we only FRY at the last moment, just as we do with croquettes
Serve accompanied by fresh lettuce leaves to wrap ourselves and you can have a nice crispy texture
Preparation time: 30 minutes
Difficulty: easy
Servings: 10