You will love these delicious chicken curry pies. They are very easy, made in just 30 minutes and are a fantastic way for the kids to take vegetables at home with a rich and different taste to what they are used to. The only thing that should be kept in mind is the level of spices, (if you don't like it spicy or they are too young, we can use milld curry).
The curry is for many the national dish of the United Kingdom, but at the same time the savory pastries stuffed with meat (meat pies) are also a popular dish. So why not doing some pastries with Curried Chicken? A cream curry with vegetables so that we have a perfect main dish. My son loves to take them to school for lunch and whenever he takes them, he is the envy of the dining room. But I'm lucky because he loves to try new things, loves curry and spicy food Who does he resemble?
It is a very easy to prepare curry and we can put veggies that you prefer. I used what I had in the fridge: potatoes, some carrots and a remainder of green beans. What is important? That they are well chopped, so try to make us a fork to mouth, all ingredients together. I did my pastries of Curried Chicken, but you can also do it from veal, lamb or even just vegetables that is one of the favorite curries of the Hindus.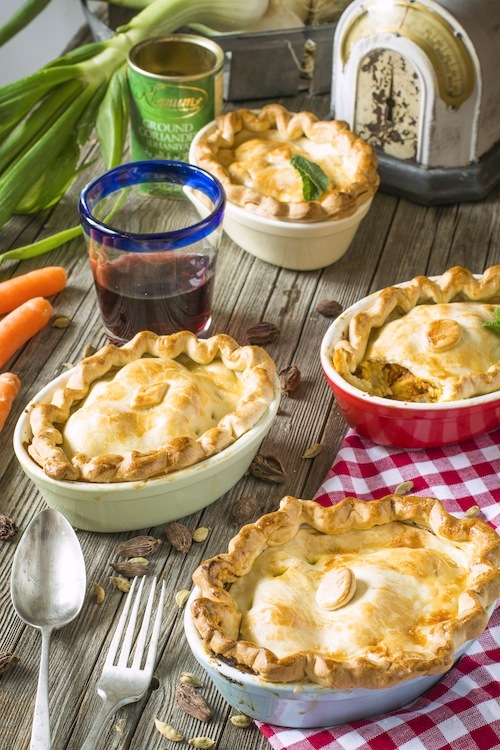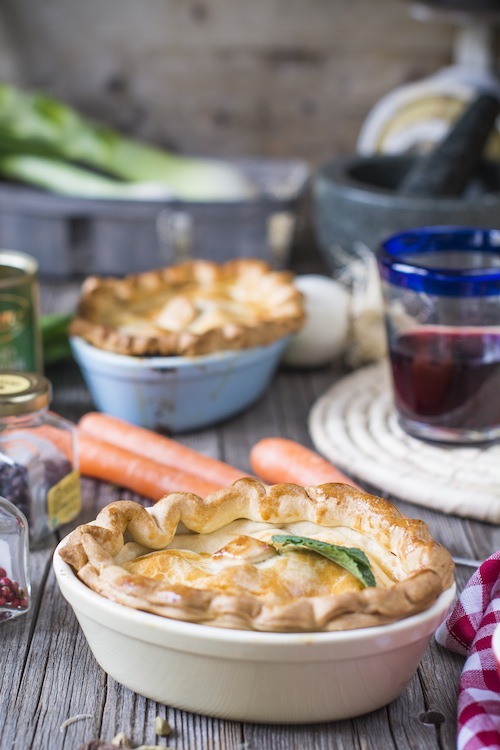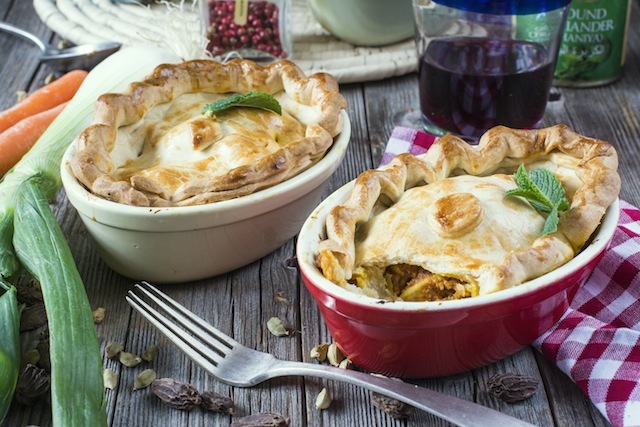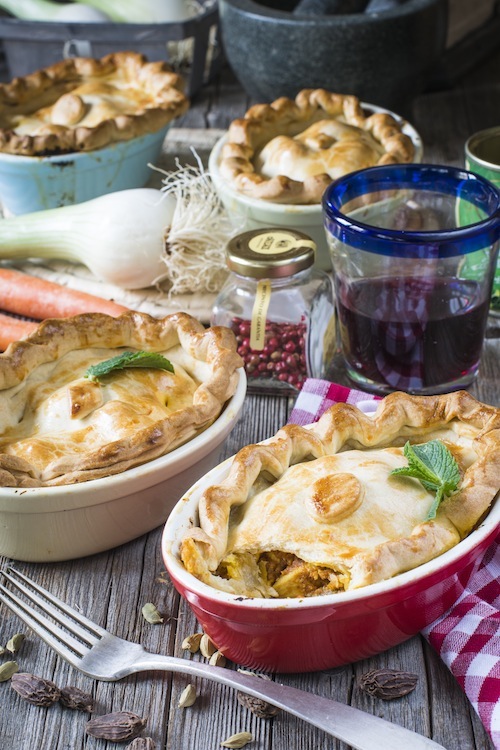 Ingredients
100 g butter €1,00
2 onions €0.66
2 cloves of garlic thinly chopped €0.15
2 tablespoons grated ginger €0.15
3 carrots €0.45
2 large potatoes €0.30
5 green beans €0.15
400 g of crushed tomatoes €0,42
1 k of skinless chicken, boned and cut into cubes €4,00
3 tablespoons curry powder - I like using the spicy but you can find it also mild. I normally do at home my own curry mixtures of spices by mixing different ones, but for this version express I used a curry powder bought in an English supermarket which I love and which you can find in gourmet shops and English supermarkets €0.55
1/2 teaspoon ground cumin €0.05
1/2 teaspoon salt €0.01
200 ml of fresh cream €0.40
200 ml water €0,02
2 sheets of prepared shortcrust pastry €2,49
Total 10.80 € for 8 servings so €1.35 per serving of a delicious pie stuffed with a rich chicken curry.
Vessels used to make the individual cakes they are of from Tala Cooking
Directions
1. In a large pot add three tablespoons of olive oil and at high heat, sauté the chicken, only for a couple of minutes. Remove from pan and set aside.
2. Finely chop onions. Set aside. Chop the carrots into small cubes and do the same thing with the potatoes and green beans. Set aside.
2. In the same saucepan, put the butter to melt. Add the garlic and ginger and fry half a minute over high heat. Add the onions and cook over medium heat. When the onions are tender, add remaining vegetables: carrots, potatoes and green beans and stir-fry.
3. Add the tomato puré, cumin and curry and mix well. When it breaks to a boil add the chicken and mix. Then add the water and the cream and cook over medium-low heat for about 15 minutes until the vegetables are tender.
4. After this time, fill our molds. Cover with the shortcrust pastry and bake at 180 degrees for about 25 minutes or until well golden. Serve hot. Enjoy!
Tips and Tricks
Make these pies with stew or lean with stew or tomato lean leftovers
You can make a large pie rather than individual molds
Preparation time: 45 minutes
Difficulty: easy
Servings: 8