This toast of crab of the ABC Kitchen of New York of today is that whenever go to New York I took in the ABC Kitchen. New York has a thousand sites and you always have plenty of new restaurants to try. But at ABC Kitchen I do not resist, you should go to try their crab toast, and I go back whenever I visit the city. A toast with crispy bread with a lot of crabmeat seasoned with a lemon aioli. Quick and easy, but delicious really.
The site found what I Dani Garciaone of the chefs that I most admire. I have much love for many reasons. One of them giving me his list of favorite places in NY that I usually make mine as soon as I try them.
Is very curious because the ABC Kitchen began as the bar of a shop of rugs and furniture that is called ABC Carpet & Home and that it has become a reference point in the area. It is the typical New York place, where you won't find many tourists and where you can eat at table or at the bar, and take one of their delicious cocktails and where the "organic food" is the Queen of the mambo. I love it because in addition if you like a dish, glass or anything that you put into the restaurant, you can buy it at the store's to the side, at a high price, but don't tell me that it is not a point to be able to buy it.
Whether it's lunch or dinner time, I always take the opportunity to prepare a toast (often leftovers), and was super well in 2 minutes. only need a little bit of bread and open the fridge, and though you need a little more to prepare these today, is worth the trouble, I tell you.
So I hope that this ABC Kitchen crab toast you enjoy as much as the "passing by" that I usually have at home. Let's go for the recipe!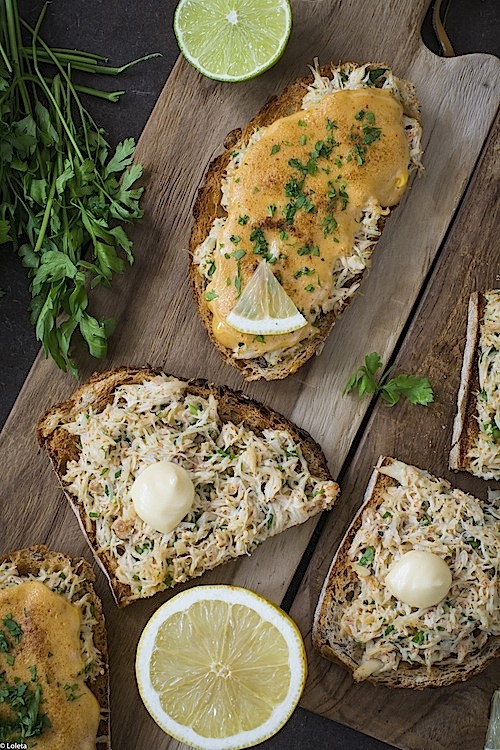 Ingredients
350 g of crab meat - I already buy clean and frozen, but you can do it with crab or crab, comparlo in canned or frozen
1/2 onion or fresh onion
4 slices bread - better if type is sliced bread peasant or leg
1 egg
150 ml extra virgin olive oil
150 ml sunflower oil
salt
half a clove of garlic
2 lemons
a sprig of parsley
Directions
1.Poner good crab meat crumbed in a bowl. Book.
2 make a mayonnaise with egg, oil and half a clove of garlic. When what we have ready add the juice of half a lemon and a pinch of salt. Mix well. If with this amount the alioli don't know lemon, add more juice. Book. Chop some parsley in as small as possible. Book
3 Chop fine the onion or fresh onion. In a bit of olive oil, sauté in a pan giving a few turns. It is not necessary to be completely soft. Add crab, Saute a few seconds and remove from heat. The heat of the skillet will make that crab temple. Season with salt and pepper and add the chopped parsley.
4 toast slices of bread. Meanwhile, return the crab to the bowl and add a spoonful of Aioli. The sauce is only added to bind the crab, so add the minimum.
5 put a good amount of crab on toast, add a bit of alii oli on it and serve. There is an easier and tastier toast.
Tips and Tricks
Enjoy of your toast in the afternoon of football or of cinema in house
Add a splash of kimchee to the mayonnaise for an extra flavor as fice I with half, so some have an orange color
Preparation time: 10 minutes
Difficulty: easy
Servings: 4 toasts