These mini cakes of pina colada or mini bundt cakes of coconut and pineapple were be all a success. I had of buy this precious mold of NordicWare. You know that I love this brand because besides having designs more beautiful of the market, are of very good quality and I is not never stick.
Is truth that there is that know use them and above all know unmold them, but once you shopping one, is become addictive and already them like have all. They have two problems. The first and worst is that they occupy much space. I have friends that them have hung of the wall forming a mural precious, but I in my kitchen have only a cachito of wall with a shelf, and the rest is wall of glass, so that option is in my case unviable.
So I have finished having a Cabinet of the kitchen only for these molds. Whenever it see me seems a waste of space, but only need baking a new sponge cake, as these mini biscuits of pineapple colada or mini bundt cakes of coconut and pineapple, to thank have them. For example, take them of gift or as snack to any site is always a smash hit, and is that although do the recipe more easy and simple of the world, in these molds luce the triple.
The other but they have is the price, and are rather expensive. So I what I do is not to stop using them and so I get them much party. My friends and I have spoken many times of exchange them from time to time, thus not would have to buy them all. The problem? That live to hundreds of kilometers and everything is complicated. Moral: them ask as whim for my birthday or my holy and thus can go having at least one new each year.
I have several models, some have seen them already on the blog, and others will see them prontito, but I love everyone, and now that it returns to the era in which feel like snacking something warm with a good piece of cake again to use them over and over again.
Today's recipe, piña colada, or mini bundt cakes mini cakes, arose the first evening of this fall in which apeteció I make a cake. My husband was preparing piña colada for the dinner we had at home that day, and my I found very funny, do a few, piña colada, or mini bundt cakes of the same mini cakes.
The difference is that these do not carry alcohol because my son took them is at a friend's House for tea. I stayed a few that deboramos in the after party that same night and there were even who took any of these mini cupcakes of piña colada or mini bundt cakes of coconut and pineapple for breakfast the next day. Soft, juicy and rich in truth. To enjoy your piña colada in cake!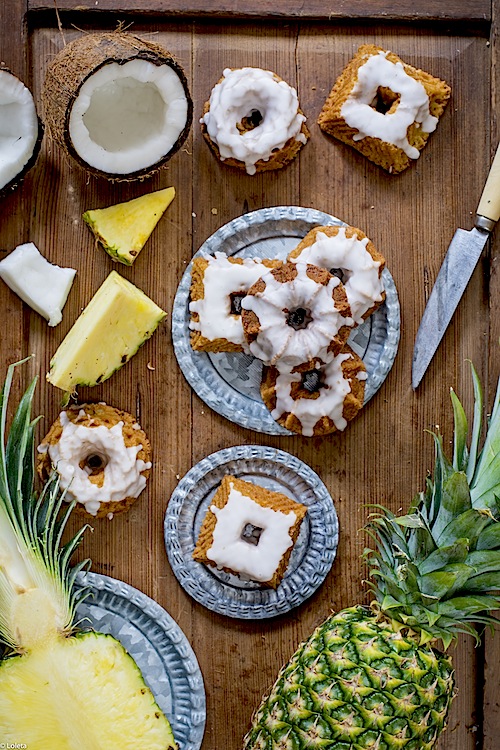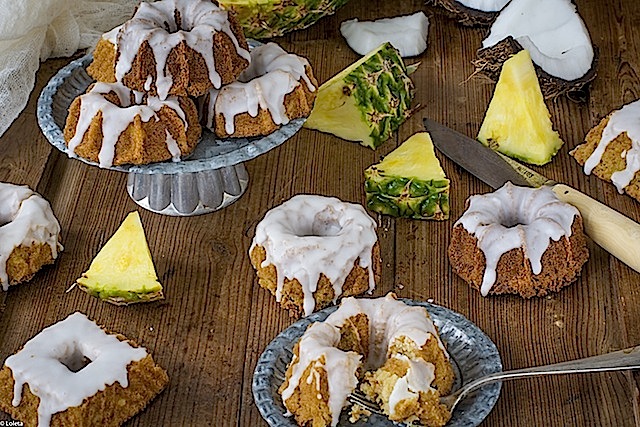 Ingredients
For the sponge
250 g flour
1 teaspoon of yeast
3/4 teaspoon baking soda
1/2 teaspoon salt
125 g unsalted softened butter
50 g of sugar moreno clear (light brown sugar-if not the find can use sugar moreno normal)
150 g sugar
2 tablespoons dark rum (optional)
1 teaspoon of vanilla extract
1 teaspoon of extract of coconut (optional)
2 large eggs, at room temperature
250 ml of coconut milk
115 g of pineapple (fresh or canned well drained and if it is Tin, save the juice for glaze),
For glaze
450 g of icing sugar
1 tablespoon rum
3 tablespoons whole milk
2-4 tablespoons pineapple juice
Directions
1 preheat the oven to 175° C.
2. grease the molds. You know that my like to use spray grease for the bund cakes because they moulds very well
3 put together the flour, yeast, baking and the salt in a bowl.
4. in the bowl of a mixer fitted with a paddle to beat (in the form of K or T), add the butter soft. Beat 3 minutes at medium speed. Add the sugars and beat on medium-high speed for about 5 minutes or until the mixture is fluffy.
5. Add the eggs one, mixing well after each addition. Scrape the sides and the background of the container frequently, with help of a spatula. (Add the rum (if are used) and the vanilla) and mix again. Add coconut milk and mix again. If the mixture seems that is has cut, don't you worry. Is normal.
6. Add the ingredients dry in two batches, mixing until will incorporate well, after each addition. Is important not beat more than it has because that will make that our cakes are then dried. Add chopped pineapple and mix with a spatula.
7. with help of a spoon of ice cream, mix a tablespoon on each mold. When all are full, hit the mould on the countertop several times to remove them the bubbles of air.
8. bake during about 20-25 minutes or until they are golden. Turn mold halfway through baking to ensure even Browning. Last this time, prick with a stick to check that are cooked. A time are ready. Let stand out of the oven during 10 minutes before removing from pan. A time desmoldados, put on a rack and let cool completely.
9. clean the mold and repeat the operation until we have exhausted the dough completely.
10. to make the glaze mix all the ingredients in a bowl, except the juice of pineapple. As we are beating, add a little pineapple, 1 tablespoon juice at the same time. Beat until the cream is thick but can tipping over biscuits. Wet the rusks catching them and wetting the top. Serve immediately or let the sugar to harden and cover well, keeping them in the fridge.
Tips and Tricks
Try to make them only of coconut. Juicy and delicious you can add a few nuggets of chocolate
Preparation time: 60 minutes
Difficulty: easy
Servings: 10