The fougasse is a "sample bread", a lbread that one eats pinching as occurs with the focaccia for example, and which is served to accompany other foods such as Pate, cream cheese and others, but that would not serve to make sandwiches.. The one that I bring today is a fougasse of chorizo sausage, parmesan cheese and pumpkin seeds, and you shall simply eat it because it has lots of flavor but you can of course eat it with whatever you feel like
The corn flour or polenta brings some extra crispy crust and a fantastic finish (this is also used when baking pizzas in the oven). The best is to bake it on a baking stone, but as I don't have one, what I do is put a tray inside the oven while it preheats, in order for it to take all the possible heat, I put a handful of polenta on top to make it even more crisp and with a more professional finish.
With these ingredients you will get two fougasse. The first time I made them, my first thought was to make only half amount in case there would be too many leftovers but fortunately I made the whole quantity because they are delicious, so don't worry for leftovers because it is likely that you may not have any. I hope you enjoy it and you let me know how it goes with the recipe. Now, lets go and make it!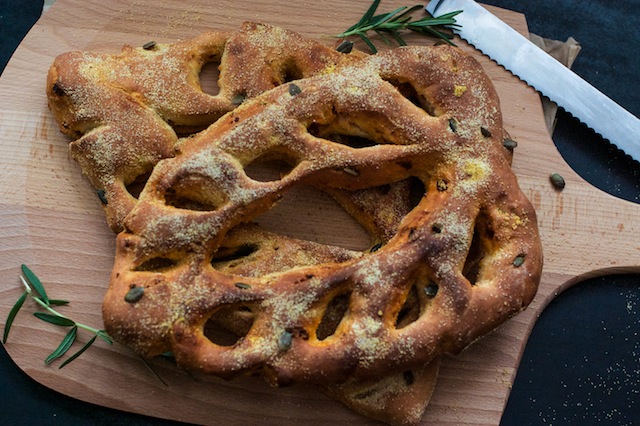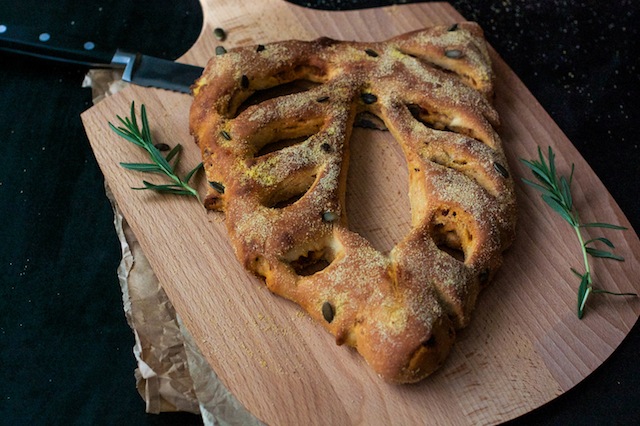 Ingredients
500 g of flour strength (how much better is the flour better will leave the bread) €0.80
2 teaspoon of salt €0.05
3 tablespoons grated Parmesan reggiano €0,75
1 tablespoon pumpkin seeds (pipes) €0.25
1 packet of dry yeast for Baker €0.15
300 ml of water (perhaps needed a little more depending on the strength of the flour: more force more water will need) €0.10
90 g of good quality chorizo finely chopped €0.70
3 tablespoons of polenta (or corn flour) €0.35
Total 3.15 for two breads that can serve up to 12 people, which means €0.26 per serving.
For the photos I used the beech bread peel that Richard Bertinet designed for Tala
Directions
1, mix the flour, salt and yeast in a large bowl and mix until everything is well combined. Make a hole in the center of the mixture and pour steadily water slowly kneading with a scraper from time to time until the dough is loose and easy to knead, but not too sticky. This step can also be kneading accessory electric blender or thermomix, which is easier.
2. knead the dough for 10 minutes on a surface, or 5 minutes in an electric mixer fitted with a dough hook (or thermomix). After this time, add the grated cheese, chorizo and knead by hand or mixer for a couple of minutes until all the ingredients are well integrated.
3. pass the mass to the hob (no flour or oil). At first the dough will be very sticky, but after a few minutes of kneading, the dough will stop sticking to the table. Best amassed for this type of bread so moist is the French by Richard Bertinet. You have to knead until it stops sticking: 5-6 minutes.
The kneading continues as follows: dough is placed on the table, and we put a hand on each side of the dough, holding it as if a sandwich with thumb ifngers being at the top, Raise, the dough and heat it over the table without letting your hands go off the dough. Then, the part we have caught by hand is folded over and start again
It is difficult at the beginning but then you get used and me is as more like dough. No need to add oil or flour so that the recipe is as it is without change. So you stretch well, dough should be moist and sticky, since otherwise no we could stretch it well.
4 arrivals to the point that the dough doesn't stick. It should form a ball and place in a large bowl covered with plastic wrap. As always, I use my shower CAP that I have to make breads and reused again and again. Let stand at least one hour in a warm place (I leave it in the oven and forget windows and doors open and running in air). Past this time remove from oven.
5. Preheat the oven to 220 c Put a Pyrex filled with water at th bottom of the oven (this will create a crispy crust on our bread).
6. Put an amount of semola, semolina or cornmeal to cover all the table. With the help of a scraper, remove the dough from the bowl and pour it onto the countertop. With the scraper cut two equal pieces and form a triangle with each of them, giving a semi cut in the Center forming two parts and then 4 cuts on each part Well open cuts to form our fougasse.
7 Bake at 220 degrees for about 30 minutes and allow to cool completely on a wire rack.
Tips and tricks:
If you don't have a baking stone, you may use a Tile ceramic or stoneware you may have at home and that you can allocate to your breads.
Brush with olive oil the Fougasse once finished cooking if you want to give an extra flavor
Difficulty: easy
Preparation time: 2 hours and a half
Servings: 12