Concord makes little things grow, discord ruins the great.
Today's post contains no no magic recipe... or Yes?, or no dream place or also?. Today's post speaks of the magic kindergarten, the magic of the creepy costumes and the children... but I assure you that you are going to hallucinate: today... six terrifying children's recipes! and not so children. If you like to cook together with your children, do not fail to regard all these recipes also with children. Does anyone give more?
A few years ago, talk of Halloween was to talk about the party coming out in "Karate Kid" (ours) and in other films, was to talk about United States and little else. Today Halloween is a time for fun, the costumes and the goodies, and children generally enjoy much waiting to get this time of terrifying environment.
The party's is in its origin CelticHe is known as the night of the witches or feast of the dead, and is a party that is deeply rooted in countries like United States, Canada, Great Britain, Ireland and countries Christians such as Mexico and Colombia. It has origins in the Celtic feast of the Samhain and the Christian feast of all Saints Day.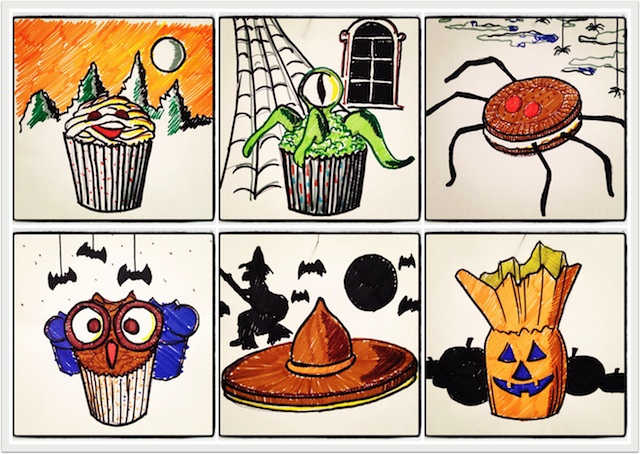 Thus, the Irish who emigrated to the United States, transmitted this party to Americans who soon make it yours. The name comes from the English expression "All Hallows Even" (Halloween night), and resulted in the current name of Halloween. Were the Irish who made that his habit of carving pumpkins (Jack O´Lantern) became well known throughout North America, and today is a symbol of the party.
In our country is a modern party that still does not take place in many places, although gradually schools all children included it in their activities and in the cities have their Halloween party with his "trick or treat" (trick or treat) whereby children are running around houses asking for candy and chocolates with terrifying aspect. If the person that asked for it does not accept, then you have to change a scare or mischief.
So the children learn how to make simple recipes and celebrate this feast at home, last Saturday, October 20, perform a Halloween workshop in Cuco Events, a fantastic children's and leisure activities center, to which I also have a special affection. The workshop was a success, the places were sold out, and the children enjoyed a lot. Their faces say it all, how they passed it!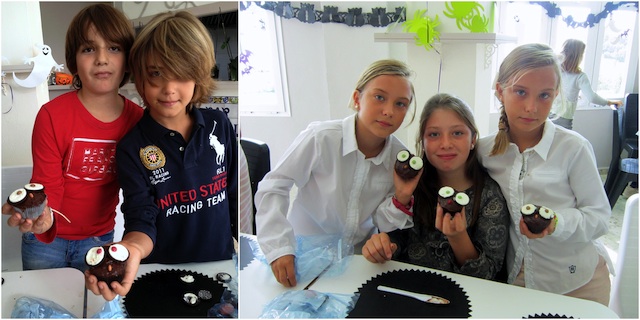 They learned to make muffins and cookies, decorate them, make sandwiches of worms and to crafts easily for their homes, so that they alone can do everything I learned for the night of the 31st, without fear, without putting things of through, easily, you will see...
You want to make them your children? Because here are the recipes. Enjoy!