The Boeuf Bourguignon is a stew favorite of my son. It is a dish that comes from the French region of Burgundy and it must be both the beef and wine. A kitchen to simmer with wine, vegetables and herbs make this a super strong dish.
The secret is browning the meat over very high heat initially so that the sauce gets darken, and then over low heat to a minimum to cook and tender the meat very slowly. Slow cooking over low heat that will make that veal to almost melt in your mouth. I like to cook it in the oven because it needs no special attention and I don't have to worry about it. The result is fantastic and the meat is simply delicious.
You can make it with a wide variety of vegetables, and mushrooms being now in season, would be a fantastic choice.
Many marine meat for hours before making the Boeuf Bourguignon so you get a more intense flavor. I don't do it because the result seems perfect as is, but you can try to marinate it in the wine with herbs
Like all dishes slow cooked,the difference is the time of cooking, but if you are in a hurry, you can use a pressure cooker. If you use premium quality ingredients it will also be very good, although obviously the flavor will not be the same. Lastly, for having a thick sauce it is important to add some flour to make the sauce dark and creamy.
Definitely a dish this Boeuf Bourguignon worthy of the best tables, why not also in Christmas. A good mashed potatoes served with our Boeuf Bourguignon will give us a first fantastic for Christmas day meal i the of the first day of the year, although at home every day are perfect for taking it. Bon appetit!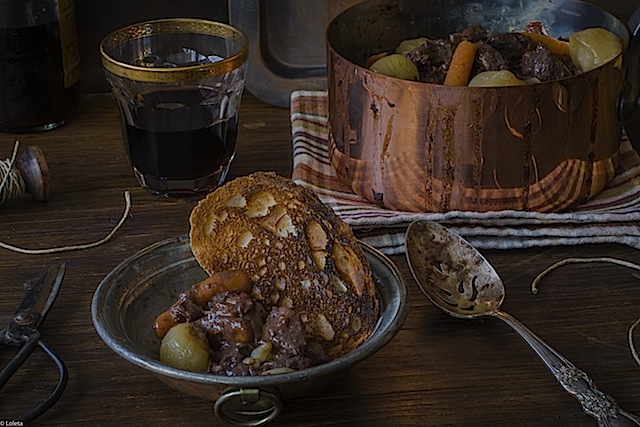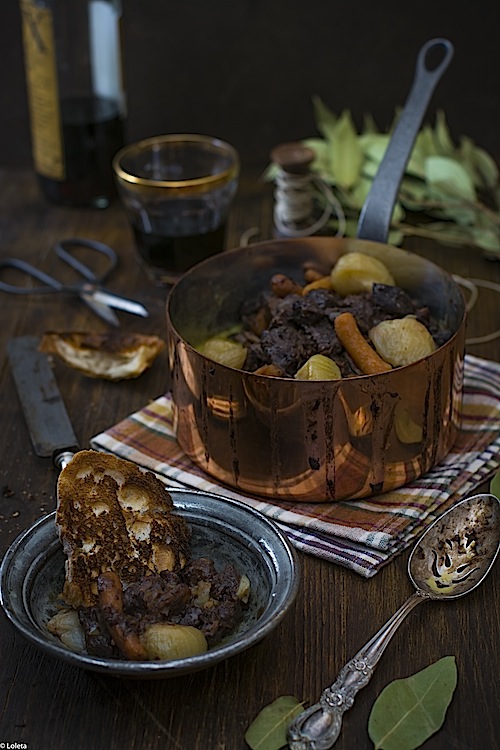 Ingredients
For the burger meat
60 g butter
2 garlic cloves minced
200 g Bacon
1.5 kg of veal cut in small pieces
60 g flour (4 tablespoons)
1 bottle of Bogogna wine
2 and a half glasses of beef broth
1 bouquet garni (mine with thyme, parsley, bay leaf and a leaf of Leek)
2 cooking nails
1 tablespoon of tomato concentrate
2 and a half glasses of beef broth
For the vegetables
2 tablespoons butter
10 small onions (French onions)
a handful of mini carrots or 3 standard carrots cut into wheels
1 tablespoon sugar
1 tablespoon butter
250 g mushrooms
salt
black pepper
Directions
1 preheat the oven to 230 ° C. cut the meat in cubes of 3 to 4 cm. Peel the onions without dice. Peel and cut the carrots into fairly thick slices (at least 2 cm). Peel the garlic and chop them. Book
2. in a saucepan suitable for oven, melt the butter. Add garlic and Brown. Then join the bacon. Saute, stirring constantly. When it is golden brown, remove with a slotted spoon and set aside.
3 With the help of kitchen paper,dry the pieces of meat. If we do not dry them, they not will get the dark color when cooked that we need. Add meat to the saucepan, and add bacon and flour and toss. Put in the oven for 4 minutes.
4 Take the saucepan out of the oven. Stir well and return to the oven another 4 minutes so that flour and meat are well browned.
5 Lower the oven to 180 ° C. Add wine to the pan together with two cups of broth, the nails and the bouquet garni and the pasta of tomato. Cover the pan and leave to cook in the oven for 3-4 hours until meat can be cut with a fork without knife.
6. Meanwhile prepare vegetables. In another saucepan, place 2 tablespoons of butter and and French onions. Heat and Brown the onions. You have to cook them until they are well browned. Add the carrots, half a cup of broth, a spoonful of sugar and a little salt and pepper. Cover with a cover but leaving a steam release, and cook until vegetables are tender (about 30 minutes).
7. In a pan with a little butter, brown the sliced mushrooms. Set aside.
8. When the meat is ready, remove the meat and strain the broth. Set aside while washing the pan. One ready, return meat to the caserole along with the onions, carrots and mushrooms.
9. in a saucepan, heat the sauce to reduce it, 392ºf whenever fat raise up. We are looking for a sauce without dark fat and not be completely liquid. When we have the ready sauce, pour onto meat and cook a few minutes the Boeuf Bourguignon all together.
Tips and Tricks
The secret is to brown the meat over high heat to get a dark color, and then cook over very low heat.
Serve with pasta, rice or candied potatoes
Preparation time: 5 hours
Difficulty: easy
Servings: 10