These Cornualles pies persecute me for many years. When it went to study to England summers already enjoyed much of its bakeries, which is hiding in my opinion, some of the best examples of the British cuisine.
On weekends, and the days that had no class in the afternoon, I took the opportunity to leave and enjoyed a day of adventure out of Little Neston, was going to the bakery in the village to buy something to eat: a sausage roll (puff pastry with sausage) and a Cornish pasty or empanadas of Cornwall I accompanied on the route of bus that I separated from Liverpool, Chester or Manchester.
These pies of Cornwall are large empanadas so much, growing and very easy to make. They all like and it has a very mild flavor and so serve you for a picnic in the field than for a first home or for a return to home after a party outlet, when stomach looking for something strong but soft sleeping. At home do not last anything because everyone pinches them when they are in the kitchen and I hope that you are also a success.
And how it could be otherwise, bring it you in the form of videoreceta through my channel of YouTube. I hope you enjoy it, I encourage you to give the 'like', you suscribáis you to my channel to be the last, but above all I hope that I relate to that you seem to improve everything it can.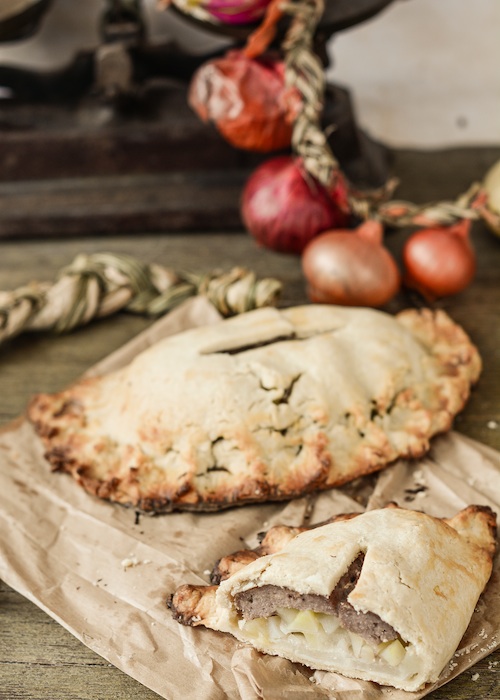 Ingredients
For dough
450 g of flour strength €0.25
200 g of lard to temperature ambient €1.85
170 ml of water €0.05
For the filling
250 g of turnip €0,20
200 g of onion €0.16
400 g of veal minced twice €3.80
600 g potatoes €0.79
Salt €0.01
black pepper € 0.02
1 tablespoon mustard powder - vintage this is mine. The authentic does not carry it but my I love the touch that gives the meat. If you don't you can use a tablespoon of mustard €0.25
Total €1.85 per each pie that you can share or take accompanied by salad as single Bowl at noon
Directions
1 preheat the oven to 220 ° C
2. in a bowl, mix the butter with the flour until blended. Add the water and mix well. Knead until a soft and uniform mass and put in the refrigerator for 15 to 30 minutes to rest. To my I like to stand it already stretched between two roles of baking. So we divide dough into 4 parts and stretch it with help of a roll between two baking or enharinando roll so that the dough does not stick. Let stand in the refrigerator.
3. While the dough rests to prepare vegetables. Cut turnip into very thin slices. The potatoes into small cubes and very chopped onion.
4. in a bowl, mix the meat with salt, pepper and mustard powder.
5. remove the dough from the refrigerator and fill empanadas. This ' Please fill only in one half of the dough. We will start with a layer of celery, then another onion chopped, then the potatoes into cubes and finally a layer of minced meat. We fold half of the mass without filling about half filled and we will carefully closing the forming an empanada. With the tip of a knife to make a cut on the top that will help steam to escape during cooking den oven.
6. when we have the lists, we bake them for about 25-30 minutes until the dough appears Golden. Remove from the oven and let cool on a rack. God save the Queen!
Tips and Tricks
For a softer dough can use half the amount of lard and half butter or margarine
You can close them with the fold on top of the pie but these are more typical of Devon Cornwall
Preparation time: 50 minutes
Difficulty: easy
Servings: 4 servings out
in