This sandwich with Herbed mayonnaise thai beef is going to become one of the winners of the evenings of football or friends in my house. It is very simple to prepare and is super good you can have them prepared in advance that as always for these occasions it is very important. You have only 15 minute break to put it on the table so it is essential that the guests will easily serve or do it your hassle-free. So another recipe to take into account when Football dinners, basketball or simply informal meeting of friends at home
It's a sandwich of beef thai roast beef that will make your mouth water. Veal the marinamos in a delicious and spicy sauce with much rock & roll will make quye meat to cook tender and juicy and that will give the flavor to this sandwich.
The other secret of this beef sandwich thaiIt's a mayonnaise of cilantro and avocado extra creamy and with a light green color that you will not know to stop eating everything on. This sauce is perfect for sandwiches and salads but also for dipping vegetables and nachos so sign up because you're going to stop doing normal mayonnaise.
If you like with an original touch the different but simple this is your sandwich. At home, he flew the first time and since then when I prepare this thai beef sandwich I do always in more quantity. I hope you like it and hope that with him we have many victories of selection in this world that is already here.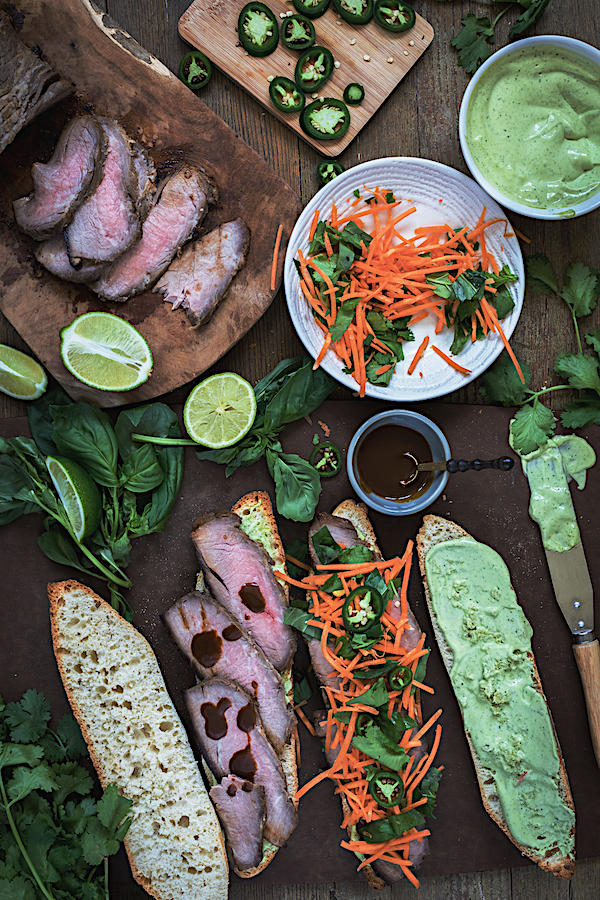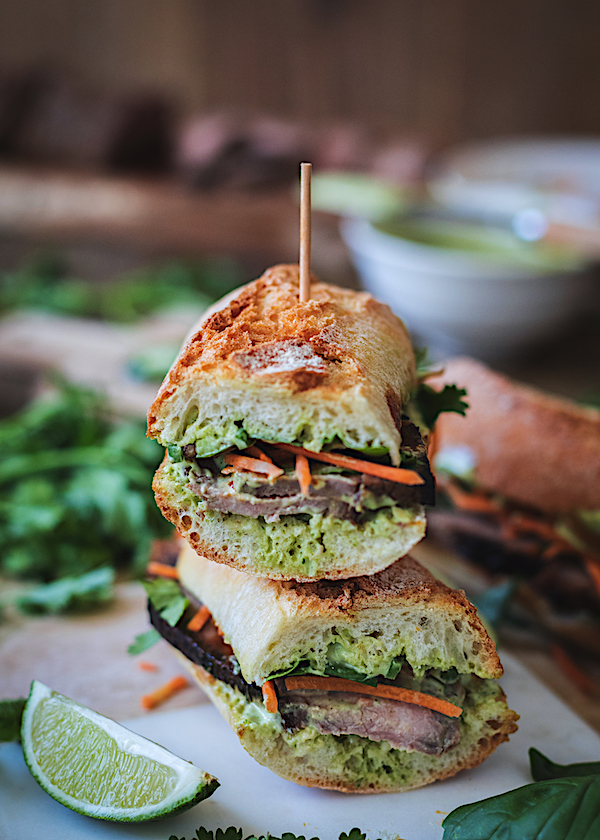 Ingredients
For the burger meat
1 kg of beef hip tip
60 ml extra virgin olive oil
80 ml of honey
80 ml soy sauce
4 cloves garlic, chopped or grated
1 piece of about 3 cm of fresh, grated ginger
1 tablespoon of paste of chile or chili powder (do not use cayenne pepper because the smoke flavor don't get the same effect as the chile, but you can use tabasco or)
For the cilantro and Avocado Mayonnaise
200 ml vegetable oil
1 pinch of salt
1 bunch of fresh cilantro
1 avocado
1 egg
For salad
2 grated carrots
1 bunch of fresh cilantro
1 bunch of fresh basil
1 lime
3 Jalapeno chiles
6 bread rolls
Directions
Put all ingredients of marinade the meat in a zip bag. Put the piece of meat and very well close the bag by removing all the air you are possible. Let marinate in the refrigerator for a few hours. It is ideal to do so all night.
After this time, remove the meat from the oven. Preheat oven to 210 degrees.
Put a large griddle or skillet to heat to the fire. Put top part of drained meat from the marinade and seal well on all sides. Remove from the heat and pass to the oven for about 30 minutes until the meat is well roasted on the outside but juicy on the inside.
Remove from the oven and let stand for 20 minutes. Passed this time, finely slicing meat.
Meanwhile make a mayonnaise with all the ingredients and set aside.
In a bowl, mix all ingredients except lime salad well chopping herbs and chilli. Garnish with the lime juice
Open a bread roll. Spread with Avocado Mayonnaise both internal sides of the bread. Put a layer of meat and over a layer of Herb Salad. Serve with friends at home at any time
Tips and Tricks
You can make the meat in advance and leave it ready for mounting in the last momentoc
Try to take them with a little harissa
Preparation time: 40 minutes
Difficulty: easy
Servings: 6